We use affiliate links. If you buy something through the links on this page, we may earn a commission at no cost to you. Learn more.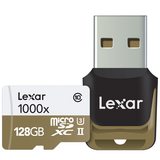 The Lexar Professional microSDXC/SDHC UHS-II cards are not just fast, they are 1000x fast. That means their high-speed performance is perfect for the capture of high-quality images and extended lengths of 1080p full-HD, 3D, and 4K video that you capture with your smartphones, tablets and action cameras. And if you don't have a smartphone, tablet or an action camera that uses microSD cards, these tiny flash memory cards from Lexar will double as flash memory drives for your computer when you plug the cards into the included USB 3.0 card reader. No matter if you're a professional photographer or a hack like me, these cards will allow you to transfer video and other large media files to your computer at a faster rate for viewing and sharing.
Lexar Professional 1000x microSDHC/microSDXC UHS-II cards also include a lifetime copy of Image Rescue software which can help you recover most photo and select video files, even if they've been erased or the card has been corrupted. The software is available as a free download with the purchase of the memory card.
Currently available in a 32GB capacity version which is priced at $45.99, 64GB and 128GB capacities will be coming soon for $109.99 (64GB), and $189.99 (128GB). For more info visit Lexar.com