We use affiliate links. If you buy something through the links on this page, we may earn a commission at no cost to you. Learn more.
Product Requirements:

Desktop:
Windows 98, NT 4.0, Windows ME, Windows 2000, or
Windows XP
I suppose that there is no use keeping it a secret from you all, and I am
sure that many of you have already guessed this. The fact of the matter is that
the Compaq iPAQ and I have enjoyed a love affair that has lasted almost a year.
Oh, it's true – I have flirted with other PDAs, but when asked who my true
love was, I would quickly answer that it was the iPAQ in one of its incarnations
or another. Yet there were some things about the 3600 series iPAQ that
dampened my ardent feelings. Dust was definitely an issue, as was the fact that
I couldn't press more than one button at a time.
Well, I could press buttons
together, but only the first button pressed was recognized.
Then there was the
fact that in order to add any kind of storage media, I had to add the
additional bulk of a sleeve. Still, the iPAQ looked sleeker, operated faster,
and had more expandability options available than any other Pocket PC on the
market – at least in my opinion.
When the Pocket PC 2002 operating system came out at the end of this summer,
I knew that big hardware changes would be appearing from all of the different
Pocket PC manufacturers. I thought I would try to keep my options open,
and I thought that I might even possibly start over with a new PDA. That
was at least, until I saw a picture of the new
3800
series iPAQ.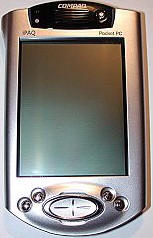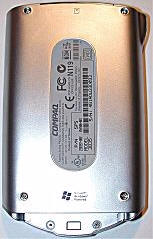 I know what you are thinking – "Judie, that is sooo shallow!
You're basing your choice on looks?!?"
Well no, not exactly, but I did vote with my credit card for the Pocket PC
that I thought looked the coolest and that had the features I was interested in
– the winner just so happened to be a Compaq iPAQ 3800 series.
Here are a list of the iPAQ 3850's specifications, taken directly from the
Compaq
website. When you get to my measurements a little further down the page,
you'll see that a couple of my measurements turned out slightly different. I highlighted Compaq's measurements that
varied from mine, in RED.
Operating System: Microsoft Pocket PC 2002
Processor: 206 MHz Intel Strong ARM 32-bit RISC Processor
Display Type: Color reflective thin film transistor (TFT) LCD, 64K colors
Touch Screen: Yes
Resolution: 240 x 320
Pixel Pitch: .24 mm
Viewable Image Size: 2.26 x 3.02 inches
RAM: 64 MB
ROM: 32 MB
Input Method: Handwriting recognition, soft keyboard, voice record, inking
Communications Port: Interface with USB / Serial connectivity that connects via
serial or USB cable
Card Slot: SD Memory Slot, Optional expansion packs
Wireless Connectivity: Infrared port (115 Kbps)
Speaker and Microphone: Yes
Audio Out Jack: Yes (3.5 mm Stereo)
Battery: 1400 mAh Lithium Polymer
Dimensions: 5.3" x 3.3" x .62"
Weight: 6.7 oz.
Warranty: 1-year limited
Helping me to make my decision was the fact that I kept hearing rumors
stating that the problems that had plagued my prior iPAQs were a thing of the past. Not
only was the screen supposedly sealed to keep out dust, but the multi-press
button issue had been solved. To add a little bit of sugar to an already sweet
package; the new iPAQ was to come with a longer-life battery and a built in SD
card.
Okay, so the SD card wasn't that big of a thrill. I already had a 2GB
Datapak PCMCIA card and a 512MB CF card. Nothing would have made me happier than
if Compaq could have included an expansion slot in the body of the iPAQ that
would fit one of the larger storage cards I already owned. Considering that at
this time 128MB is the largest size SD card you can buy, I could see that a memory
shortage might be a major problem for me, as I tend to load a lot of
"stuff" on my external memory card.
I had to console myself with the fact that since I was already used to
carrying the iPAQ with some sort of modified sleeve attached, this new iPAQ
would still work out fine. In fact, it would be better, because now I
would have two expansion slots in a form factor that I was used to
carrying, that in the past had only provided me with one expansion option. Since
Compaq made it a point to create the 3800 series to be compatible with past
sleeves, I was already semi-accessorized.
Julie and I debated back and forth whether we should get the 3850, or the
3870; the 3870 comes with integrated Bluetooth™ for $50 more, and that is the
only difference between the two models. Since neither of us actually has
anything that uses Bluetooth™ it wasn't a huge priority to get this model.
But., I
figured for only $50 more, I should go ahead and get it – just in case I ever
got an accessory that had the capability. Hey, I am always looking for an excuse
to go get another accessory – this looked like the perfect excuse! Unfortunately, the
source that I tried ordering from had to keep moving his date further and
further back – waiting on a supply from Compaq.
Julie and I were watching all the online retailers anxiously, looking for a
fair price on the new iPAQs, but also trying to find a company that could
actually get us each one in a timely manner. We both wound up ordering from

Amazon. (By the way, if you use this link to purchase one, you will be
helping to support our site!)
So here I am one full week later, after purchasing the new iPAQ 3835. Side
note: for those of you that don't understand Compaq's weird numbering system,
the 3835 is the exact same model as a 3850. From what I understand, the
difference in numbers just denotes that the 3835 was purchased online, versus a
3850 like you would find in a brick and mortar store.
I have been using the 3835 exclusively and extensively during this week, and
I feel like I am in a position to pick it apart to give you the skinny on the
good, the bad, and the just plain inconvenient. I am going to assume (which is
always dangerous) that most of you reading this are somewhat familiar with most
of the new features that Pocket PC 2002 offers, and therefore I will mainly
touch on what is specific only to the iPAQ.
So let's jump right in!
Hardware Specifications:
What a difference a redesign makes! Although at first glance you can tell
immediately that this is definitely an iPAQ; when you compare it to last year's model
there are many obvious changes.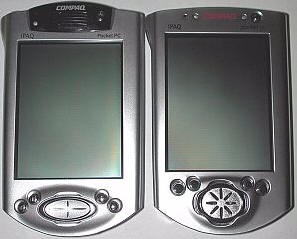 The two iPAQs (3600 and 3800) feel essentially the same when you hold one in each hand, but
there are some subtle differences. For one, the 3835 feels just a tad thicker,
and it is slightly longer. Amazingly enough, when weighed without styli or
expansion cards, the 3835 actually weighs slightly less than the 3670!
Here are some comparisons for you to peruse:
 
Weight (w/o stylus or
card)
Height
Width
Thickness
Screen Area
iPAQ 3835/3850
6.3 oz (180g)
5.29" (13.44cm)
3.123" (7.94cm)
.65" (1.66cm)
3.1" (7.88cm) h x
2.35" (5.97cm) w
iPAQ 3600 series
6.4 oz (182g)
5.12" (13.02cm)
3.11" (7.89cm)
.65" (1.66cm)
3.1" (7.88cm) h x
2.35" (5.97cm) w
One disappointing thing that I found with the iPAQ 3835 was that when I
applied Julie's much celebrated "creak" test to my unit, it failed. I would love to say
that when I flexed the case it held stiff, and I didn't hear a peep, but that
wouldn't be true. It gave a bit, and I heard definite creaking. I don't plan on walking
around and forcing my iPAQ to creak, so hopefully this will never be an issue for me. :0) 
I find it simply amazing that Compaq was able to keep essentially the same
form factor while adding an expansion slot. For those that are interested, I
cracked the case on my 3835 today, and here are some pictures of what's inside: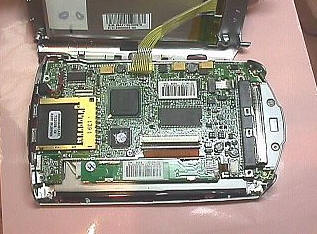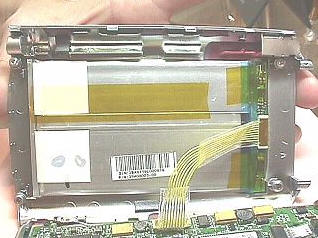 It's always fun to see how much an electronics company can cram into a tiny
space, isn't it? ;0)
Overall, I like the weight and texture of the naked iPAQ – it feels
substantial in my hand, without being a brick. I realize that the case is
plastic, but it doesn't feel cheesy at all.
The iPAQ 3800 series screen is still top-notch for viewing when outside in
direct sunlight, but now it is even better when you are indoors. The 64K color
screen appears to be far superior to that of the 3600 series when viewing
intricate pictures, but if you mainly view documents and e-books, you may not
even notice a difference. Games look more vivid and colorful – I'm very pleased
with the improvement. 

           
iPAQ 3800                                                                
iPAQ 3600
 

 
           
iPAQ 3800                                                                
iPAQ 3600
 

Oddly enough, the new iPAQ's backlight is not necessarily
brighter than the 3600 series. Julie took the pictures of the hawk, and
as you can see, the 3600 series appeared brighter.

I took this picture of
my today screen, and while it's not so obvious in this picture, in person
there is a major difference. My 3800 is much brighter and "whiter screened"
than my 3600.  With these pictures, it is rather hard to tell, so I
guess this will fall under the "Your Mileage May Vary" category…
One of the biggest questions people might have refers to dust. Did my unit
have any? Guess what – whether I am just lucky, or whether Compaq has finally
got it right – I didn't have a single speck! Evidently, Compaq has managed to
seal the iPAQ's screen adequately. Unlike the 3600 series, when you have the iPAQ's
backlight on, you do not see light escaping from any orifices – except
for two tiny areas on either side of inside of the bottom sync-port.
I can also tell you that the multi-button press issues seem to have been
resolved. If you are a fan of games that need the dual action of using the
joy-pad with a side "fire" button, you will be able to take advantage of this
feature. Granted, you are limited to an up/down, side to side motion, but hey –
that's more than the 3600 series offered, right? The 3800 series' buttons
actually sit higher and are rounder than the previous model's. This makes the
buttons
easier to find and push when playing games.
The speaker has been moved from the joy-pad to the top of the PDA. It now
sits in the middle of what can best be described as a black plastic hump. The
joy-pad itself, is much more oblong and the surrounding application buttons are
set much closer to its sides. I think that it is more comfortable than the old
style when I am using it in the manner I usually do – which is scrolling through
e-book pages. It fits the bottom side of my left thumb comfortably, and with a
minimum of effort I can flick through pages. There is a small amount of audible clicking
when you move the joy-pad from right to left, but I did not notice any noise when
moving the pad up or down. Julie would call this tactile feedback, and the 3800
series definitely has it.
This button placement, among other changes, makes the new iPAQ incompatible
with the majority of the play-through cases available today: the bottom-most
buttons are actually covered by the formerly custom cutouts of this Vaja case.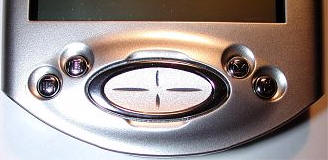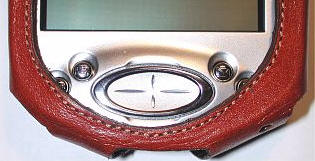 The buttons are keyed from left to right as Calendar, Contacts,
E-Mail, and
iTask StarTap (the Compaq task launcher). Of course you have the option of changing
the button's settings to the programs of your choice.
The "black plastic hump" at the top of the iPAQ seems to function as a sort
of mini-command center. Not only does it house the re-positioned speaker; it also holds
the power button, the microphone, and the ambient light sensor. There has been a
bit of a regrouping and stacking for where these items lie, and the result is aesthetically
pleasing.
Instead of a little round LED light that blinks when you charge or have an
alarm notification, there is a long slash-like LED built into the right side of
the hump. When charging, this light will blink amber. When your PDA is fully
charged, it will glow solid amber. There is also an active Bluetooth LED
slash-like indicator that makes up the left side of the hump, but unless you
have the 3870, you will most likely never see that light blink – unless someone
develops a hack to activate it from inside another program, which might be interesting!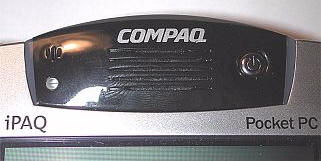 The top of the iPAQ has also undergone quite a few changes. The first thing
you might notice is that the black hump extends to the rear of the case, and
situated in the middle is an SD expansion card slot. The Infrared port is
located behind this plastic cap, as is what appears to be a secondary
microphone. Here, you can see the 3835 stacked on top of the 3670.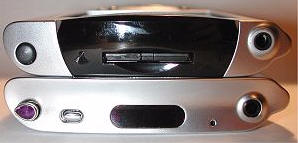 The headphone jack is in its usual position, but there have been some major
changes to the iPAQ's stylus and silo-locking system. As you can see, there is
no eject button on the 3835. Instead, like on the Apple Newton, the 3835's stylus is
ejected by pressing down on its exposed top. Spring action will cause the silo
to either grip or release the stylus.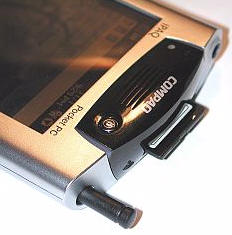 There is no way that you can mess up while inserting the 3800's stylus, it is now
completely round with an hourglass shape and almost impossible to jam. I say
"almost," because I am sure that someone, somewhere, will manage to do it! Here
you can see a comparison of the new stylus above the old 3600 style.

For those that are interested, the stylus appears to
actually be held in by this little red clip, that attaches to the groove
near the bottom of the stylus. The stylus does not fly out of the silo when
released, because of the slight friction caused by its hourglass shape
rubbing along the channels built into the silo.
The bottom of the 3835 also features some major changes from the 3600 series.
For one, there is no longer a sliding door that leads to the battery for
performing easy hard resets. Instead, when performing a hard reset, you must
practice contortion and press two outside hot-key buttons while inserting the
stylus tip in the soft reset hole. I had to do this today, when a program I was
trying froze the entire system. Another thing to be aware of is that when you
perform the hard reset, it is no longer a quick operation where you
immediately see the iPAQ splash screen like before. A hard reset can now
take a couple of minutes, and believe me, the first time you do one – you will
think you have hosed your iPAQ. But I digress…
Also on the bottom of the 3800 series, the reset hole has been moved to the
left just enough that it is now no longer compatible with the reset hole in the
majority of the play-through cases available for the iPAQ.
The charging port is
gone, and the sync port is now wider.
In case you were wondering, the iPAQ
actually charges through the sync port now, and that means you will no longer be
able to use your old car charging cable when traveling. I bet that just made
your day, right? ;0)  I looked at the

Compaq store, and it appears that they will soon be selling the same old
charging cable, but they have added a most likely high-dollar
removeable adapter to the end, so that you can either
use it with the 3600 or 3800 series. I am hopeful that they will sell the
adapter as a separate item, but somehow I doubt it.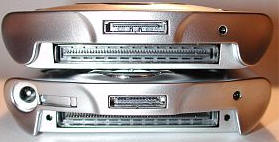 Well, by now I bet that you have figured out that the wider sync-port equals
zero compatibility with accessories that used this port on the 3600
series. That's right – you can't use your portable keyboards or your plug-in GPS
solutions. I am rather bummed out by this because I had just received a
Pharos GPS unit in September when Julie
and I attended Möbius.
I won't be able to use it now – not with this particular iPAQ, anyway.
Stacked one on top of another, there are only a few perceptible differences
between the two PDAs. The 3835 has a slight hump in the joy-pad area, but it
doesn't seem to stick out any more than the old joy-pad did. The recorder button
area is essentially the same.

One of the biggest complaints people have had in the past about every Pocket
PC except for the Hewlett Packard Jornada series
is that there was no out-of-the-box screen protection solution. Well guess what? If you
don't mind a case that opens book-style, or "to the side", this is no longer an issue. The 3800
series iPAQs come with a really cool modified sleeve that features a smoky
plastic integrated screen protector. You can adjust the case's flap to open from
either the left or right hand side – nifty!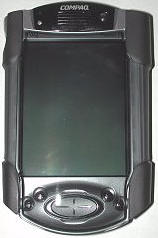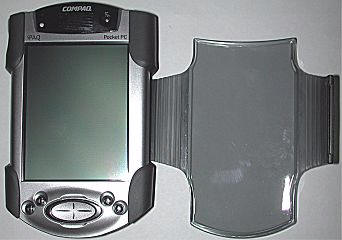 Be sure and note that this case will not survive a fall from any
height, it is for screen protection only!
Personally, I love how thin the iPAQ is when enclosed in this case. I like the
high-tech look and the complete pocketability. So that we wouldn't
have to make our iPAQs fatter, both Julie and I broke down and ordered
ridiculously expensive 128MB SD cards. So as long as I am careful and don't add
every program that catches my fancy, I should be able to carry my iPAQ "nekkid."
The 3800 cradle is very similar to the 3600 series. Yes, it is still just as
flimsy. There is a major
difference, though – one that those of you that use NT will be very pleased to hear
about: the end of the cable that plugs into your computer actually splits, and
you have the choice of using either the USB side or the serial connector side!
How cool is that? Admittedly, having an extra end hanging off the end of your
cable will add extra desk clutter, but it is great to not have to spend the
extra money for a different cable.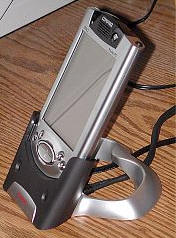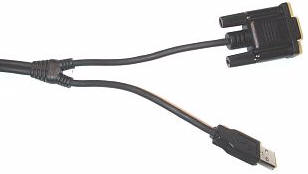 I'd like to end this section by telling you that the speaker on this iPAQ
sounds a lot better than any other iPAQ I have ever owned. Instead of a tinny
treble, it seems as if a bit of bass has been added. To make your audio
experiences even better, there is a built in equalizer that affects the sound
you hear when playing audio through headphones or your car's speakers.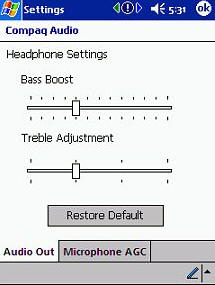 I have not noticed any of the spastic speaker crackles and pops that I
was getting used to with my Pocket PC 2002beta upgraded iPAQ, so it appears that
this final version of the OS got it right. As you prior iPAQ owners will recall,
the 3600 used to have the same speaker crackling, and this was also solved by an
upgraded OS.
All in all, I have to say that the iPAQ has met and surpassed my expectations
hardware-wise. Now the question is, what kind of software is the 3800 series
packing?
Software Specifications:
Let's start off the software section of this review with a very short
rant, shall we? Here's the deal:
There are also times when my iPAQ has "hung," and a soft reset
really didn't help. I have found something that does seem to fix the problem, though.
For whatever reason, if I eject and reinsert the SD card, my iPAQ is fine. Go
figure. I realize that this may be a software/Pocket PC 2002 incompatibility
issue, but it is still very annoying.
Software Included in ROM:
Note: Julie already covered the Pocket PC 2002 ROM
programs in the HP 560 series review, so I will just include her notes and
screen shots. Her comments are in red.
Pocket Outlook – This is your PIM (Personal Information Manager) Suite of
applications. You get Contacts, Calendar, Tasks, Notes, and Inbox. All of these
applications will sync directly to Outlook 2002 on your desktop PC. Inbox can
now sync multiple folders!
Pocket Internet Explorer – Web browser.
Pocket Word – View and edit Word documents.
Pocket Excel – View and edit Excel documents.
Microsoft Reader 2.0 for Pocket PC – Read electronic books.
Windows Media Player 8 for Pocket PC – Listen to digital music and watch movies.


MSN Messenger – Instant Messaging client just like the one on your desktop.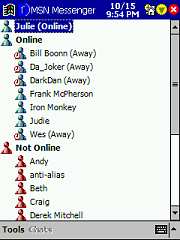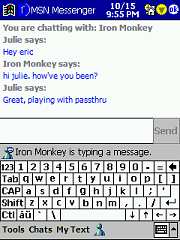 Microsoft Transcriber – Handwriting recognition input method. This is now part
of the ROM instead of an optional installation.
Block Recognizer – Graffiti clone input method. If you have a Palm OS PDA and
know Graffiti, then you'll be right at home with this input method.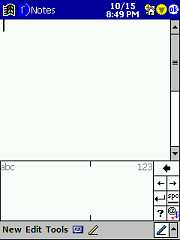 Terminal Services Client – With the terminal services client a Pocket PC user
can access Windows Terminal Servers and run Windows applications. It only works
with Windows Terminal Servers, which run on NT 4 servers and Windows 2000. It does not work with 95, 98, or ME.
Spellchecker – A great new spellchecker available for use in Word, and Inbox.
Unfortunately, it's not available in the Notes application.
Voice Recorder, Calculator, Solitaire
Compaq iPAQ Productivity Software:
iPAQ File Store – Similar to the HP 565's Safe Store, the iPAQ File Store gives you a
6.59MB of nonvolatile ROM space where you can store files or applications. The benefit of this block of memory is that even after a hard reset, the programs and files will still be stored in this area and will be ready to use.
File Store basically shows up as an extra drive.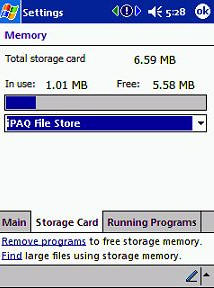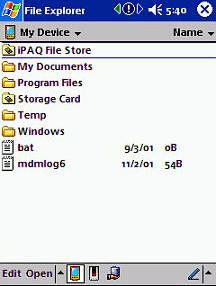 Backlight Adjuster – 32 different incremental variations, from off to super-duper
bright!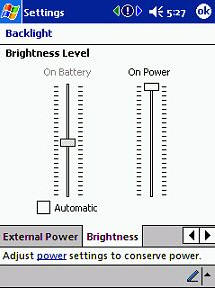 iTask – Cool little Launcher application that is associated with the bottom right hotkey,
it allows you to switch between open applications. You can also close applications and access frequently needed features such as the brightness controls and other settings.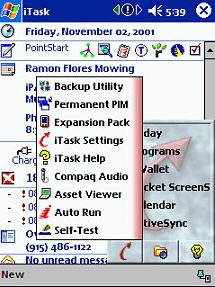 Self-Test – Rudimentary system test application for sound, screen,
reading/writing of files, Infrared, LED, ROM checksum, and key press.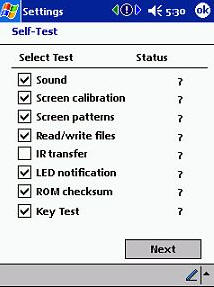 Power Setting – Same as previous version, but now there is an actual
percentage showing, in addition to the bar graph.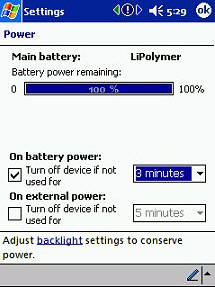 Backup Utility – This utility will allow you to backup, or restore from backup, all the data in the file system to a storage card or the iPAQ file store area. Unfortunately, you can't pick and chose which files to backup or restore. It's all or nothing.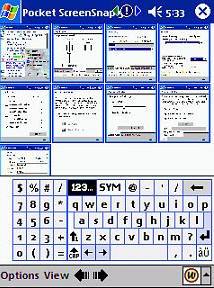 Optional Software to install:
The iPAQ comes with a really great selection of add-on software. I was
impressed because most of the titles were full versions (yay!), with only a couple
vendors opting for 30 day trial periods (boo! hiss!).
Microsoft Money for Pocket PC –  Works with Microsoft Money 2002
on your desktop computer. Putting Money on your Pocket PC provides a convenient
way to keep up with expenses  while you are out and about – then you can
sync everything when you get back home. Based on my experience with the last
version, do us both a favor and always back up your desktop Money files.
That's all I am going to say on the subject. ;0)
Microsoft Reader – This is the version everyone was waiting for –
solves the DRM problem, and allows you to download protected books from sites
such as Barnes
and Noble,
eFollet (excellent selection) and

Amazon (affiliate link). You can even listen to
Audible books from within Reader! You will
have to activate your Pocket PC to read the more current titles, but at least
you can use up to four devices with the same activation passport. Once you
have activated, there are several free titles you can download courtesy of Microsoft.
Hey – you can even load Reader to your computer, and it will read un-encrypted books
out loud to you!
IBM Embedded Via Voice – Simple voice recognition program for the iPAQ
that allows you to enter basic Pocket PC commands by speaking them aloud. This
is the blurb from the installation CD: "With Embedded ViaVoice Mobility
Suite, you can find contact information by just saying Go To Contacts and
then asking ViaVoice to read one of your contacts information. For example,
Read John Smith Information or Read Mary Jones Home Phone Number. In
the next breath, you can ask What time is it? or What's today's date?
Then just as easily, you can Go To Mail and have all your mail messages
read to you or have the iPAQ read only selected messages. Next stop, your
calendar where you can say, Read my appointments for September 18th or
Read my next appointment. IBM's Embedded Mobility Suite enables you to use
your voice to get information the easy way from many of your favorite iPAQ PIM
applications."
iPresentation Mobile Converter LE – 30 day trial software –
Allows you to view Microsoft PowerPoint presentations on your Pocket PC.
WordLogic™ Keyboard – A halfway intuitive condensation
of the typical QWERTY keyboard.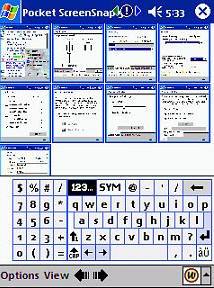 Quick View Plus – Enables document and attachment viewing on your
iPAQ. You can view over 70 supported file types.
Compaq DashBoard – A great program for customizing your Pocket PC
Start Page.
Peacemaker Professional – Enables Pocket PCs to beam to a variety of
other OS platforms, including Palm.
Microsoft Pocket Streets – Portable maps for your Pocket PC.
AvantGo – Allows you to take personalized web content on the go, with
you, on your Pocket PC.
MSN Mobile – Hotmail service for inbox.
Callex® PocketPC with ET
Player™-Voicemail – Allows you to send and receive voicemail messages on
your Pocket PC.
Pocket PC Games – Reversi, Mine Sweeper, and Hearts for the Pocket PC.
Microsoft Media Player for Windows– Listen to MP3's, WMAs and watch
movies.
Sega Games – Turns your Pocket PC into a virtual Sega GameGear!
Included titles are Sonic the Hedgehog, Baku Baku, and the Sega 4-in-1 Game
Pack. This is where the resolved button issue shines! :0)
Vegas Games – Classic games of Video Poker and Blackjack.
Audible – Current and classic literary works read to you over your
Pocket PC.
Jeode Runtime – Allows you to run Java applets (they mention games in
particular)
from within a Pocket Internet Explorer screen.
eWallet – My favorite program for keeping encrypted personal
information and passwords handy on your Pocket PC. Includes the full versions
for Pocket PC and the Desktop – this is a good deal! Check out my review
concerning eWallet here.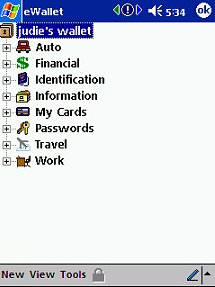 ListPro – Great application for making lists on your Pocket PC and
desktop. This program has a permanent place on both of mine!
StarTask – Trial Version – Includes a File Explorer, Image
Viewer, a Phrase Inserter, and Registry Editor. iTask was designed to work with
StarTap (the Compaq launcher), so all of these new functions are integrated
there.
Afaria – Allows businesses to deploy and maintain software
applications, synchronize content and data, track hardware and software device
assets, maintain desired configuration settings and backup critical business
data.
F-Secure FileCrypto – the blurb says "A file encryption
application that provides protection against unwanted data disclosure. With the
application, you can create special encrypted folders for storing confidential
and personal information. All files stored in the encrypted folders are
automatically encrypted when the folders are locked, and sensitive information
remains always safe." I tried several times, and could not get this to install on
my iPAQ! I finally got frustrated, and quit trying. :0P
Summary:
The completely new and redesigned iPAQ 3800 series is a worthy addition
to an exciting lineup of Pocket PCs running Microsoft's new Pocket PC 2002. Other than a few minor quibbles, I can predict that iPAQzilla
(yes – it has a name!) and I will continue with our love affair – that is, as
long as it treats me right and doesn't freeze up on me! ;0)
Price: $599 MSRP 
Pros:
Updated Styling
Multi-press button issue has been fixed
Built in SD expansion slot – can finally go "nekkid" without leaving all your
programs at home
Screen is better sealed – dust issue appears to be resolved
Beautiful 65,000+ color screen

Redesigned stylus won't allow

improper insertion
New hard cover case allows for sleek screen protection
Excellent batch of 3rd party software included on CD


Cons:

New sync/power port, which means old accessories won't work
Most play through cases made for the 3600 series will not fit properly
Can be tricky installing programs to the correct memory card if you are using more than one

SD does not support larger than 128MB memory cards. YET.
Product Information
Price:
599.0
Manufacturer:
Compaq
Pros:

Updated Styling
Multi-press button issue has been fixed
Built in SD expansion slot - can finally go "nekkid" without leaving all your
programs at home
Screen is better sealed - dust issue appears to be resolved
Beautiful 65,000+ color screen
Redesigned stylus won't allow
improper insertion
New hard cover case allows for sleek screen protection
Excellent batch of 3rd party software included on CD

Cons:

New sync/power port, which means old accessories won't work
Most play through cases made for the 3600 series will not fit properly
Can be tricky installing programs to the correct memory card if you are using more than one
SD does not support larger than 128MB memory cards. YET.