We use affiliate links. If you buy something through the links on this page, we may earn a commission at no cost to you. Learn more.
Product Requirements:
Device:
Palm III series (not including IIIc), Palm VII
series, Palm V series
Have you been looking for a PDA case that will allow you to retire your
regular wallet? Most PDA wallet combo cases tend to be geared towards the corporate Joe and have
that stuffy office look about them. If you would rather buy a wallet case for
your PDA that is more at home on the streets than in the board room, then you
might like the Swiss Army Urban Issue case from the makers of the original
Swiss
Army knife.
This case is made of a non shiny black Italian leather with matching black
stitching. The case is plain except for the Swiss Army logo which is embossed on
the front.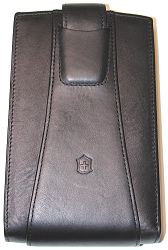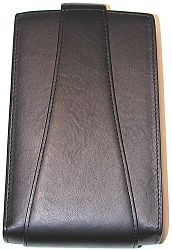 The Urban Issue case is similar to other Swiss Army cases that Judie and I
have reviewed in that they include a unique quick-release clip for the Palm III,
V and VII series PDAs. These plastic clips snap into the case to hold these
specific PDAs securely without the need of Velcro. If you don't happen to own
one of the PDAs for which these clips were designed for, you can attach your PDA
to the case with an included strip of Velcro. Not the most elegant solution of
course, but
it does work.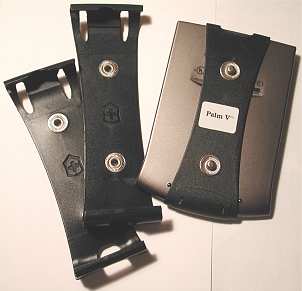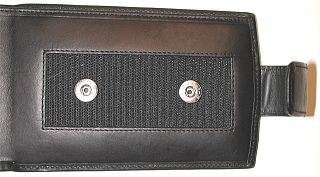 How do these clips actually work? They are made of a flexible plastic with
two large snaps on the back. The PDA snaps into the clip which wraps around the
back of the PDA.  The two large snaps then snap into the female snaps on
the case. While the clip is on the PDA, you have access to all the buttons and the IR port,
but not the hotsync port. So, unless you sync via IR, you'll be required to remove the
PDA from the clip every time you need to sync with your desktop PC. Snapping and unsnapping the
PDA into the case isn't difficult, but removing the actual clip from the PDA takes a
little wrestling. So, if you are the type of user that tends to sync with a cradle or
cable more than once a day, you might find this case attachment method less than
convenient.


This case, is very large for a wallet
case. It will not fit in a typical back pants pocket. It will however, fit in
most cargo pants side leg pockets. The size of the Urban Issue case is probably its biggest
drawback. At 6 x 4 x 1.5in (15.2 x 10.6 x 3.81cm), it is a real handful. It is
also 6.8oz (193g) in weight. But, let's take a closer look at the features that make this case
useful.
First of all, for a wallet case, this one has a multitude of slots and pockets.
There is the normal bills slot which runs the length of the case. This case is
so long that you can practically fit two dollar bills end to end in this long
slot!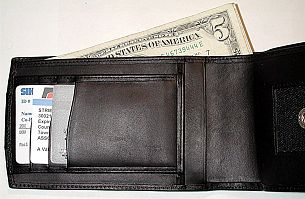 In front of the bills slot on the left side of the opened case are three
business card slots. Behind these slots are four separate slots that can be used
for other cards or folded papers.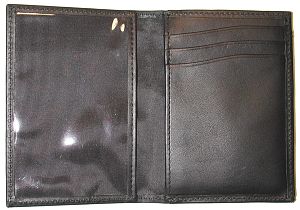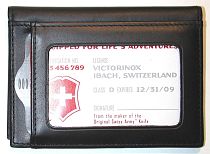 This case also comes with a mini wallet that can be used with the Urban
Issue, or separately. This small wallet is constructed of black leather and has 3 business
card slots, 2 transparent windowed pockets for photos or IDs, and 2 other
pockets for folded papers or bills. This small case also comes with a plastic
pull out tray for your ID or drivers license.
All of the slots and pockets in the Urban Issue case are lined with a black satin material that helps
facilitate the insertion and removable of cards and / or papers.
This case isn't padded, but it does have enough rigidity to protect the PDA
that is attached to it from everyday bumps and short drops.
The Urban Issue is held closed with a leather tab that slides into a slot on
the front of the case. This closure method seems to be a good choice for this
product because it allows you to adjust the thickness of the case. If you happen to
really stuff the wallet sections, you will still be able to close it. Conversely, if you had a
snap closure, it might not fit.
One really cool benefit of this case is the free
PDA
Theft Insurance that is offered with it. You just send in the included
registration form along with your receipt of purchase and you'll have 1 yr, $350
protection against the theft of your case. Considering the actual price of the
Urban Issue case, that protection plan is a nice bonus and gives you piece of
mind.
Price: $80.00 (Available at
StylusCentral and other fine
retailers)
Pros:
Lots of storage
Interesting PDA attachment method
Theft insurance
Cons:
Large
Expensive
Product Information
Price:
80.0
Manufacturer:
Swiss Army
Pros:

Lots of storage
Interesting PDA attachment method
Theft insurance

Cons: