We use affiliate links. If you buy something through the links on this page, we may earn a commission at no cost to you. Learn more.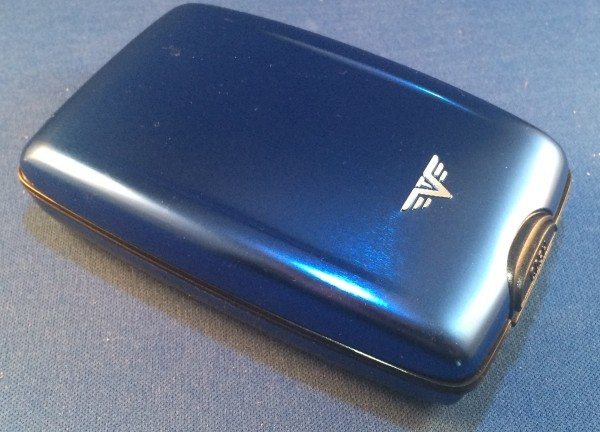 I can't wait until all transactions are private, digital and use whichever device you happen to have with you. I've carried a wallet for years, and it sometimes becomes the "George Castanza" wallet of Seinfeld fame, where one more piece of paper will cause it to explode. With that in mind, when Julie offered the team a wallet from Tru Virtu, I thought it would be fun to try an aluminum wallet, to see if it could contain my inner hoarder.
Note: Photos may be tapped or clicked for a larger image.
The Tru Virtu Cash & Cards 2 series is a light aluminum (or "aluminium", if you want to channel your inner Jony Ive) shell with plastic inserts that allow you to open either of two sides easily. One side is designed for cash (banknotes and coins), while the other side is sized for cards and receipts. You can keep about 6 bills in the bill compartment, folded twice. The card side can hold 6 standard cards and 6-8 other papers in the tray. Under the banknote holder, there is an enclosure for coins that allows you to tip the wallet forward to have coins pour out into the tray, and tip back to have them contained under the bill holder. There is room for about 5-10 coins, depending on size. If you're only carrying U.S. quarters, Euros, or Pounds Sterling, you're likely at the lower end of that range.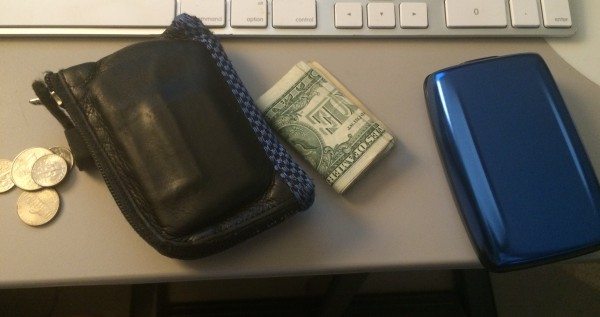 Here's what I'm currently hauling around in my pockets: a wad of bills, a few coins, a Fisher Space Pen, and a Waterfield wallet that Julie gave the team for a holiday gift several years ago. That wallet holds nine credit cards and gift cards on one side, as well as six ID/insurance cards and six key tag loyalty cards for various stores, library, YMCA, etc. on the other. In between, there is a middle pocket that has about a dozen business cards and whatever receipts I've not filed lately.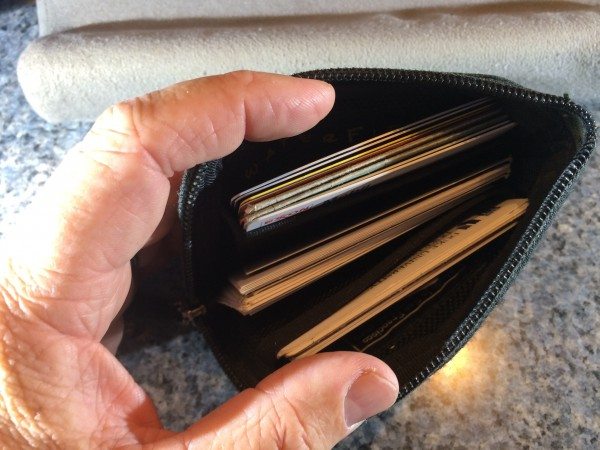 At about an inch thick, it fits my front pocket nicely, but the cash, not in any container, rattles around and needs corralling. This was my first hiccough with the TruVirtu: which credit cards can I do without? And the number of bills I usually have, while totaling under $25, number 6-10 bills.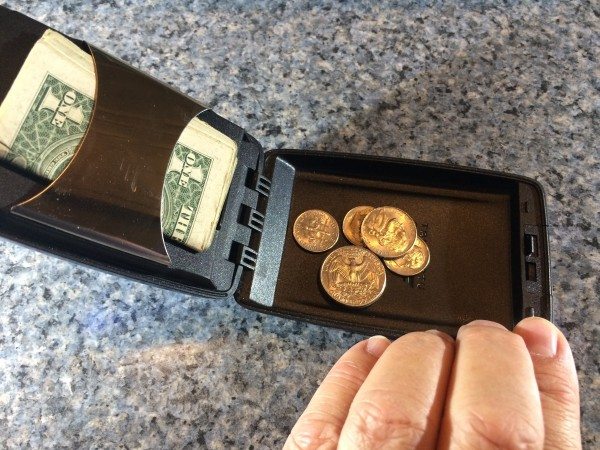 So, I traded my fives with the Lovely Bride for a twenty, and left some of the singles on my dresser, along with the pennies. The receipts and loyalty cards sat there as well, and the ID, ICE, and insurance card went under the six cards I decided I couldn't live without day to day.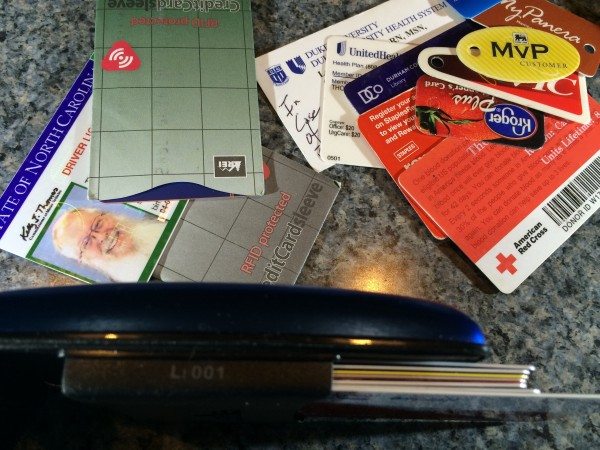 Using the TruVirtu takes just a bit of time to learn, since there are two buttons which "magically" determine which side it will open to.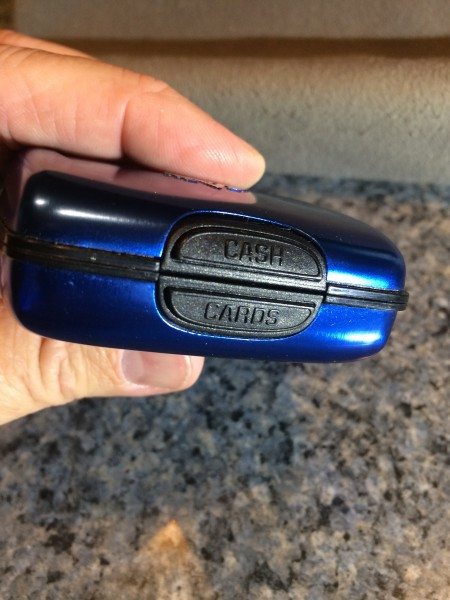 The first time I went to my local warehouse store and flipped it open to show my ID, I spilled the entire credit card side out on the floor. Smooth. Over time, however, it became easier to manage, and I could tell which side would open without looking, due to the logo design element on the top. (See lead photo.)  I liked that it was a consistent size, but on trips out of town or to the grocery, I had to carry the remaining items in my deflated Waterfield, which added bulk to my pocket, rather than trimming it down.
This wallet is designed for those who want to keep things simple: up to 6 bills, six credit cards, some coins, and a small number of reciepts and cards. This is not the model for the recovering hoarder, but is great if you want to take a small subset of your cash and cards with you. I would have loved to take this with me during a recent trip abroad. Not only did I leave most of my cards at home, but the metal outer case provides RFID blocking for the chip & pin cards that are used extensively elsewhere in the world and will be in use within the US by this fall. The smaller wallet I did take was able to carry 8 cards, 8-10 bills, but I had to add a RFID envelope around the chip & pin cards. The Tru Virtu model has the added benefit of not looking anything like a wallet. If anything, it looks like a portable battery pack for USB devices.
I really, really wanted to love this wallet. It is a nice, deep Duke blue, and has different sides for cards and for cash. It will also handle coins on the cash side, which is much more important outside of the US, where folks use long-wearing metal for day-to-day trade rather than paper. But, in the end, I moved back to my trusty Waterfield, loose cash, – and that Fisher Space pen.
Source: The sample for this review was provided by
Wallet Brands
. Please visit their site for more info.
Product Information
Price:
40€
Manufacturer:
Tru Virtu
Retailer:
Wallet Brands
Requirements:
Pros:

RFID blocking
Holds change as well as bills
Protective
Doesn't look like a wallet

Cons:

Tiny clips for bills and cards
Somewhat confusing two-stage layering