We use affiliate links. If you buy something through the links on this page, we may earn a commission at no cost to you. Learn more.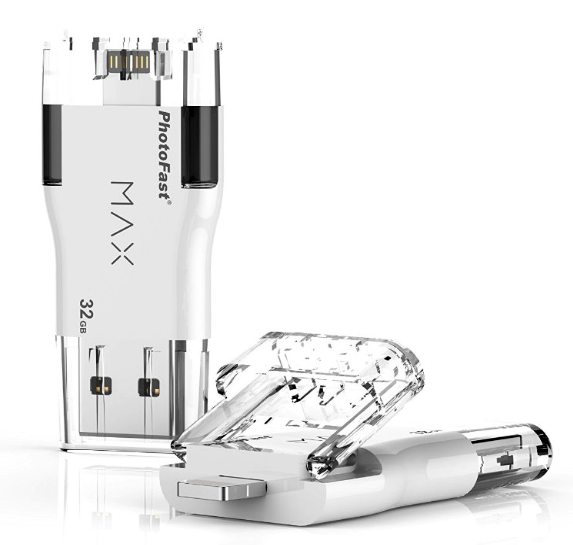 Last December, I reviewed the i-FlashDrive external storage for iOS device from Brando.  It was basically a flash drive that plugged into an iOS device with a Lightning connector to serve as a backup and/or external storage device, and it could work with a computer as a flash drive.  It was a convenient way to transfer some files between your iOS device and your computer or another iOS device for backup or for use on the other device.  It worked well at the time, but a recent update to the app software revealed the item we reviewed to be a counterfeit.  Counterfeit devices fail authentication in the new version of the app, and they can't be used at all with an iOS device.  PhotoFlash, the makers of the real i-FlashDrives, contacted The Gadgeteer and offered us an authentic PhotoFast i-Flashdrive Max for review.   We'll give the PhotoFast i-FlashDrive Max 32GB drive, which is described as "the world's smallest USB 3.0 i-FlashDrive for your iOS, iPhone, iPad and iPod", a closer look.
Some more background:  I found that the original flash drive I tried last December worked as described, and it was very reasonably priced at $30.  You just needed to add your own microSD card, as this i-FlashDrive was actually a microSD card reader.  Things were great, until the app was updated in June 2015.  An authentication step had been added to the app to block counterfeit i-FlashDrives from being used.  A flurry of frantic comments were left on the original review asking what had happened and how to get the previous version of the software back onto their iOS device so they could continue using their dual-connector flash drive.
The folks at PhotoFlash, maker of the app and the real i-FlashDrives, contacted Julie and told her they were being contacted by a lot of people who found out the hard way that they apparently had a counterfeit device; they said they are unable to support any fake i-FlashDrive hardware.  They offered to send an authentic i-FlashDrive to The Gadgeteer.  They said:  "PhotoFast original products offer real stability, performance and an enhanced application.
We hope the i-FlashDrive MAX product you receive will prove that we offer a much higher standard of technology than our competitors. Most importantly when we are trusted with peoples memories such as photos and videos we need to be sure they are safe and secure.
We need your support to tell people that buying cheap/fake products is not always a wise investment and that users need to be sure their data is taken care of."
Unfortunately, it seems many of the people who found out they had counterfeit items didn't know they weren't buying the real thing.  The Gadgeteer's review item also turned out to be a fake, but we had no idea at the time of the review that it wasn't authentic.
In any event, we now have a PhotoFast i-FlashDrive Max 32GB drive.  This device has a Lightning connector on one end and a USB connector on the other.  It has 32GB of data storage built in.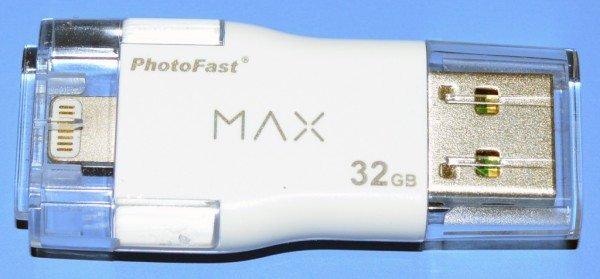 Tech specs
Connections: Lightning, USB 3.0
Compatibility: iOS 7/8, Mac OS X, Windows 7/8/XP
Supported iOS devices: iPhone 5/5s/5c, iPhone 6/6 Plus, iPad Air/Air 2/mini
Size: 2″ X 0.9″ X 0.3″, o.26 ounces
Lightning speed: read 17Mbs/write 15Mbs
USB speed: Read 90Mbs/write 22Mbs
Supported files
Music: MP3, CAF, ACC, AIF, WAV, AIFF, M4A; iTunes not supported
Video: AVI, FLV, MP4, MOV, M4V, MKV, MPG, RM, RMVB, WMV
Photo: BMP, TIF, TIFF, XBM, GIF, ICO, CUR, JPG, PNG. Can hold over 32,000 photos
Backup files for contacts and calendar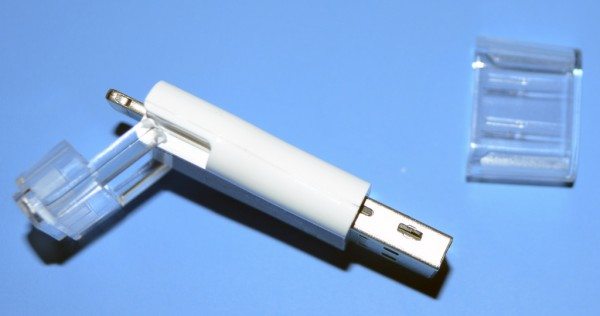 The clear plastic cap removes completely from the USB end, but it's permanently attached on the Lightning end.  The Lightning end cap has a raised nipple that you can fit the USB cap onto for safekeeping.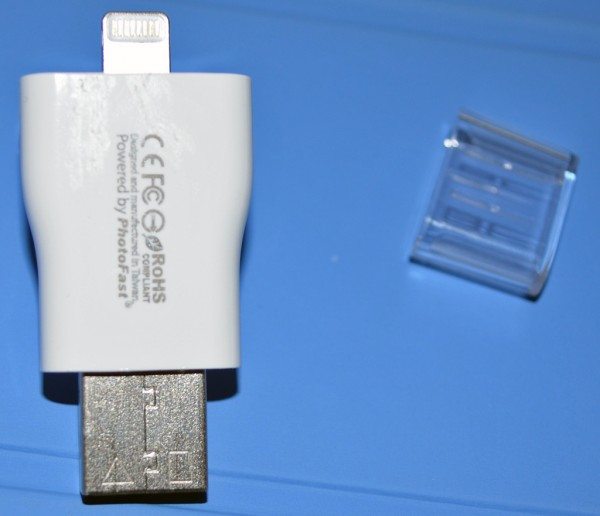 The back of the drive has some adhesive residue left on it from the adhesive pad holding it into the packaging.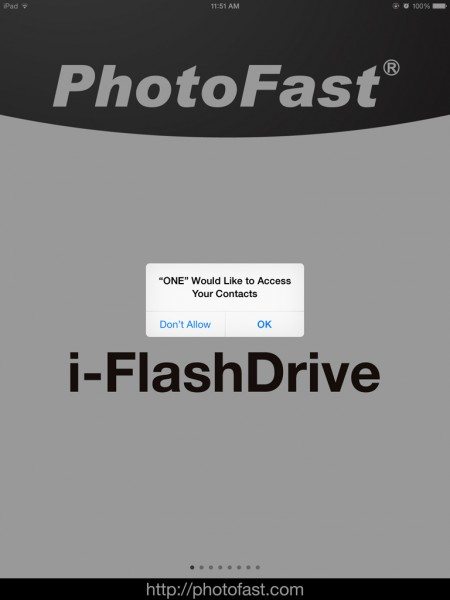 When I plugged it into my iPad Air 2, I was prompted to download an app from the Apple App Store.  This i-FlashDrive uses an app called i-FlashDrive One.  The download was free.  I was prompted to give the app access to some of the files on my iPad, which is necessary to copy and use the files and do backups.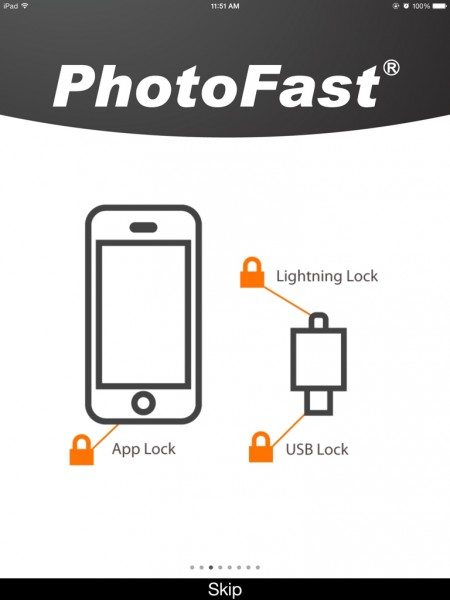 The app has a series of "tips" you can scroll through, or you can skip the tips and go straight to the home screen.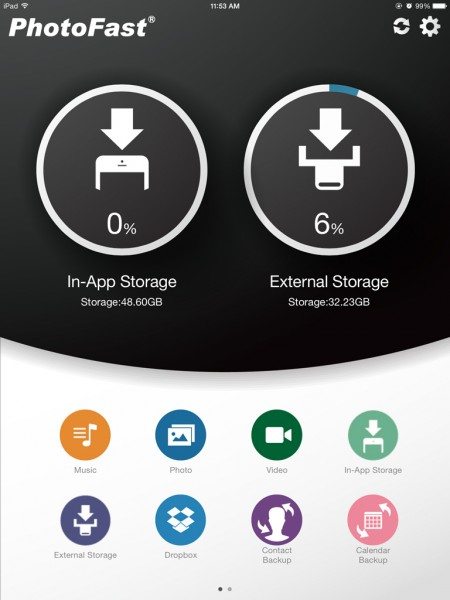 Just like the app used by the counterfeit drive, this app has in-app storage for backups and files that you move there.  For example, you can load some non-DRMed, non-iTunes music files in the in-app storage and listen to them through the One app even when the flash drive isn't connected.  The external storage is the i-FlashDrive itself.
You'll notice that the external storage shows that the i-FlashDrive already has some files on it.  It has several photos of the flash drive itself, and there's a PDF containing a simple manual for using the i-FlashDrive and app.
There are a lot of options on the screen seen above.  Although it looks different from the app used with the Brando flash drive I reviewed earlier, the functions seem to be mostly the same.
This isn't a manual for how to use the device, so I won't go in-depth into any function.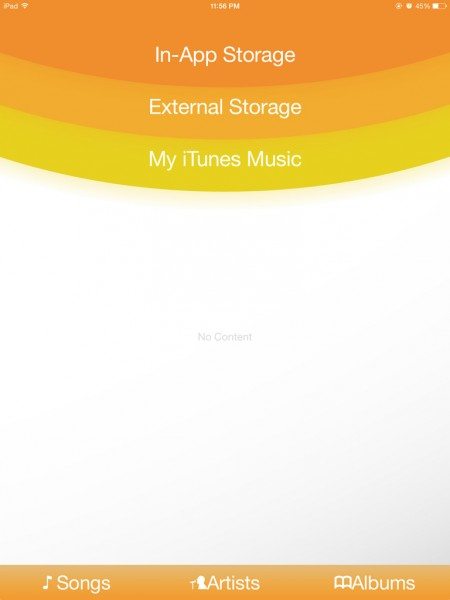 You can copy songs from your computer onto the i-FlashDrive, plug the drive into your iOS device, then you can use the Music function inside the PhotoFast app to play the music files on the external drive.  You can also copy the files from the drive to the in-app storage and play them using the app's music function.  Although My iTunes Music is listed in the options, the app cannot see any music stored in the iOS device's native music app.  I tried copying a DRMed song from iTunes on my computer onto the external drive to see if it would play through the app's music function, but the app crashed when I tried to select the iTunes music file in external storage.  I could play a non-DRMed music file just fine.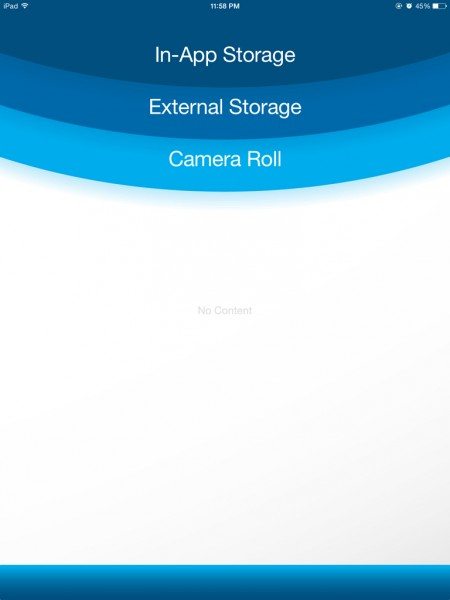 With the Photo function, you can view supported image files found in in-app storage, on external storage, or in your camera roll.  You can choose to move photos from one location to another in this function.  If you want to backup all your photo images from your iOS device to your computer, it would be easier to do so using the app's Photo Backup function.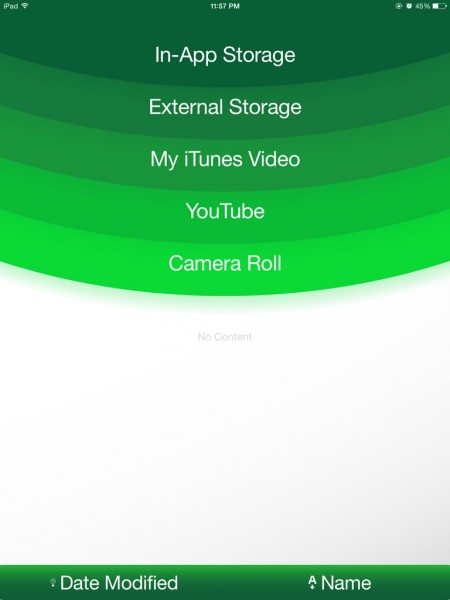 You can play non-DRMed files using the app's Video function.  You can also use it as the interface to watch content on YouTube without having to download the YouTube app to your device.  Although it shows My iTunes Video as an option, it gave me an error when I tried to play an episode of The Big Bang Theory I had purchased on iTunes and copied onto the i-FlashDrive.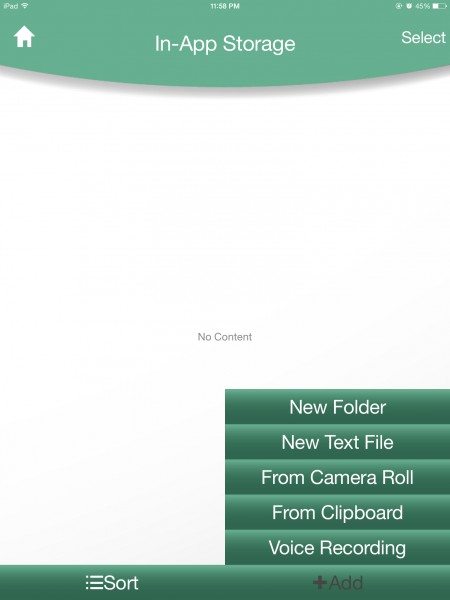 You can create folders in either in-app storage on external storage to organize your files.  You can also create text files.
You can move some types of files from the iOS device into either in-app or external storage, and you can move files between in-app and external storage.  Once they are on your flash drive, you can move them to your computer.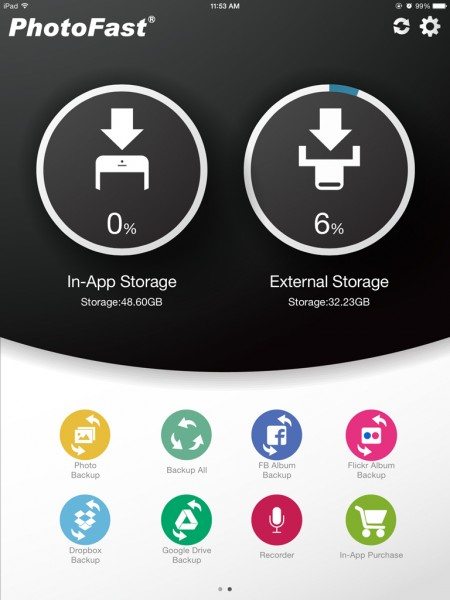 This page of options has all the functions for backing up data from various apps on your iOS device.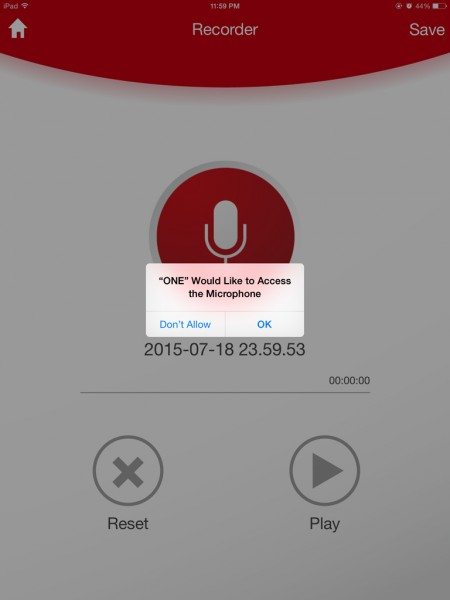 There's also a voice recorder in the app.  You can record files and save them on the external device or in in-app storage.
All in all, this PhotoFast i-FlashDrive Max and its associated app functions very much like the i-FlashDrive I had reviewed earlier.  You might even want to read the review of the i-FlashDrive external storage for iOS devices from last year for a little deeper look at the various app options and how they work.  The big difference, of course, is that the PhotoFast i-FlashDrive Max is an authentic product, and the i-FlashDrive One app is designed to work with it.  It isn't a counterfeit drive that will fail when PhotoFast issues an updated version of the app; I actually see the message, when the app starts, that the drive is being authenticated.  It obviously passed that hurdle, since I was able to use the software and take screen caps for this review.  It costs more than the apparently-counterfeit device I tried earlier, but it should continue to work with the supporting app as it is updated.  Saving money on a counterfeit doesn't do you any good when you can suddenly no longer use it.  Of course, that little sermon only applies to people who knowingly buy counterfeits.  I know I had no idea that the drive I reviewed earlier wasn't an official PhotoFast device.
Source: The i-FlashDrive Max used in this review was provided by PhotoFast.  Learn more at their website.
Product Information
Price:
$99.99 at Amazon
Manufacturer:
PhotoFast
Retailer:
Amazon (in the US) and other retailers
Requirements:

iOS device with Lightning connector and running iOS 7 or 8

Pros:

Allows transfer of files between iOS devices and computers
Adds additional storage to iOS device
Can play music and videos from the device

Cons:

Can't play iTunes music and video from the device