We use affiliate links. If you buy something through the links on this page, we may earn a commission at no cost to you. Learn more.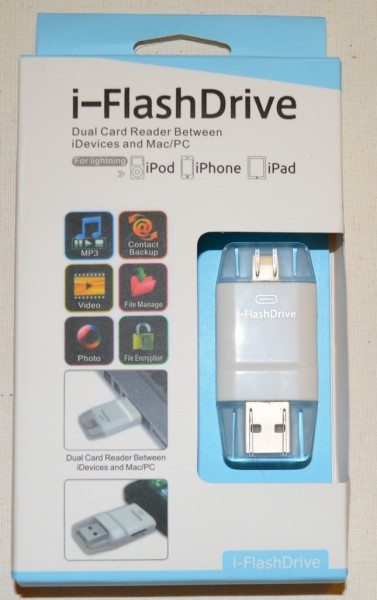 Because we have three people who always get iPhone upgrades, we always buy the lowest storage capacity to keep our costs down.  That wasn't a problem before, because we mostly used our iPhones for calling, texting, emailing, and navigation.  We typically used our iPads for gaming, creating files, and other activities.  This upgrade, I've regretted buying the 16GB iPhone 6 Plus, but exchanging it for a larger capacity would have meant another unbearable wait, so I'm stuck with it this time.  My next iPhone will have at least 64GB of storage, but until then it would be nice to find a way to increase the storage on the iPhone I have.  That doesn't seem possible, because Apple doesn't allow you to use memory cards.  It would also be nice if I could exchange files between my iPhone 6 Plus, iPad Air 2, and my computer without involving iTunes.  I don't want to have to sync one device with my computer and then sync the other to get the files on, nor do I always want to have to email files between devices.  It might also be nice to have some room for a song or two on my iPhone without filling up the tiny amount of storage still available on my 6 Plus after loading up the apps I need to have.
Brando has just the device that promises to fulfill my wishes.  The i-FlashDrive external storage for iOS devices is basically a flash drive/microSD card reader with a standard USB plug on one end and an Apple Lightning plug on the other.  You can use it with an iOS device or with a computer to transfer data between them.  The packaging promises that the i-FlashDrive is "external memory expansion for iPad/iPhone/iPod touch".  It promises to let me play music or video files from the external storage, create/edit text files, make voice recordings, support Dropbox, and more.  I've seen similar devices that promise these functions, but they are usually very expensive.  Brando's i-FlashDrive is only $30, plus you'll need to supply your own microSD card.  Can it live up to its promises?
Hardware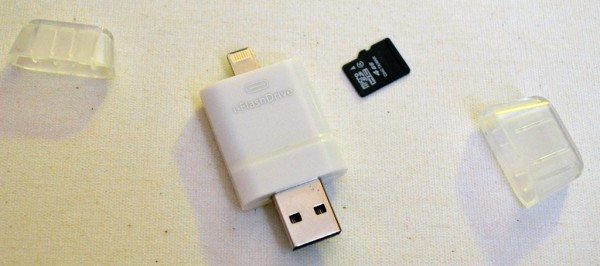 The i-FlashDrive Brando sent to The Gadgeteer is a small, white plastic device.  As mentioned, it has a Lightning connector on one end and a standard USB connector on the other.  It comes with clear plastic caps for each end.  It measures about 2.2″ long X 0.8″ wide X 0.3″ thick with the end caps in place.  It weighs 11 grams, just over 1/3 of an ounce, with the microSD card in place.
The microSD card in this image was a 4GB card I've owned for a while.  Unfortunately, I couldn't find any information anywhere about the maximum storage your microSD card can have.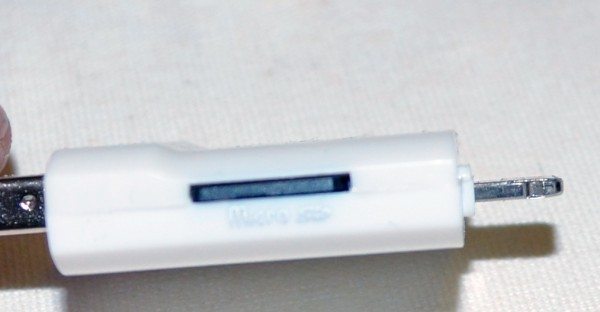 There's a slot on one side of the i-FlashDrive for the microSD card.  It's spring loaded, so it's easy to insert and remove the card.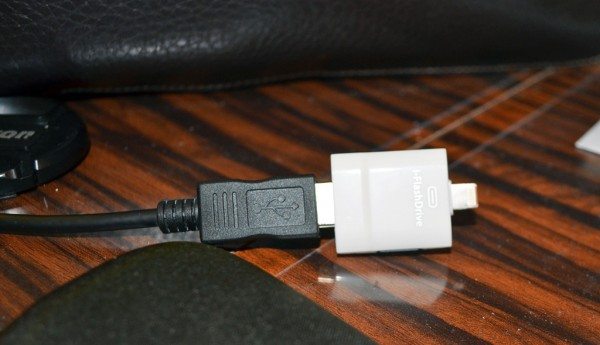 Try as I might, I couldn't seem to time a photo to capture the red and blue lights that sometimes flash on the i-FlashDrive when it's plugged into the USB extension cord I use with my Mac mini.  In any event, the card showed up as available on my Mac without any problems.  I saw it had some files already on it, so I decided to try just plugging the i-FlashDrive in to my iPhone 6 Plus to see what happened.
Because of the Lightning connector, you can only use this i-FlashDrive with the iPhone 5 and newer, iPad 4, all iPad Airs, all iPad minis, and the 5th generation iPod touch.  Although I only have a Mac computer, the i-FlashDrive will also work with PCs.
i-FlashDrive HD app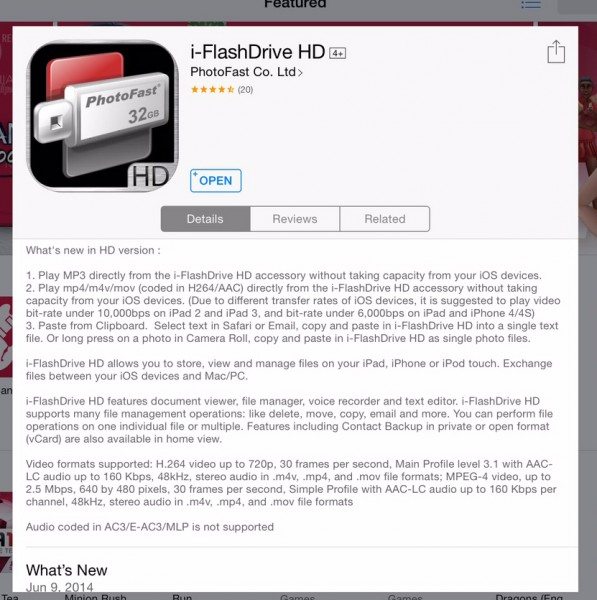 When I inserted the Lightning connector into my 6 Plus, I was prompted to download an app from the iTunes app store.  Even after I had the i-FlashDrive HD app on my phone, things were a bit confusing and didn't seem to work like I thought it would.  I decided to clear off the card (using my Mac) and start over.
Reading the "what's new" section in the app description in the app store revealed some interesting information.  I had read some reviews of earlier PhotoFast i-FlashDrives with built-in storage and their iOS apps, and the reviews all said that you had to move MP3s and movies from the external storage to internal storage on your iOS device to access them.  This seems to defeat the purpose of having external storage for your iOS device.  Apparently everyone agreed with me, and PhotoFast changed the app to allow playback from the external drive itself.
If you click to enlarge the above image, you can see lists of supported file types.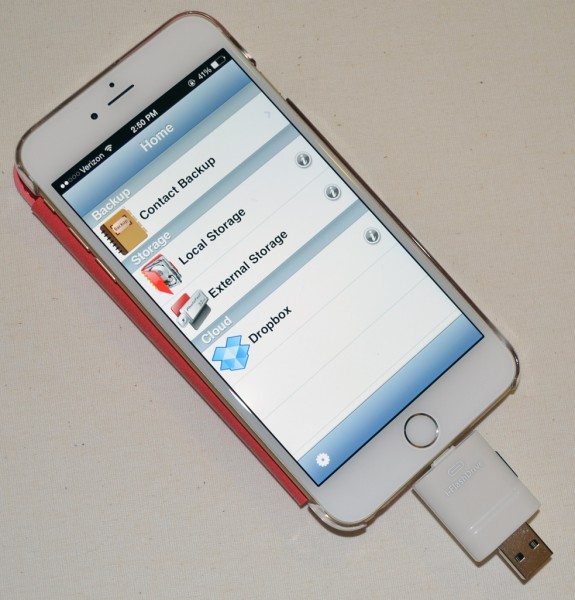 Here's the home page of the i-FlashDrive HD app.  The small gear at the bottom left is the settings icon.  Opening up settings allowed me to access help files and "how to" videos.  Once I checked out the instructions, everything worked very well.  *ahem*
Backing up Contacts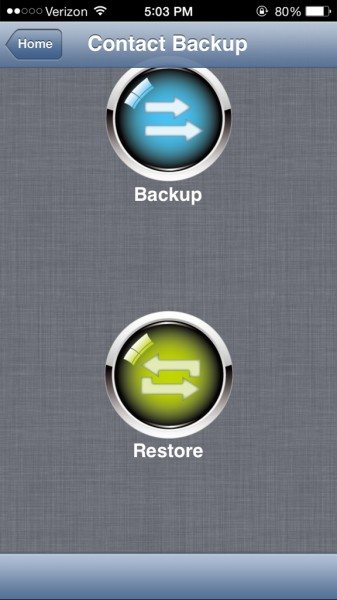 The first thing I tried was the Contacts Backup option.  I have my Contacts backed up 3 or 4 different ways (daily), but another never hurts.  Just touch the Backup button, and there's only a slight hesitation before the backup is completed.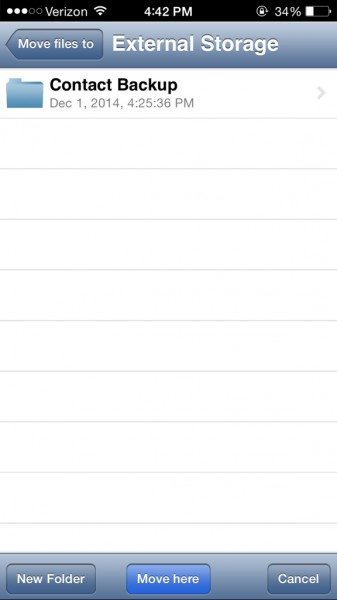 The app creates a .VCF file in both its own local storage and on the microSD in the i-FlashDrive.
I haven't tried the restore process.
Local and External Storage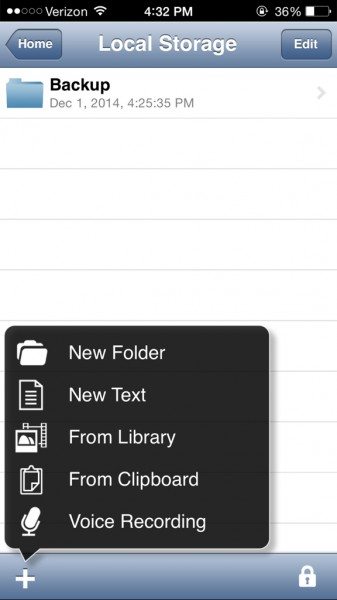 I had selected Local Storage from the app's home screen, so anything I did from this pop-up menu was stored in the app's own memory.  I created several files in local memory without realizing it, until I tried to read the i-FlashDrive on my Mac mini and found it was empty.  It's simple enough to transfer things from local to external memory with just a couple of keystrokes, so I quickly moved my new files to external storage.
Voice Recording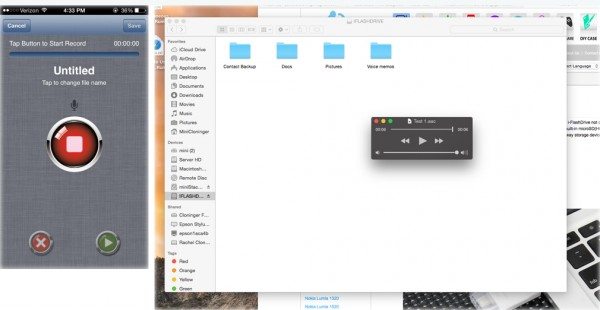 Next, I tried the Voice Recording function.  The i-FlashDrive HD app has a recorder built in; it doesn't use the iPhone's native voice recorder.  It's easy to use; just tap the big, red record button to start recording and again to end the recording.  I could save a file to either the local or external memory.  The recording is saved as a .AAC file. I could use this same app to play my voice recording.
I tried connecting the i-FlashDrive to my Mac, and I was able to play the voice recording from the external drive with Quick Time.  iTunes also took over and added the voice recording file to my iTunes library on the Mac.  *sigh*
Text files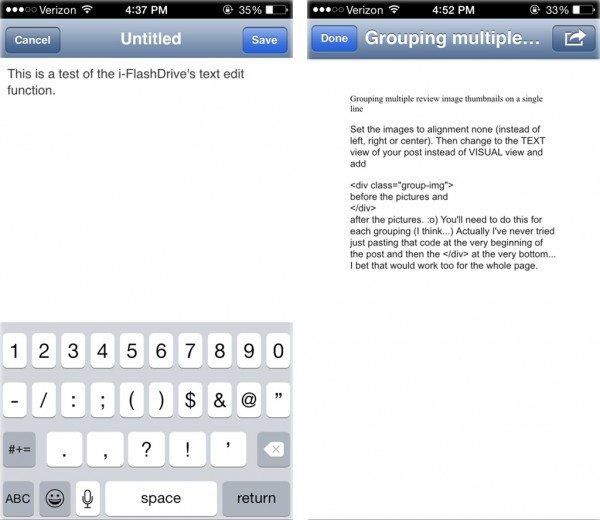 Next up is text files.  I created the file on the left using the text editor in the i-FlashDrive HD app and stored it on the microSD card (external storage).  I was able to open and edit it on my Mac.
I had an Office file I had created on my Mac that I copied over to the i-FlashDrive.  When I plugged the i-FlashDrive back into my iPhone, I was able to view but not edit the Office file on my iPhone (right image).
Moving and copying files between Local and External Storage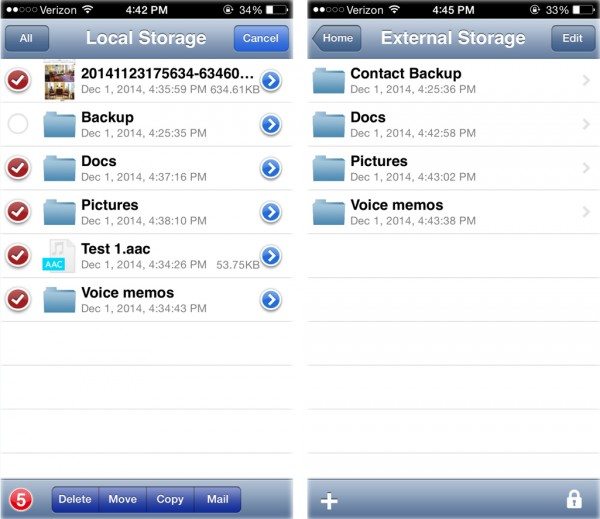 Remember I mentioned earlier that I had created a bunch of files in local storage instead of on the microSD?  Well, I was able to copy all of those files from the app's local storage over to the i-FlashDrive with just a couple of clicks.  I could choose to copy them, so that the files exist in both locations, or move them, so they exist only on my SD card and are deleted from local storage.  You can also move files off the microSD card to local storage.
Accessing and moving pictures between iOS devices and the computer
You don't have to worry that you'll accidentally delete an image from the iOS device when you copy files from the photo library to the i-FlashDrive.  I was only able to copy, not move, photos from my iPhone's photos to the i-FlashDrive using the From Library option.  After you've checked the files to copy to the i-FlashDrive, you'll then select the quality for the copied images.
I was able to view the photo files on the i-FlashDrive on my Mac.  I could easily transfer those images to the Mac by dragging and dropping them.
I could also copy an image from my Mac to the i-FlashDrive.  The third image is one I had on my Mac that I used in a recent news item being viewed on my iPhone after I transferred it from my Mac.   From the i-FlashDrive, I could save that image to my iPhone's camera roll.  I could also share it from the app and send it to email or a message, to iCloud photos, to my Epson iPrint app, and other options.
Music files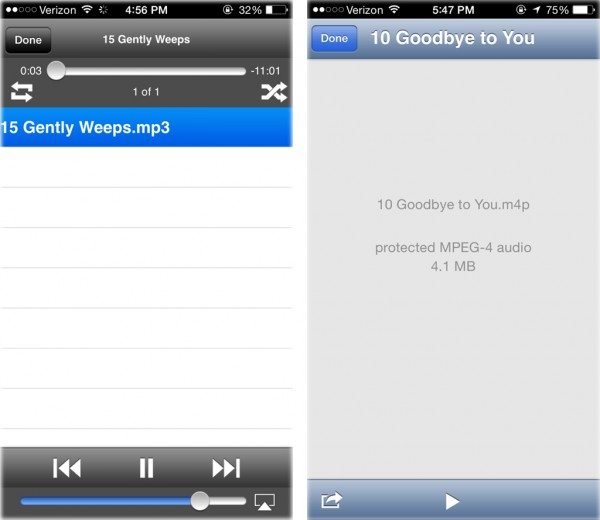 And now to the music files.  I have some songs on my Mac that I purchased from the ukulele virtuoso Jake Shimabukuro that have no DRM.  (As a matter of fact, he encouraged his customers to share these files with their friends to get the word out about his music.)  His song is called Gently Weeps.  It's an MP3 file, and it played beautifully directly from the microSD card with the i-FlashDrive connected to my iPhone.  I also could move the file into the i-FlashDrive HD app's local storage, but it was always played using the i-FlashDrive HD app's player.  iTunes music player didn't see the file at all when it was on the microSD card nor when it was in the app's local storage, and there was no way to import it into iTunes on the iOS device.
I also had a DRM-protected file I had purchased from iTunes years ago that I tried.  I copied Michelle Branch's Goodbye to You from my Mac mini to the i-FlashDrive.  The .MP4 format file wouldn't play at all from the i-FlashDrive when connected to the iPhone.  I got the error message seen on the right, above, when I tried to play it.
So, if your music library consists of DRM-protected files you purchased from iTunes or other sellers, you seem to be out of luck using the i-FlashDrive as your music library for the iTunes player on your iOS device.  If your files aren't protected, you'll be able to play them using the app's player.
It would be a perfect world if The iOS iTunes player would look for music files on the external device; the DRM wouldn't matter in that case, because iTunes would be the player.
Video files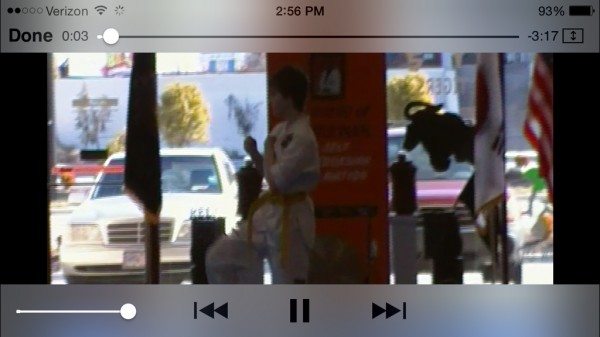 The DRM protection works the same with video files as it does with music files.   I copied over this file of my daughter at Taekwondo class from my Mac to the i-FlashDrive.  It was taken with our video camera, so it had no DRM.  The file played perfectly from the microSD card using the app's player.
I also tried playing a file of a Buffy the Vampire Slayer episode I had bought at iTunes.  Clicking on the BTVS episode stored in external storage resulted in a pause while the app tried to open the file, then it just returned to the list of videos on the i-FlashDrive without even an error message.  Apple's video player never saw either of my videos on the microSD card, so I could only play them using the i-FlashDrive HD app.
If you have videos that don't have DRM and that are one of the file types listed in the app description image (5th image in this review), you should be able to play them using the app's built-in player.  Notice the app description also has some tips about how to best play apps from the i-FlashDrive device.
Dropbox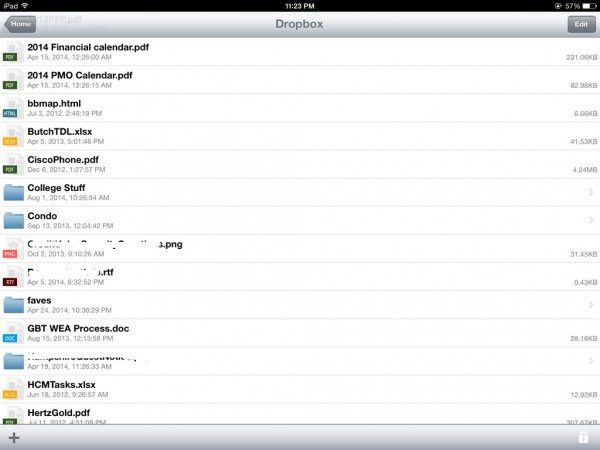 The i-FlashDrive HD app also gives you access to your Dropbox files.  You don't even have to have the i-FlashDrive device connected to access Dropbox files; the i-FlashDrive HD app can always access those files.  (It can also detect the files you have stored locally without the i-FlashDrive being plugged in.)  I don't have a Dropbox account myself, but my husband downloaded the i-FlashDrive HD app to his iPad Air and was able to access his files, as you can see in the above image, with or without the i-FlashDrive connected to his Air.
Conclusion
I had hoped, but hadn't really expected, that I'd be able to load up some of my music onto the i-FlashDrive and have the iTunes music player on the iPhone play it.  Of course, Apple has tight control over what and how things get added to their mobile devices, so this wasn't to be.  However, any music files I have without DRM and any video files I have without DRM play just fine using the i-FlashDrive's built-in media player.
The i-FlashDrive does work wonderfully to transfer certain file types between iOS devices and computers.  I was able to use it with my Mac mini, my iPhone 6 Plus, my iPad Air 2, and my husband's iPad Air.  It's very convenient and fast, and using it for a simple file transfer means iTunes never gets a chance to start loading all the apps my husband and daughter have recently purchased onto my device.  It's a flash drive but better, because you can use it with your computer (Mac or PC) and your iPhone, iPad, or iPod touch.  Of course, you'll need to provide your own microSD cards, but you can get small capacity ones for next to nothing now.
And don't forget you can easily make a backup of your iOS device's contacts and restore them from either the app's local files or from your i-FlashDrive.  Not having to type all your contacts in again is more than worth the small $30 purchase price for the i-FlashDrive from Brando.
Update:  This device stopped working with the app after a June 2015 update.  PhotoFast had modified their software to add an authentication step; any device that doesn't pass this step will be locked out of using the software, rendering it useless.  The folks at PhotoFast contacted Julie to explain the situation, and they sent along an authentic PhotFast i-FlashDrive Max USB 3.0 32GB drive for us to review.  Read the new review here.
Source:  The i-FlashDrive sample for this review was provided by Brando.  To learn more, please visit http://shop.brando.com.

Product Information
Price:
$30
Retailer:
Brando
Requirements:

iOS device with a Lightning connector, your own microUSB card, and a computer (PC or Mac)

Pros:

Easy to use
Don't need a special app on the computer to load up the files
iOS app to use the i-FlashDrive is free
iOS app p's built-in media player works well with non-DRMed music and video files

Cons:

iTunes and Video apps on iOS device don't see files on the i-FlashDrive, so you can't used DRM-protected files
Using the iPhone is awkward with the i-FlashDrive plugged in to the Lightning port