We use affiliate links. If you buy something through the links on this page, we may earn a commission at no cost to you. Learn more.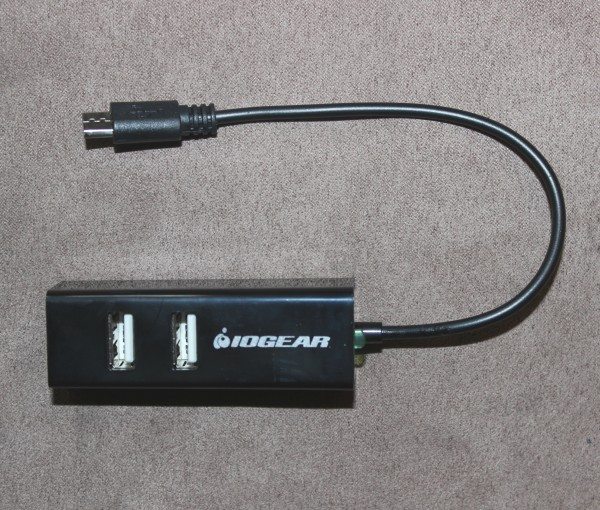 Like many of you, my smartphone and tablet are my go-to devices for almost everything. I use them to listen to music, to communicate, to do research, to shop, and so on. As much as I love these devices, they have their limitations. The GoFor2+ USB On-The-Go Card Reader with Hub for Android Devices by IOGEAR claims to overcome these limitations by increasing the usability of these devices.
The GoFor2+ is a USB On-The-Go (OTG) card reader and hub. For those of you who are unfamiliar, USB OTG is a protocol that allows you to use a variety of USB devices on your smartphone or tablet.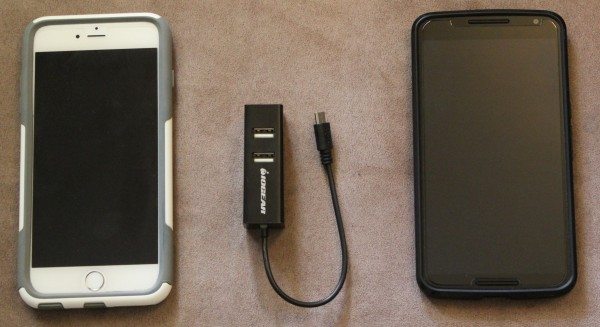 The GoFor2+ is relatively small. The hub is about 2.5 inches long (9.5 inches including cord) and .75 inches wide. You can see its size compared to my Nexus 6 and my wife's iPhone 6 Plus (for size comparison only).  It should easily fit in your briefcase, laptop/tablet bag, or even your pocket.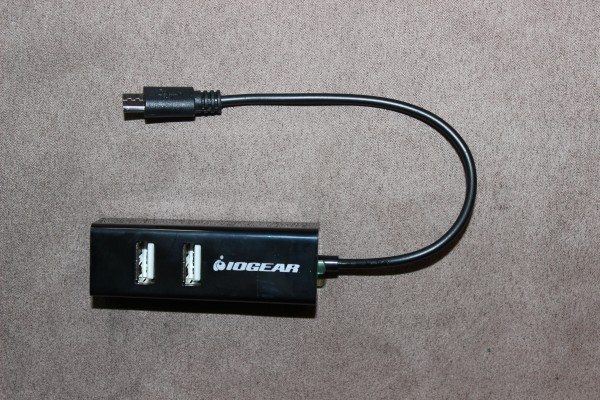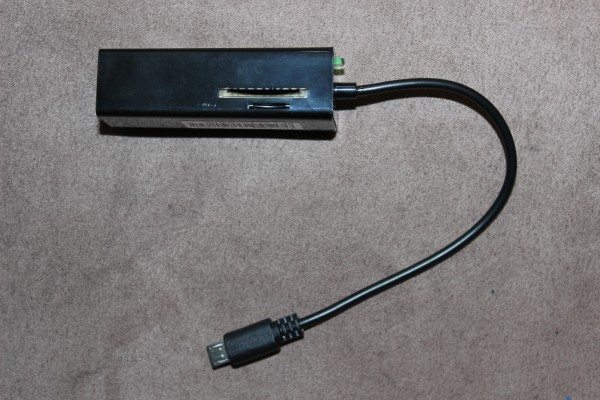 The GoFor2+ features 3 USB ports, an SD card reader, a microSD card reader, and a microUSB plug. Essentially, the GoFor2+ will turn your device into a poor man's desktop.
The GoFor2+ comes with a quick start guide and was incredibly easy to set up on my Android device. You insert your SD card and/or your USB peripherals into the hub and then plug the hub's microUSB into your device. Your device should immediately recognize the hub and anything plugged into it. To access your SD card or USB flash drive, the quick start guide recommends you download ES File Explorer (free from the Play Store).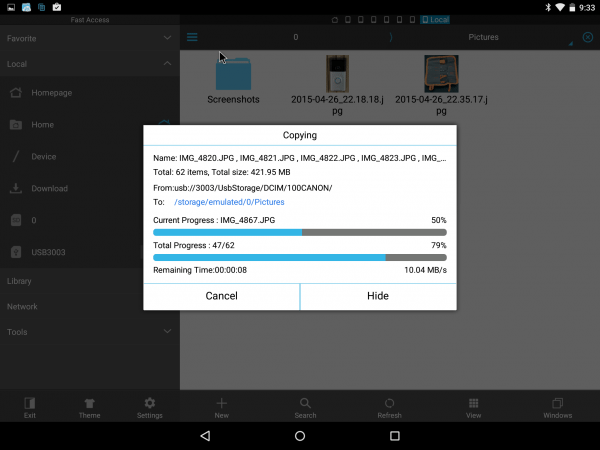 After reading the quick start guide, I inserted an SD card into the hub and plugged the hub into my Nexus 9 tablet. I opened ES File Explorer and immediately found my SD card listed in the sidebar. I was then able to copy and paste pictures from my SD card onto my tablet with ease.

I next plugged in a USB keyboard and mouse. Both were recognized by my tablet and available for immediate use. I have to admit it was unusual to see a mouse cursor floating on my tablet screen, but it worked perfectly. It doesn't have the same functionality as it would on a desktop; a right button click doesn't bring up a menu like you may be used to, but the scroll wheel does work properly.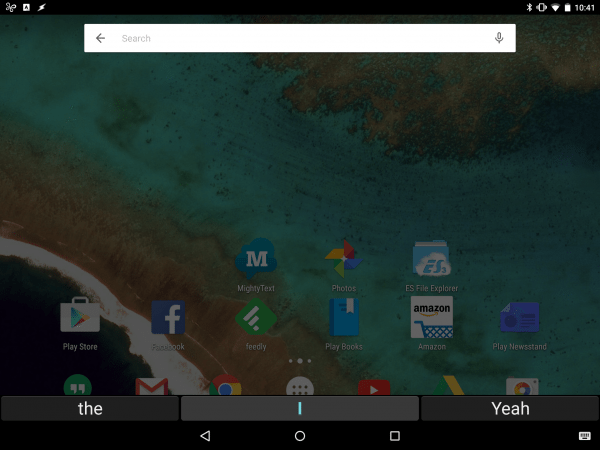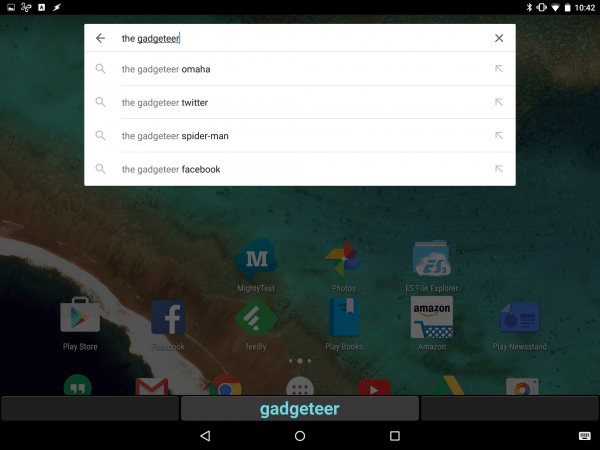 After playing with the mouse for a bit, I began to test out the keyboard. While testing, I was pleasantly surprised to find several of the special function keys operated in Android. The F5 key refreshed pages in Chrome and the Print Screen key took screenshots; however, the biggest surprise was pressing the Windows key to open a Google search window.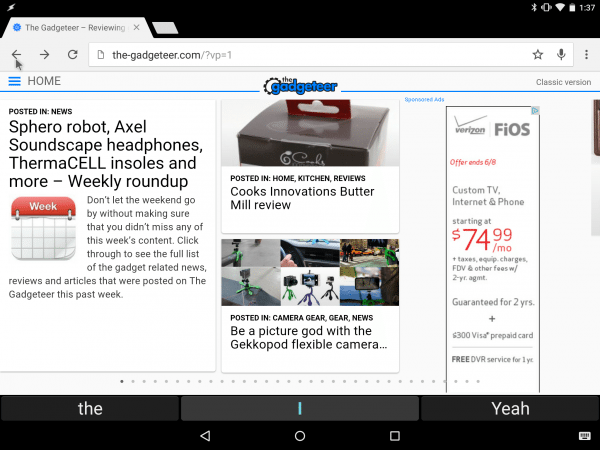 From here, you can enter a web address; Chrome will then open, taking you to the requested site.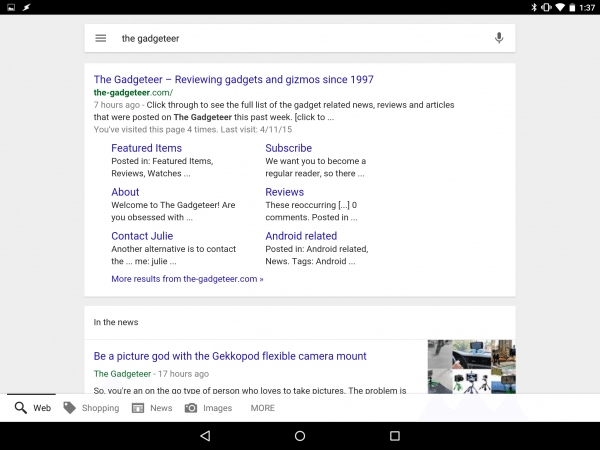 Alternatively, you can enter keywords, and it will perform a normal Google search. There were other special function keys that worked, but I found these to be the most useful.
Another unexpected feature when using the keyboard was the prediction bar at the bottom of the screen. It only occurred when SwiftKey was selected as my virtual keyboard, though. It functioned much the same way SwiftKey normally does; each time I hit the physical space bar, it automatically inserted the highlighted word.
The one thing that did annoy me while using the mouse and keyboard were the cords. Since the cord connecting the GoFor2+ to my tablet is short, there is no real way to tuck away or hide all the USB cords attached to it. Unless you are using a wireless mouse and keyboard, there is a high potential for clutter.
Next I inserted a USB flash drive into the hub and opened ES File Explorer.  Like the SD card before, the flash drive was immediately recognized and listed in the sidebar. I was able to manipulate files without issue.
I wondered how well the GoFor2+ would handle transferring files from my flash drive to an SD card. I reinserted my SD card into the hub, but it wasn't recognized. I made several attempts to access the SD card, including testing the hub on my Nexus 6 and trying different SD cards; however, the results were the same.
While troubleshooting the SD card issue, I remembered I owned a USB SD card reader. I inserted the SD card into the reader and the reader into the GoFor2+ and voilà, it was immediately recognized and listed in the ES File Explorer sidebar. I can only assume that something malfunctioned with the built-in SD card reader and that's why it no longer recognized my card.
It should be noted that neither the Nexus 9 nor the Nexus 6 are listed as supported devices on IOGEAR's website; however, IOGEAR was made aware I would be reviewing their product using those devices prior to sending it.

After troubleshooting the SD card issue, I decided to see if I could use my printer with the GoFor2+. As far as I can tell, Android doesn't have native support for USB printing, so I had to download an app, PrinterShare (freemium from the Play Store), to my tablet.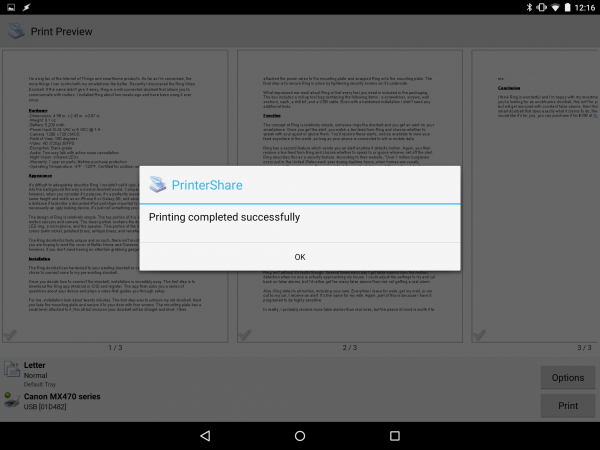 Other than having to download the app, the printer was immediately recognized and ready to print. I then successfully printed a document from my tablet.
The last area I wanted to test with the GoFor2+ was its effect on my tablet's battery life. Using a completely unscientific method, I compared the battery level after one hour of use with nothing attached versus having the hub attached with a keyboard, mouse, and SD card reader. Both tests started with battery life at 100%. Additionally, I had to set the tablet screen to stay on the entire time because the GoFor2+ appears to stop communicating with the tablet otherwise. After one hour with nothing attached,  the battery was at 93%; with the hub attached, the battery was at 90% after an hour. Not a huge difference, but the GoFor2+ will increase battery drain.
Aside from the SD card reader not functioning, my only other gripe would be with IOGEAR's customer service. I attempted to contact them about the SD card issue by email. To do so, you have to fill out a web form with a very frustrating product selection menu.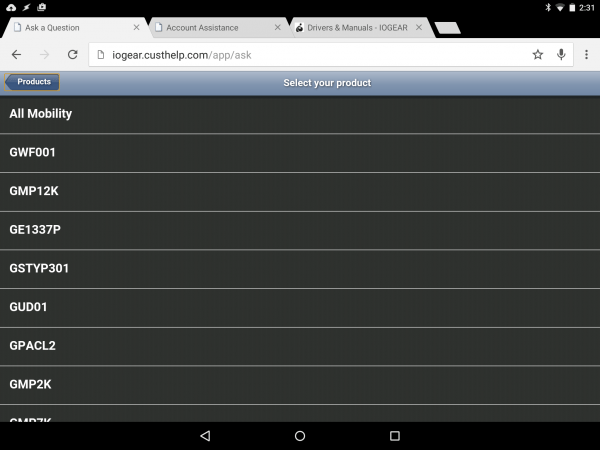 The products aren't listed by name, but instead by model number. While inconvenient, this in itself wouldn't have been a huge issue, but the model numbers aren't listed in alphabetical order or any discernible order for that matter. You have to read through dozens of unorganized model numbers to find the one you're looking for.
The day after submitting the form, I received a reply saying they would forward the issue to the engineers. That was on May 18; I've yet to hear back from them.
Overall I was extremely impressed with the GoFor2+. Despite the issue with the SD card and customer support, I would still highly recommend it. Earlier I stated it turns your device into a desktop of sorts, but I think a better comparison would be with a Chromebook. Using the GoFor2+ you will have all the capabilities of a Chromebook, but with all the convenience of a tablet or smartphone.
I can see this being extremely useful to people who travel frequently and may need to write reports or update their website, but don't want to pack their laptop. Combined with a mouse, flash drive, and foldable/flexible keyboard, the GoFor2+ can easily turn your device into an ultra-portable Chromebook or laptop.
Source: The sample for this review was provided by IOGEAR. Please visit their site for more information.