We use affiliate links. If you buy something through the links on this page, we may earn a commission at no cost to you. Learn more.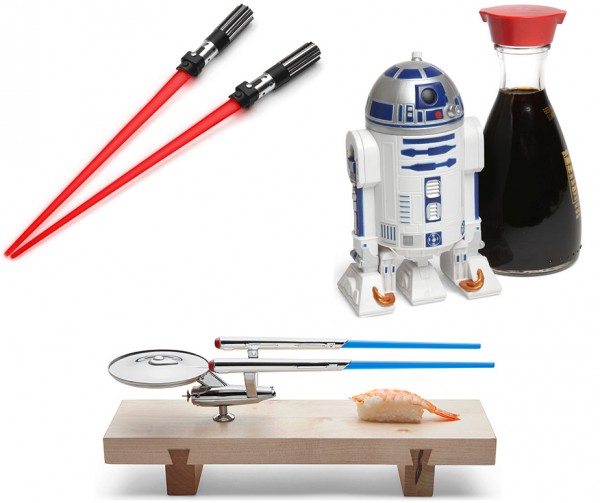 Were you aware of International Sushi Day?  Yeah, me neither.  But it's coming up on June 18th, and you'll need the proper gear to celebrate in style.  We've already told you about the fabulously beautiful Star Trek U.S.S. Enterprise Sushi Set, a ThinkGeek exclusive for $34.99, that would be perfect for serving your sushi.  You serve the sushi on the wooden stand, use the nacelles and warp trails as chopsticks, and put your dipping sauce in the saucer of the Enterprise.  If your taste runs more to the Star Wars genre, ThinkGeek has you covered.  They have a set of Star Wars Light Up Chop Sabers in your choice of Luke blue or Vader red.  The Chop Sabers are 9.6″ long; the hilts hold the batteries and have the power buttons.  The resin light saber part has to be hand washed after you remove it from the hilt.  A set of Light Up Chop Sabers are $14.99.  Finally, you'll need something to hold some soy sauce, and R2-D2 is just the droid you're looking for.  This little R2 has had some reprogramming to change his holographic projector into a pour spout;  the interior is hollow, so he can serve your soy sauce and provide you with some companionship while you're eating.  The R2-D2 Soy Sauce Dispenser is also $14.99.
There's still time to get your tableware for International Sushi Day if you head over to ThinkGeek now.