We use affiliate links. If you buy something through the links on this page, we may earn a commission at no cost to you. Learn more.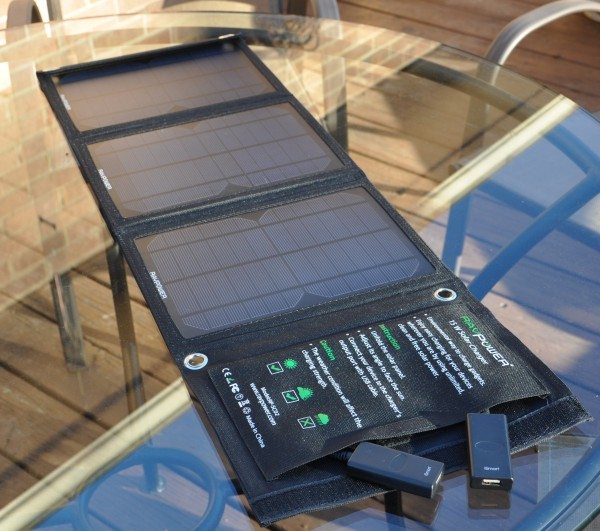 Most of us Gadgeteers either spend some time daily in places with power (for sleep, if nothing else) or have battery back-up devices that we can use to recharge our devices. But sometimes, whether we're out on a job site, or biking, or camping for long periods, we may be "off the grid" electrically, even though we're online. How do you keep your phone, tablet, GPS, music player, etc. charged while you're doing that cross-country bike trek? Or while you're thru-hiking the Appalachian Trail or the Pacific Crest Trail? The nice folks at RAV Power have a product just for these cases: the RAV Power Solar Charger. I was sent one by the company to test.
Note: Photos may be tapped or clicked for a larger image.
The unit is a solid package, roughly 8" x 10" and about 1" thick. It consists of four fairly stiff panels that fold together and are held closed by a long strip of Velcro®. On four corners, there are .5" inside diameter metal grommets that can be used with the included (not-for-climbing) carabiners to clip the unit in place, arrange the panels into a triangle for better sun coverage, or to hang it from a branch or bike crossmember. Three of the four panels are high-density solar cells with a total output of 15W. The fourth panel is a Velcro®-sealed pouch with two standard USB jacks – one marked 1 Amp, the other 2.4 Amps. You supply the cable for your particular device and plug it in while the panels are exposed to the sun, and it will charge. How quickly this happens will depend on many factors: power requirements of the device, strength of the sunlight, how many cells are getting full sun, etc. As a general test, my iPhone 5s went from 68% to 95% in 40 minutes in full sunlight, sitting on my rear deck with no clouds or shade. Ambient temp was in the mid-50's. (Yeah, it's another terrible winter day in North Carolina!) This is a tad slower than it would charge on a regular iPhone charger, but not enough to seek out an outlet, if I was out on the beach or biking. I found this rate to be similar with less sun, fewer panels, or more depleted devices – it's about 75% as fast as the stock power plug.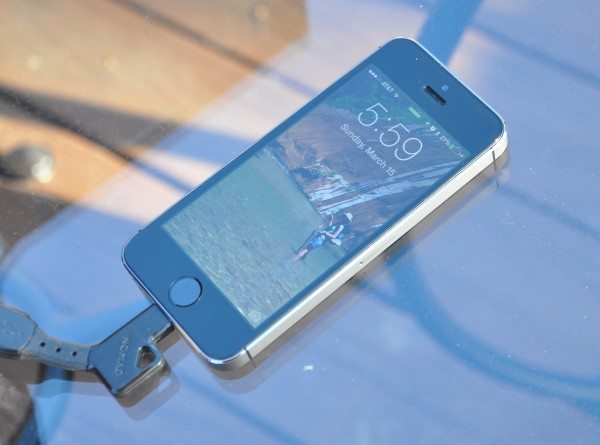 The package is slightly bulky, but I'm definitely taking it with me on trips abroad, and it will become a permanent part of my biking equipment. Getting that phone and tablet charged while riding on a sunny day is fantastic!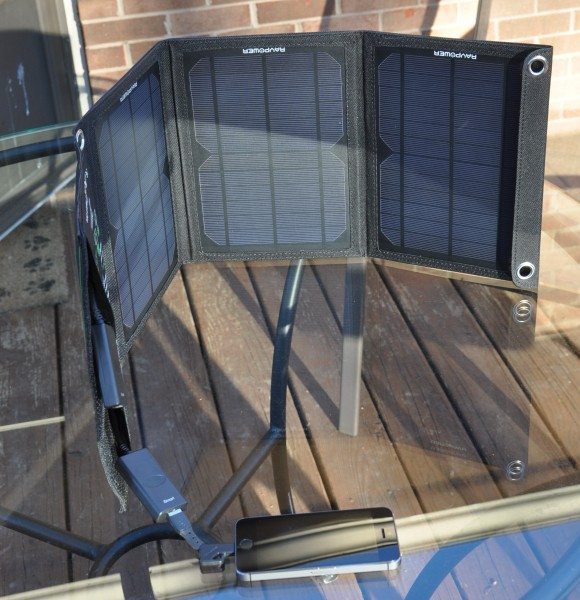 Source: The sample for this review was provided by RAVPower. Please visit their site for more info or Amazon to order.
Product Information
Price:
$80 MSRP, on sale for $50 currently
Manufacturer:
RAV Power
Retailer:
various, including manufacturer Amazon
Requirements:

Anything needing USB charging

Pros:

Collapsible for travel.
Two ports for phone and tablet use.
Grommets and included carabiners make for easy rigging in changing conditions.

Cons:

Conditions require solar access to be effective.
Room to lay out panels to catch rays.