We use affiliate links. If you buy something through the links on this page, we may earn a commission at no cost to you. Learn more.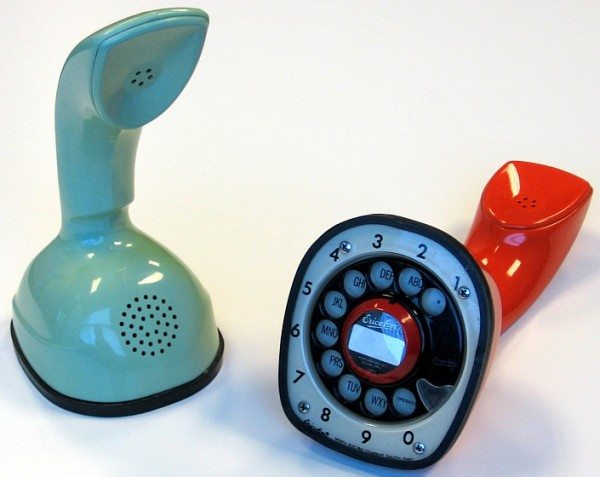 I love Mid-Century Modern architecture, furniture, and interior decor.  I used to have one of the coolest Mid-Century telephones ever created – the Ericsson Ericofon.  It looked unlike any other phone that came before it; it was sleek, modern, and colorful.  I used mine for a while as an extension phone because the ringer didn't work, but I'll admit it was a pain to use because it was a rotary dial phone.  I ended up storing it in my basement, and it was damaged in a flood.  Even if it worked, I couldn't use it now because we don't have a landline.
But I don't need a landline to use one of these Bluetooth Ericofon handsets.  BT Ericofon takes real, vintage Ericofons, reconditions them, and turns them into the coolest Bluetooth handsets ever.  When paired with a cellphone, you'll hear a dial tone when you lift the handset, and you can even make a call by dialing the number on the handset's rotary dial.  This thing has all the bells and whistles, too, because you can do redials, speed dialing, activate your cellphone's voice recognition function, and much more.  When you get a call, the handset will ring with the iconic "Ericotone" chirping ringtone.
These Bluetooth Ericofon handsets don't come cheap, though.  You can select the available color of your choice for $600.00.  Apparently these handsets are very popular, and it will take a while for you to receive your handset.  But man, do I want one!  I wonder if they need a Baby Blue, Groovy Orange, or Mint Green one reviewed?