We use affiliate links. If you buy something through the links on this page, we may earn a commission at no cost to you. Learn more.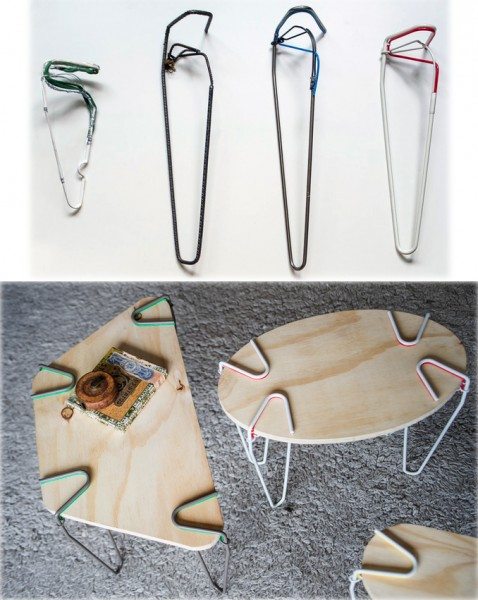 Have you ever built your own furniture?  I'm not talking about creating a beautifully handcrafted piece of heirloom-quality furniture like a Chippendale chair.  I'm talking about using pallets or screwing some legs onto a board – either because you like the bohemian style or because buying a piece of furniture isn't in the budget?  SNAP, a current Kickstarter project, is a pair of legs that are designed to make it easier for anyone to create their own furniture without needing tools.  With a pair of legs and a wooden box, you can create an end table or nightstand that leans against a wall.  With four SNAPs, you can create free-standing tables or an ottoman.  With enough legs and boards, you can even build a set of bookshelves.
SNAP legs are made of epoxy-painted steel, and they have a high-strength cable that helps you pull open and clamp a SNAP onto a board.  A set of four legs can support up to 154 pounds – assuming the board is strong enough, too.  They are available on either 14″ (for coffee tables) or 17″ (side tables) lengths and in 16 color combinations (four colors for the legs and four colors for the cable).
Funding continues until Thursday, June 11, 2015 at 11:00 AM EDT, though the funding goal has already been far exceeded.  A few early-bird pledges of $55 are still available for two SNAP legs; the price will increase to $60 for two when all the early-bird pledges have been claimed.  Other pledge levels get your three or four SNAPs.