We use affiliate links. If you buy something through the links on this page, we may earn a commission at no cost to you. Learn more.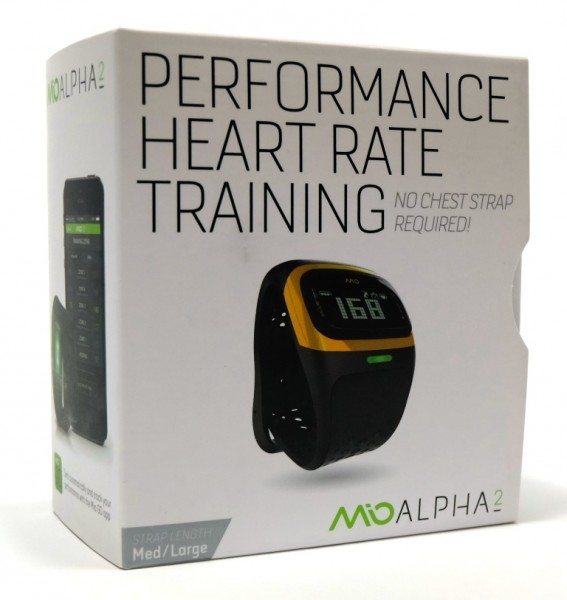 I love trying out the latest in heart rate monitors, especially those that do not require straps. I currently use a Polar M400 (which Dave Rees reviewed in February of this year) with the Polar H7 Bluetooth heart sensor chest strap and they work really well, but it would be nice not to have to use the chest strap because they slip from position if not tucked under a sport bra or can even chafe. I tried the Spree Fitness Monitor last year, which is a heart rate sensor that you wear around your forehead, without much success. The Mio Alpha 2 Heart Rate Sports Watch is another heart rate sensor that does not require a chest strap, but will it be able to detect an accurate heart rate during a high impact workout?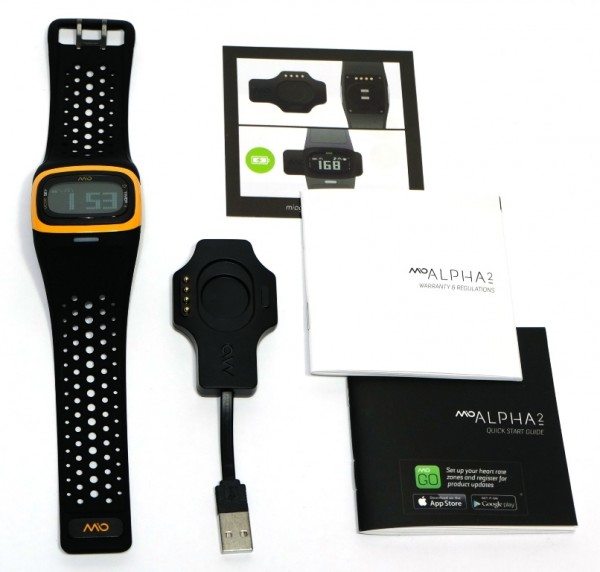 Package Contents
Mio Alpha 2 Heart Rate Sport Watch
USB proprietary charger
Quick Start Guide
Warranty & Regulations
Wearing and Charging card
Technical Specifications
Material: Soft silicone
Display: LED
Battery: Rechargeable li-poly battery with USB charger
Battery Life: Approximately 20-24 hours in workout mode, up to 3 months without continuous heart rate monitoring on
Memory: Up to 25 hours of workout data that can be synced later
Water Resistant: 30m (3 ATM)
Watch Function: Yes
Dimensions: 252 x 43 x 18 mm (lxwxh)
Weight: 53 g
Sensors: Optical heart rate, 3-axis accelerometer
Sync method: Bluetooth Smart (4.0)
Measures: EKG-accurate heart rate, calories, distance, pace, and speed while in workout mode
Timers: Countdown, chronograph, and repeat intervals — configurable within the Mio GO app
Backlight: Yes
Design & Build Quality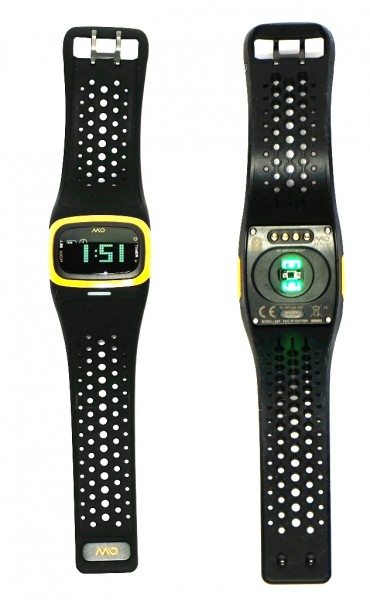 The Mio Alpha 2 is an attractive device. The band is a relatively soft flexible silicone and slightly stretchy to be able to adjust the band to ensure a good tight fit to detect your heart rate. The underside of the watch shows the the optical heart rate sensors and the four pin connectors that magnetically attach to the USB charger.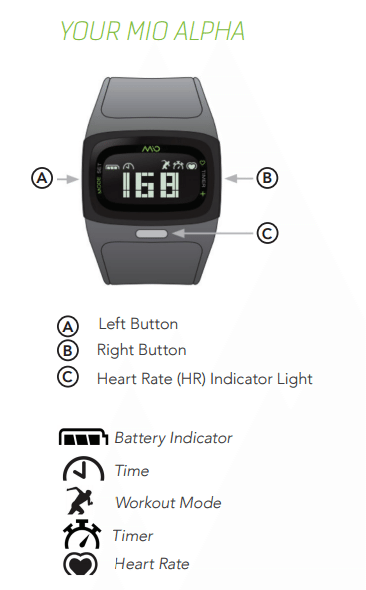 The home screen of the watch shows the battery level, time, and when you are tracking your workout, it shows the workout mode, timer, and heart rate.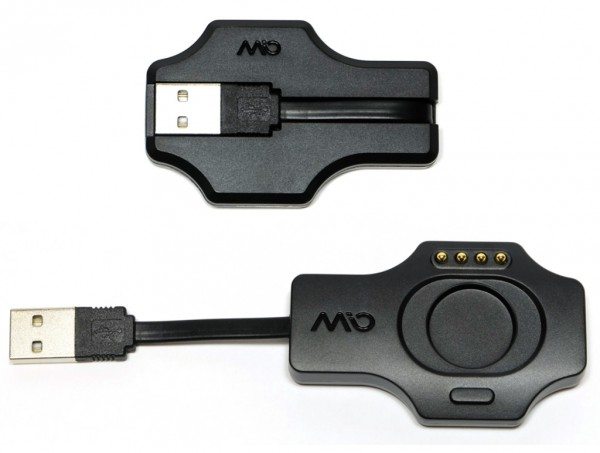 The USB cable of the charger folds neatly behind the base to allow for ease of transport.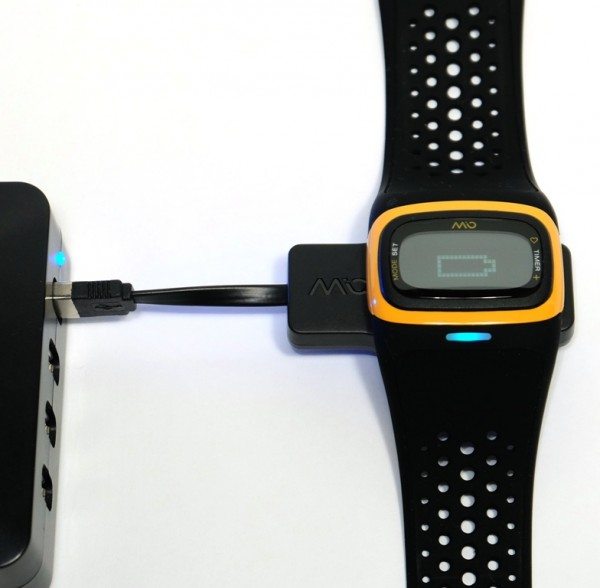 Because the charging cable is so short, it will need to be close to the charging source.
Use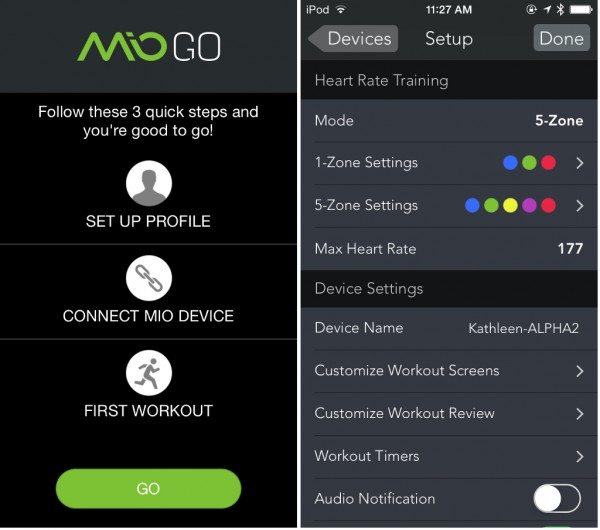 To use the Mio Alpha 2 you need set up the watch and download the app. To set up the watch you need to press and hold the left button on the watch to get into the watch settings, then use the right button on the watch to change the information. When the correct settings are selected, press the left button again to proceed until you have gone through the entire setup. Next, you need to download the Mio Go app, set up your user profile, connect your Mio device (make sure Bluetooth is on on your mobile device and connect the Mio Alpha 2 within the Mio Go app), configure your heart rate zones if you desire, …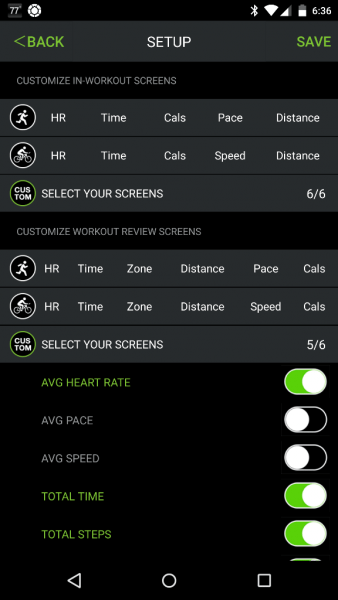 …and customize your display screens and alerts. I installed the Mio Go app on my Nexus 6 phone and my iPod Touch 5G. The iOS app will allow you to change the settings on the watch (heart rate zones, in-workout screens, workout review screens, etc.) without being connected to the watch. The Android app, however, requires connection to the watch to change these settings.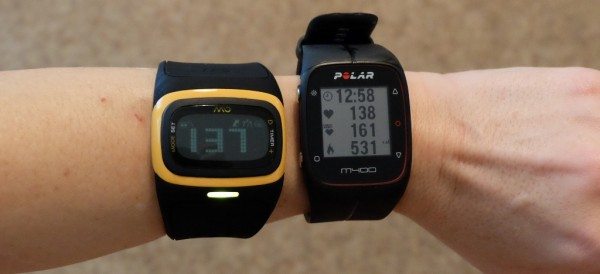 When using the Alpha 2 during a workout, the Wearing and Charging Card that comes with the watch shows that the user must wear the watch somewhere from one to three inches away from your wrist to ensure accurate heart rate detection. This was the position that I generally used the watch although later I turned the watch to the inside of my arm (discussed later).
To start a workout, you must long press the right button to first find your heart rate, then short press the same button to start the workout recording. To end the workout, you must long press the right button (this pauses the workout), then long press it again to end (a short press will resume the recording).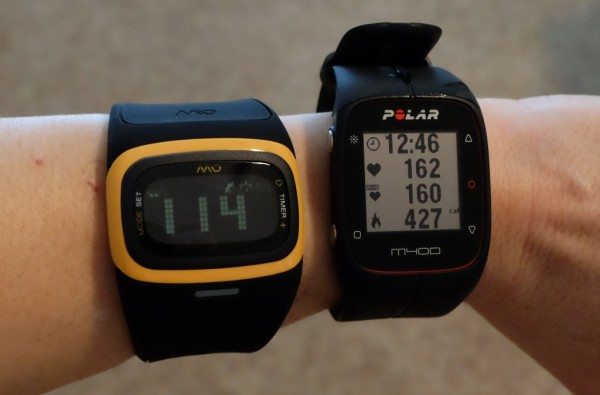 The Mio Alpha 2 found my heart rate without issues, but maintaining accurate heart rates was another thing altogether. Upon first use of the Alpha 2 during my workout, I found that the heart rate detection was erratic especially during the first half of an hour long workout.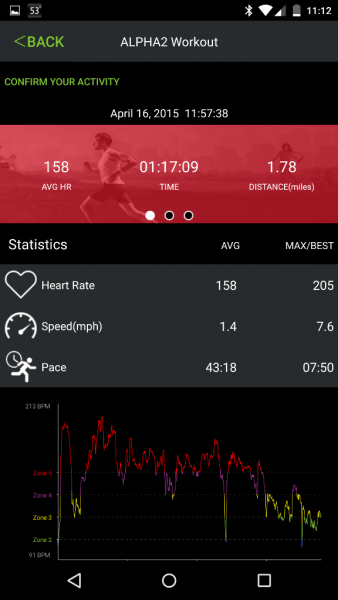 In subsequent hour long workouts, I applied water to the heart rate sensors and my arm to improve heart rate accuracy; yet even when I did this, several times throughout my exercise routine, the watch reported inaccurate heart rates. It was suggested to me that maybe I should wear the watch on the inside of my wrist or arm. Again, this did not seem to help me. I even tried the other arm and all kinds of positions on that arm to no avail. Tightening the band and loosening it also failed to improve heart rate accuracy. Almost all of my workout results looked like those reported in the screenshot above. You can see within the heart rate graph how erratic my heart rate appeared to be. And my maximum heart rate was 205 BPM?!? That's over three beats per second! If that is truly the case, I don't need a heart rate monitor, I need a defibrillator!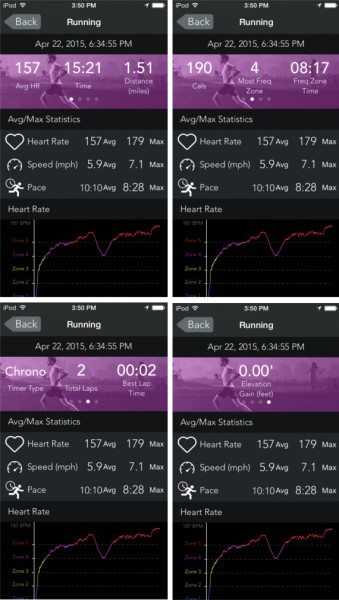 I then enlisted the help of my husband to see if he would receive different results. The three or four times that he ran (a duration of about 15 minutes), he found that the heart rate detection was fairly accurate and within a few beats of our Tickr X heart rate sensor chest strap (which I reviewed in April of this year). If you observe his heart rate graph you can see just how much steadier the reported results were. Really? Are you kidding me? I struggled day after day for weeks to obtain accurate heart rate data and my husband got it to work every time. What's going on? Anyway, these four screenshots (click on the image to view a larger size) also show the different running data recorded for that workout (observe the data reported in the purple bands). The lower right screenshot also shows elevation data from the iOS app (I assume the elevation reads zero since my iPod Touch does not have GPS). The elevation data is missing altogether on the Android app.
I also found that as I began to perspire the watch slipped from position when jumping or throwing punches (in Insanity or TaeBo workouts). This was distracting during the workout since most of my concentration went into repositioning the watch.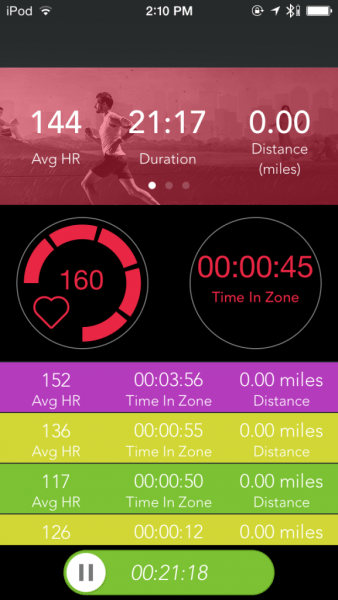 The Android Mio Go app did not allow me to view my workout data as I was exercising, but the iOS app did (as shown in the screenshot above). However to do this, you need to tap on the Go button, then Record button within the app after starting the workout on the watch. You can then slide the Pause button over to the right to pause the workout, after which you can tap on either Resume or Exit buttons to resume or end a workout.
It is also possible to view your workout data on the watch by paging through the information. You do this while exercising by short pressing the left button each time you wish to view another page or screen of information. This is a tedious and time consuming process while you are exercising because one screen of information would contain only one piece of data. For instance, one screen would list only the average heart rate (button press), another would report only the distance (button press), another would report only the speed (button press), etc. And even though you are able to customize the in-workout screens displayed on your watch and customize the workout review information, out of a possible 11 in-workout screens (heart rate, timer, clock, pace, calories, speed, distance, calories/lap, distance/lap, lap time, total laps) and 11 workout review screens (average heart rate, average pace, average speed, total time, total calories, total distance, total laps, fastest lap time, fastest pace, fastest speed, and time in zone) there is a limit of only six screens of data. This appears to me to be a very limited amount of recorded information especially when comparing the Alpha 2 with other heart rate monitoring devices like the Polar M400 or Tickr X.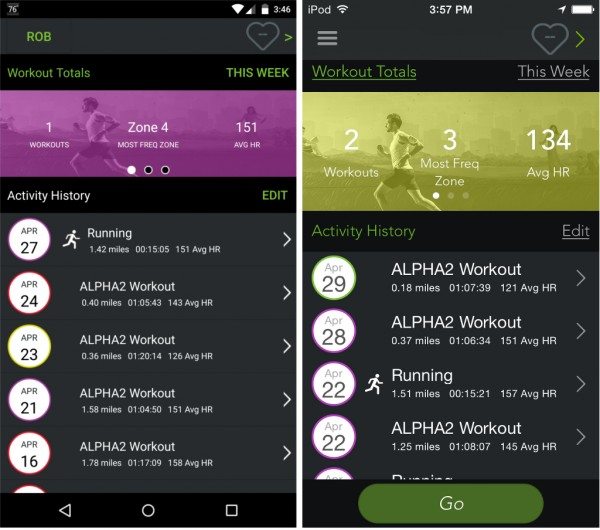 It is important to note that when syncing an offline workout to my Nexus 6 phone Mio Go app, I could not sync that same workout data to my iPod Touch 5G Mio Go app, unlike the Tickr X which will sync the same workout to both apps. The screenshots shown above illustrate this and shows all of your summary workout data (Android app on the left and iOS app on the right). Also notice how a portion of the screen in each screenshot is a different color. These colors represent the heart rate zone in which you spent most of your time.
Almost all of the workouts were offline workouts that were synced to either the iOS or Android app at a later time. When tapping on any of the workouts to view the data details, you are able to edit what type of workout (or workout profile) it was. There are a limited number of workout profiles available to label your workout. The complete list is Running, Road Biking, Walking, Mountain Biking, Climbing, Swimming, and Hiking and that's it. My workouts don't fit into any of these categories so I left the profile as Alpha2 Workout. However, most people run or bike so this would work for the majority of people out there.
The Alpha 2 also comes equipped with a backlight to help you see the watch information in low light conditions. Double tapping the watch is supposed to illuminate this light, but I found that random movements or shaking of the watch activated the light.
There are a couple of nice features of the Mio Alpha 2. One nice feature is that it is possible to connect it to other apps like RunKeeper, MapMyRun, Runtastic, Track Runner, RockMyRun, Cyclemeter, MapMyRide and Strava. My husband did this successfully using RunKeeper. The other is that it will store up to 25 hours of workout data that can be synced to the app later.
Final Thoughts
Even though the Mio Alpha 2 is an attractive heart rate sports watch that is able to connect to many third party apps and store 25 hours of workout data, it is not the workout device for me. However, it may work much better and provide more accurate results for those who run or bike (or for those who aren't me). My heart rate data was erratic (although my husband's appeared to be accurate), the Alpha 2 slipped out of position during most workouts (tightening the watch too much led to worse heart rate data), it collects a limited amount of data, it has limited number of workout profiles, and the backlight was twitchy. I suppose I will have to continue my search for a non chest strap heart rate sensor.
Source: The sample used in this review was provided by Mio Global. Please visit their website for more information.
Product Information
Price:
$199.00
Manufacturer:
Physical Enterprises, Inc.
Retailer:
Mio Global
Requirements:

iPhone® 4s/5/5c/5s/6/6 plus
iPod® Touch 5
iPad® 3/4/Air/Mini
Android 4.3 (Jelly Bean) and higher with Bluetooth Smart (4.0)

Pros:

Attractive design
Accurate for the runner in the family
Connects to third party apps like RunKeeper and Strava
Stores up to 25 hours of workout data that can be synced later

Cons:

Inaccurate for me (a non runner)
Difficult to position to find an accurate heart rate
Slips from position during certain exercises due to perspiration
Limited amount of data recorded
Limited number of exercise profiles
Paging through data on the watch is slow and tedious