We use affiliate links. If you buy something through the links on this page, we may earn a commission at no cost to you. Learn more.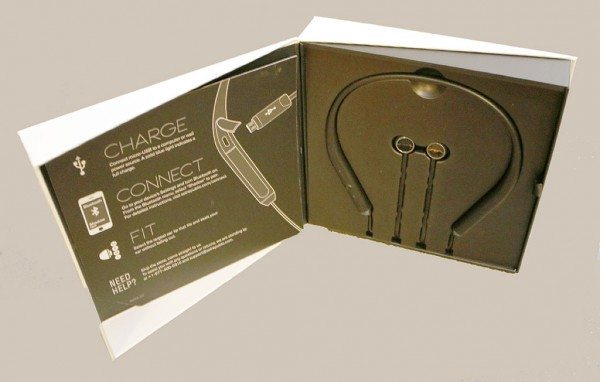 Although I'm not the resident audiophile on the team, that role goes to Bill Henderson, I do love listening to music and am always looking for headphones that sound great and are comfortable to wear for an extended period of time. I don't think that shouldn't too be much to ask for, but it really is tough to find both of these attributes in one pair of headphones. Lately I've added wireless to that feature list. The latest pair that I've had the opportunity to test are the Sol Republic Shadow Wireless Bluetooth headphones. Let's see if they fulfill my feature wish list or have left me wanting more.
Note: Images can be clicked to view a larger size.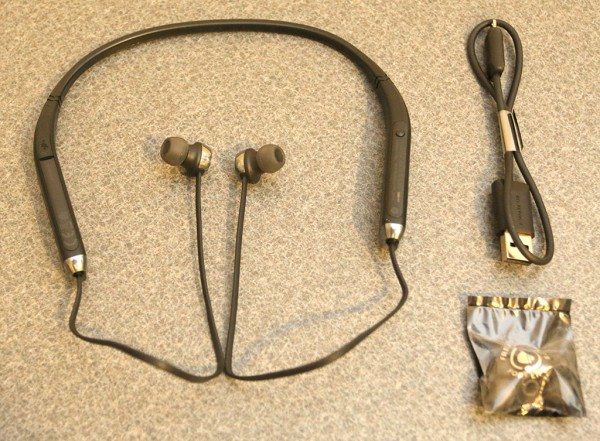 What's in the box?
Sol Republic Shadow Wireless Bluetooth headphones
USB charging cable
4 sizes of ear tips
Quick start guide
Carrying pouch*
*This wasn't included with the sample that was sent to me, but was mentioned in the quick start guide.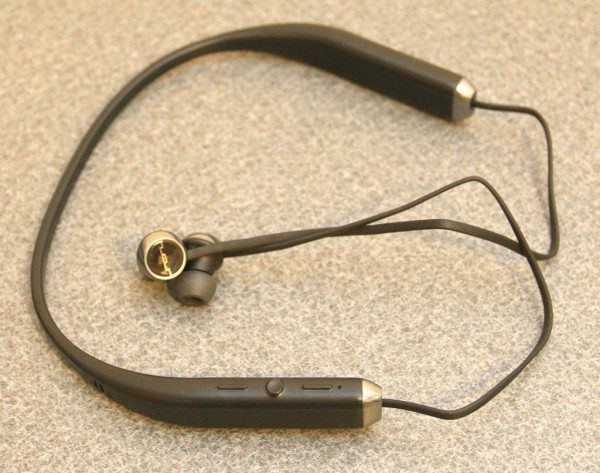 Physical design
The Shadow headphones are available in black and white versions. As you can see from the pictures, I was sent the black version. The headphones have a soft rubber covering that resists water and sweat. It also features a flexible natural fit collar design that you wear around your neck. The headphones are connected to the collar by flat cables that are about 8 inches in length. One end of the "collar" has a microphone, power button, multi-function button and individual volume buttons.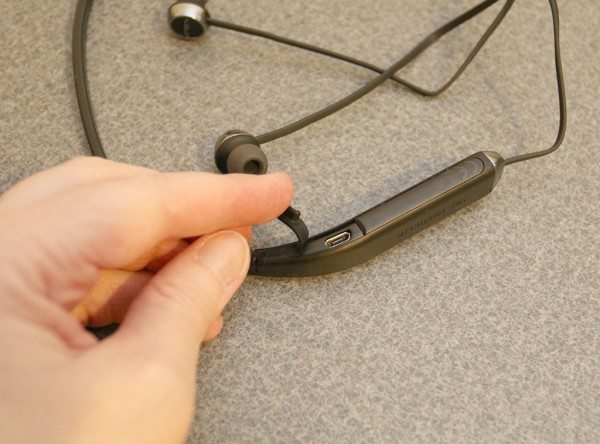 The other end houses a micro USB connection which is used to charge the headphone's battery.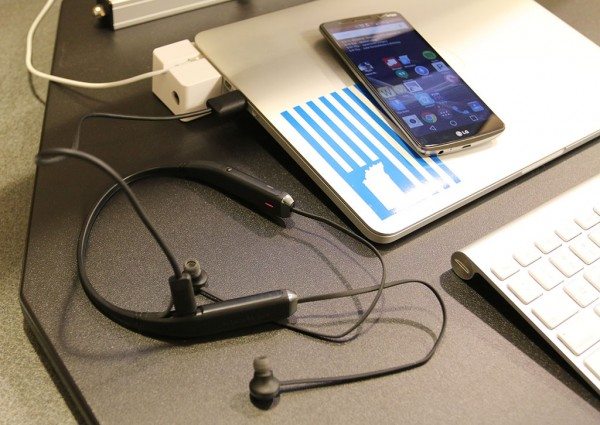 A narrow LED glows red while charging and glows blue when the headphones are powered on. Various blink patterns represent pairing mode, idle mode and low battery.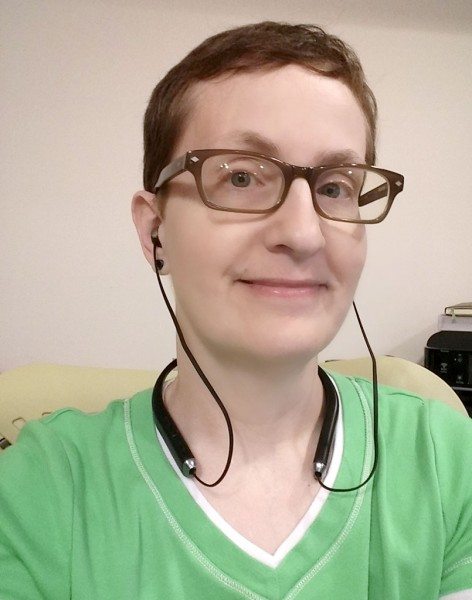 I really liked the Shadow's around-the-neck collar design. It's comfortable and so light weight that you might forget that you have them on. When you're not listening to music, the cables with the in-ear headphones can dangle from the collar without getting in the way. When they are in your ears, there is enough slack that they don't pull or tug when you turn your head. They do make me look like a librarian though 😉
I tried all four ear tips and ended up using the smallest pair. I'm not a huge fan of in-ear style headphones because they almost always fall out of my ears or cause discomfort after a short time. The Shadow ear tips aren't really any different in that regard. They are comfy enough, but they do fall out semi-regularly. That said, everyone's ears are different, so someone else might think these are the most comfortable headphones in the world… I'm considering buying some Comply foam tips which I've heard really improve the fit and feel of almost any earphones, including the Shadow.
Usage experience
Setting up the Shadow headphones is easy enough, First charge them using the included (or any) micro USB cable. Then turn them on. They will automatically start in pairing mode. From there you can connect to them using a mobile device like your smartphone, tablet, computer, etc. I tested the Shadow Wireless headphones with my LG G3 smartphone, a MacBook Pro, a Dell Inspiron laptop and an iPad mini. Once paired, the volume buttons adjust the volume and the multi-function button (located between the two volume buttons) plays and pauses music as well as answers and ends calls.  This isn't a deal breaker, but I immediately disliked the order of the volume buttons. The volume up button is at the back and the volume down is in the front. Is it just me, or does that seem backwards? Also, the tiny power button is on the opposite edge as the volume up button, if you happen to have your thumb on it when you're trying to adjust the volume, it is easy to accidentally power down the headphones.
I was able to walk around with the headphones in my ears and dangling from my neck with no issues. They never slid off my neck even when wearing just a T-shirt with no collar to hold them in place. I don't run, so I didn't test the headphones while running. I did wear them multiple times during long brisk walks and had no problems.
One feature that I think really needs to be added to these headphones is an auto off feature. As is, the headphones will stay on until you manually power them off. As you can imagine, this has a negative effect on battery life. I think they do go into some type of standby mode, but the LED stays lit up. The Sol Republic website says that the Shadow headphones will play for 8hrs on a charge. I never used them for that long in one sitting, but I have used them here and there over the course of a couple of days (without turning them off). My usage tends to be a few minutes here and an hour there sort of thing. I think I get about 4-5hrs of play time with one charge. A male voice will interrupt the audio to tell you when the battery is low.
Another feature that I had problems with was the dual device feature. You're supposed to be able to toggle this feature on and off by holding the volume down and multi-function buttons at the same time. When on (there isn't a way to actually know if it's on or off), you're supposed to be able to pair with two devices at once. I tried this with my phone, two laptops and the iPad. Although I could pair individually to each one with no problem, I was not able to have them both connected at the same time and switch between them no matter how many times I tried.
Sound quality listening to music
I've been surprised how good the Shadow headphones sound for Bluetooth headphones. They offer a full sound with punchy detail and great bass. I tested the headphones mainly with my LG G3 streaming music from Pandora and Spotify with the following tracks:
Don't Look Down – Martin Garrix, Usher
Feeling Good – Avicii
Budapest – George Ezra
Secrets – Mary Lambert
Hold Back the River – James Bay
Ex's and Oh's – Elle King
Sound quality during phone calls
The Sol Republic Shadow Wireless Bluetooth headphones have a built in microphone, so you can use them for hands-free calls when paired with your phone. I didn't like using them for calls though. These in-ear style headphones made my voice sound like it was trapped inside my head making it hard to tell how loud I was talking. The person on the other end would tell me that I sounded muffled and then without me moving or doing anything different, would say I sounded fine. This happened many times throughout calls. I also noticed a very strange background noise that almost sounded like running water when I was in a call. The sound would stop and start again when someone would start talking. One other call problem that was noticed is that the microphone doesn't appear to be noise cancelling. The person on the other end of my conversations complained about hearing other people talking even though I couldn't hear them myself with the headphones jammed in my ears.
Final thoughts
I like the Sol Republic Shadow Wireless Bluetooth headphones a lot, but due to the lack of an auto off feature, problems with dual device pairing and weird call quality issues, my quest to find a great pair of wireless headphones continues. If you don't care about using the headphones with multiple devices and make very few calls, then you will most likely enjoy the Shadow Wireless Bluetooth headphones quite a bit.
Source: The sample for this review was provided by Sol Republic. Please visit their site for more info.
Product Information
Price:
$99.99
Manufacturer:
Sol Republic
Pros:

Comfortable
Good audio quality

Cons:

No auto power down
Problems with multi-connect
Volume button placement not optimal
Call quality not the best