We use affiliate links. If you buy something through the links on this page, we may earn a commission at no cost to you. Learn more.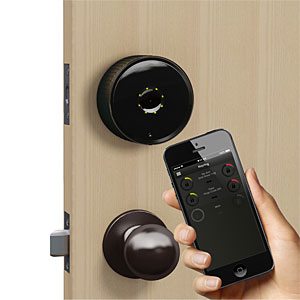 No need to give a friend the key to your home so they can let your precious pets out anymore. The Danalock Bluetooth Smartlock can be programed to lock and unlock at any specified time to allow entry at your digression, AND it logs any entries and exits so you know when someone is coming and going. How many times have you had both hands full of groceries and no way to get your key out of your pocket without dropping your loot? How about a lock that can see you coming? Using the free app (for iOS and Android),  you can set your door to auto-unlock when you are within range.
This 12.8 oz. battery operated device made of anodized aluminum, fits over your current deadbolt (a Bladwin, or Kwikset) and uses Bluetooth technology to allow you to lock and unlock your door using your smartphone.   Don't worry; if your phone is not with you for some horrible unforeseen reason, you can still open your door the old fashioned way, by using the key.
The Danalock Bluetooth Smartlock is available at Amazon.com for $179.00.