We use affiliate links. If you buy something through the links on this page, we may earn a commission at no cost to you. Learn more.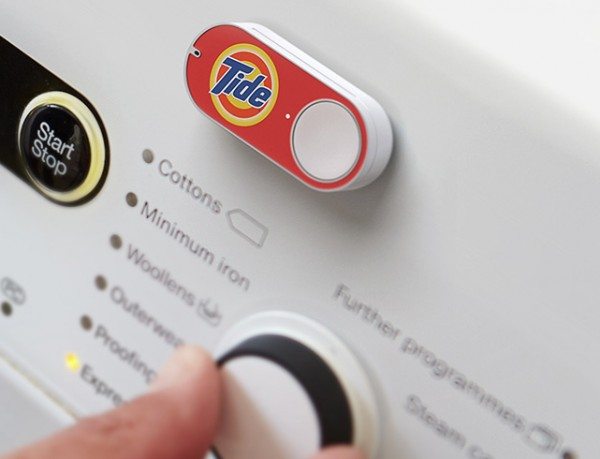 I'll admit that I thought this was an April Fool's joke when I saw it yesterday, but it's a real offering from Amazon.  The Amazon Dash Button lets you re-order laundry detergent, paper towels, diapers, pet food, even mac & cheese with the press of a button.  You just adhere the button to your washing machine (for re-ordering laundry detergent) or in the pantry, or wherever you store the linked item.  The Dash Button connects to your Amazon app on your smartphone; a press of the button tells the app to place an order from Amazon for the product and the quantity that you have pre-defined in set up.  An order notification will pop up on your phone to alert you of the order, so you can cancel it if you've changed your mind – or if your toddler likes to press the new button on the washing machine.  It's set up by default to respond to only the first push of the button until your order is delivered, too.
Amazon is also making their Dash Replenishment Service (DRS) available to manufacturers to incorporate into their products.  The first devices incorporating DRS will be available this fall, so your next washing machine may be able to automatically order more detergent before you know you're running low.
There's a list of products that can currently be used with the Amazon Dash Button here.  The buttons are currently available only by invitation to Amazon Prime members.  If you are a Prime member, you can choose up to three buttons.  They are free while supplies last, but only if you receive an invitation email from Amazon.  If you are a Prime member, go to the official Amazon Dash Button site to request an invitation.