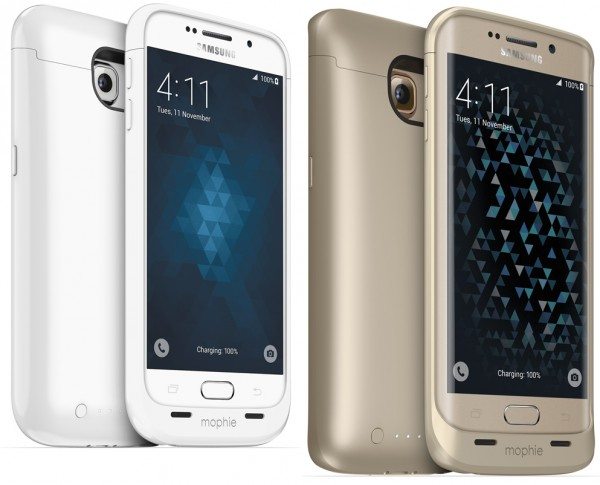 These new juice pack cases from mophie will both protect and recharge your new Samsung Galaxy S6 or S6 Edge.  Both cases have "carefully-designed internal bumpers [to] add extra cushion to the edges and corners of the protective case for unrivaled support."  Both also have 3300mAh batteries inside to provide more than 100% extra power to keep your phone charged while you're away from your normal charger.  Just like other mophie cases, these cases for the S6 and S6 Edge have a standby switch to allow you to choose when you recharge your phone; a set of four LEDs on the back of cases lets you check the charge level of the backup battery.
The Galaxy S6 juice pack is available in black (ships in 10-14 days); the white and gold cases can be pre-ordered for delivery in late May 2015.  The Galaxy S6 Edge juice pack is available for pre-order in black (ships early May 2015) or gold (ships June 2015).  You can pre-order any of these cases for $99.95 now from mophie.
Some of our links in posts like this one are affiliate links, which means that we may receive a small commission on purchases at no cost to you.