We use affiliate links. If you buy something through the links on this page, we may earn a commission at no cost to you. Learn more.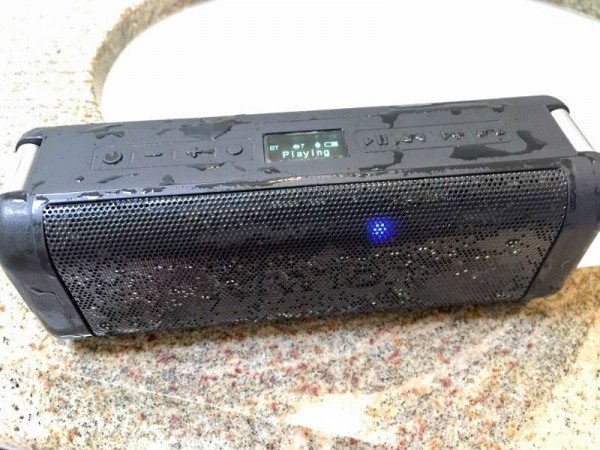 As a rule, I don't get that excited about Bluetooth speakers anymore unless there's a feature that really grabs my attention.  The last waterproof Bluetooth speaker I reviewed was the NYNE Aqua floating Bluetooth speaker.  What's so different about the Ivation Acoustix waterproof Bluetooth speaker?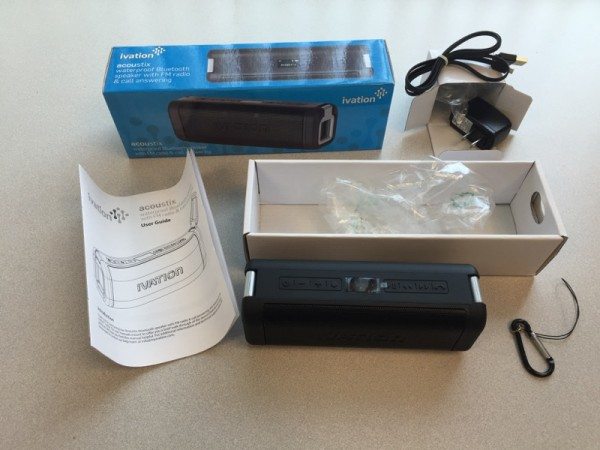 In the box, you get pretty much what you expect:  A microUSB charging cable, charging adapter (0.5A output), a carabiner-style clip and loop, and instructions.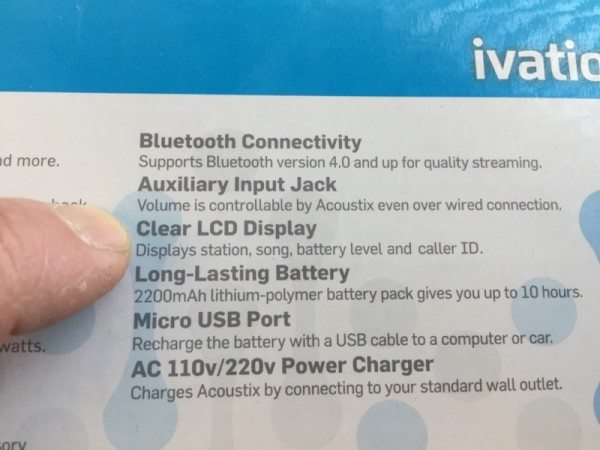 But wait, what's this?  And LCD display?  OK, you have my attention.  If I'm going to use this near water, I don't want my smartphone anywhere close by.  Seeing what song I'm listening to, for example, would be really handy.
Some main features:
IPX7 Waterproof and Dust-Proof
Built-In Microphone
Rated at 4 watts each
FM radio with 8 easy-recall station presets
Supports Bluetooth version 4.0
LCD Display (Displays station, song, battery level, caller ID and text messages)
2000mAh lithium-polymer battery pack (9 hours)
Micro USB Port
AC 110v/220v Power Charger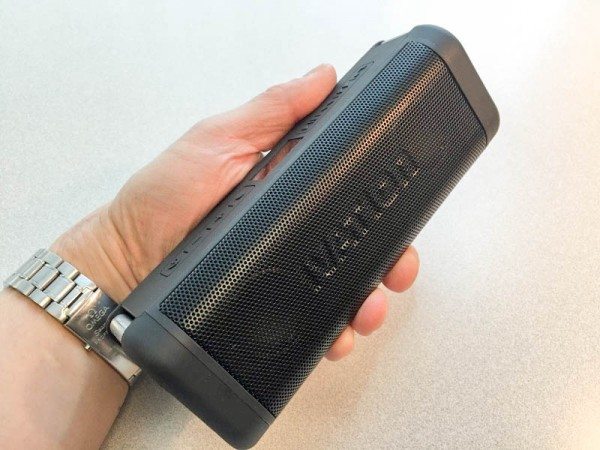 Overall size and feel reminds me of the cylindrical Logitech Ultimate Ears speaker.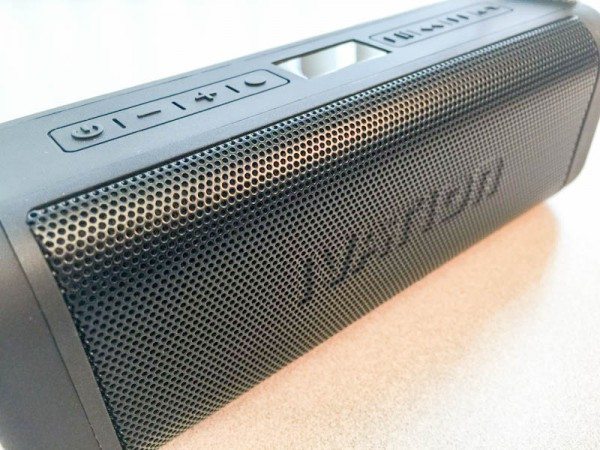 A perforated metal grille covers the front with "IVATION" embossed in front.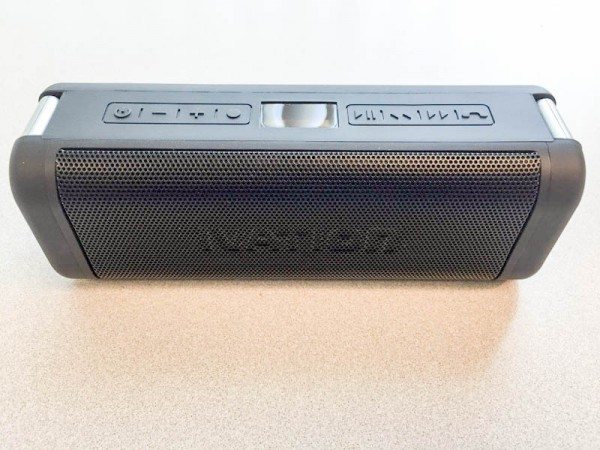 On top, you'll find the LCD display and all the controls.  I'm VERY excited about the addition of the next/previous buttons on the top.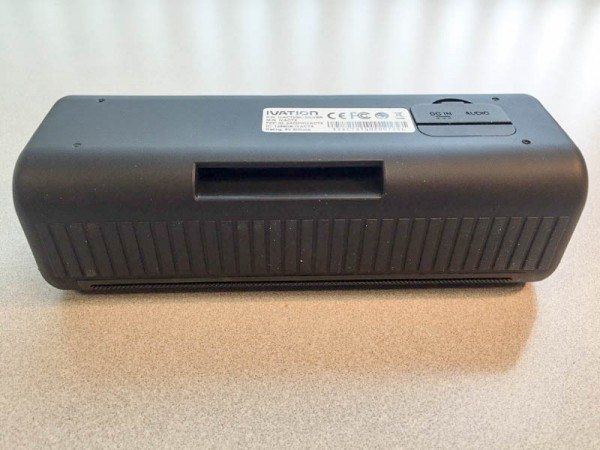 That big slot on the bottom?  Bass port.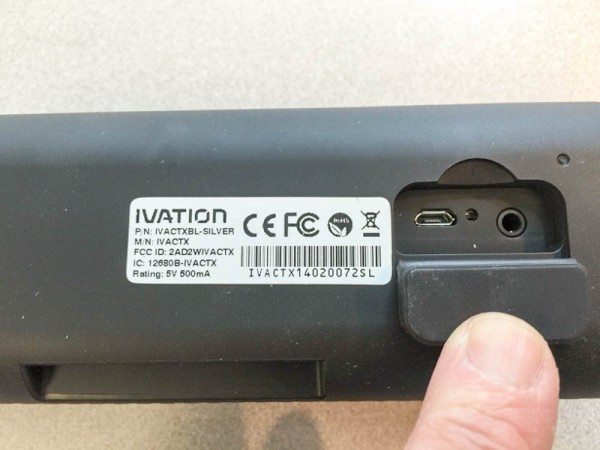 On the back, a thick rubber plug covers the microUSB charging port, reset button, and aux input jack.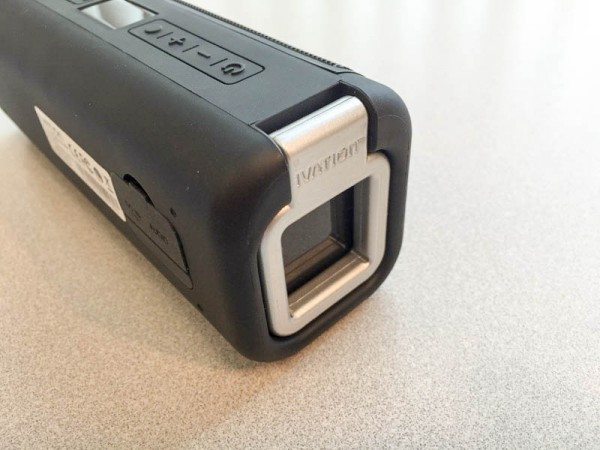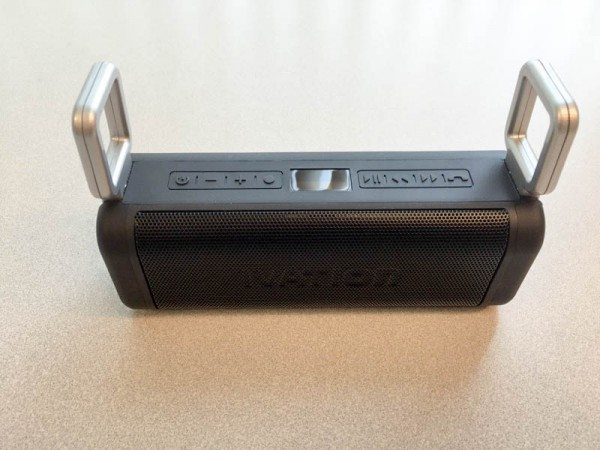 There are two sturdy metal loops that flip up.  What for?  Whatever you can think of!  Clip it to your backpack, shower head, belt, etc.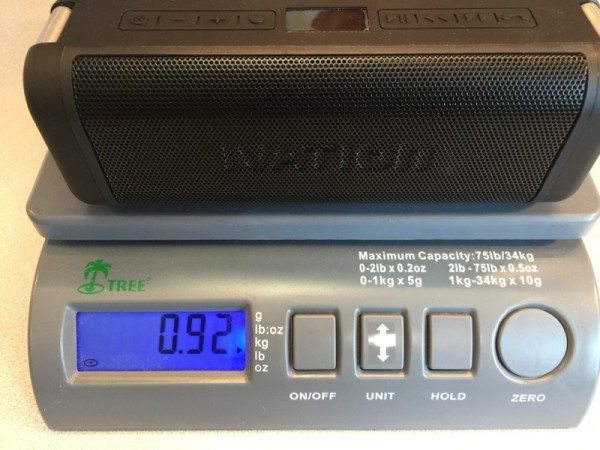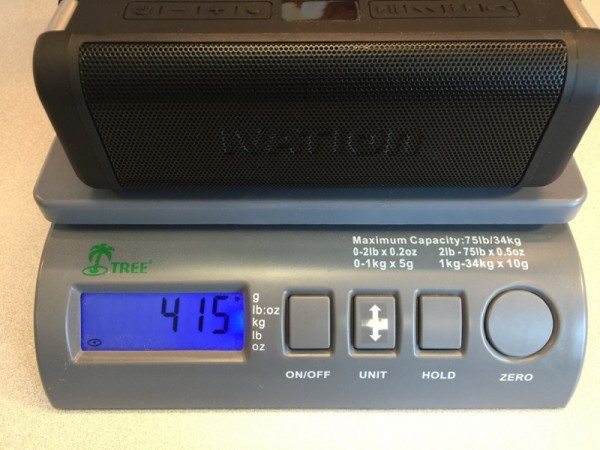 Weigh-in time.  The speaker measures just under a pound, and over 400 grams.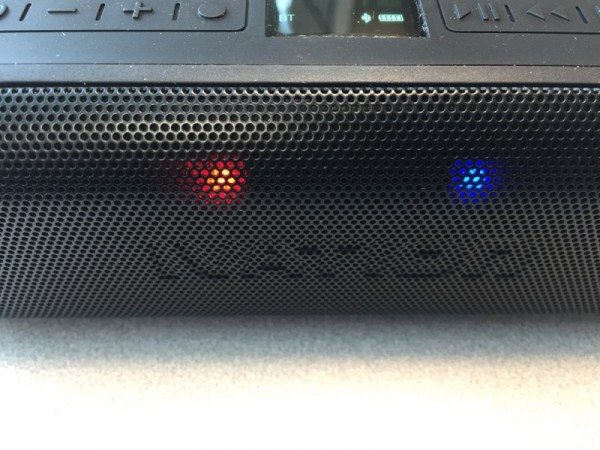 Two LEDs hide under the grille.  Red indicates charging state.  (Turns green when fully charged).  The blue LED on the right blinks during bluetooth pairing.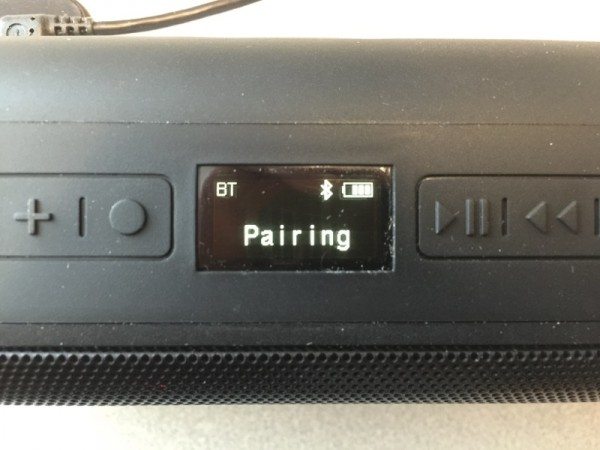 Here's where the display begins to earn its keep.  What's it doing?  Why, it's pairing.  Says so right there.  Wonderful!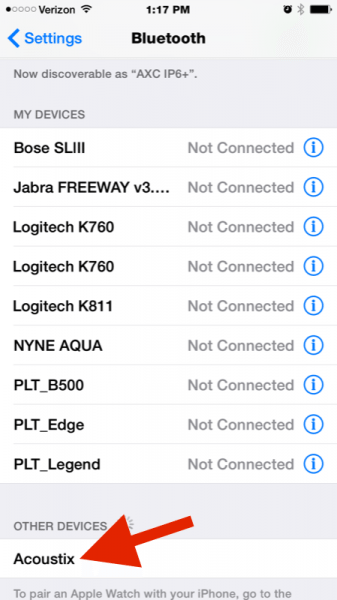 On my iPhone, "Acoustix" shows up as discoverable (see red arrow)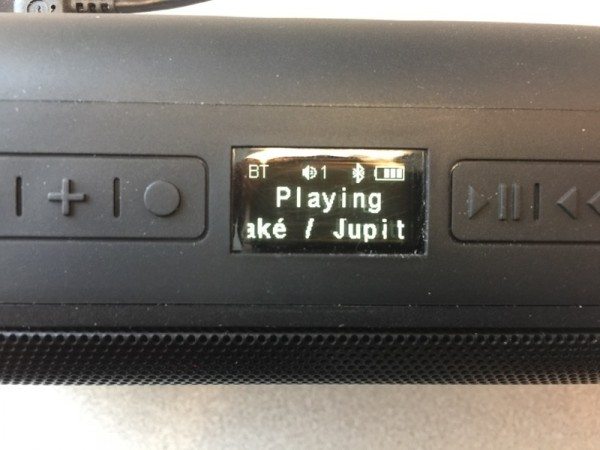 Once you're paired, the display shows you the title/artist information.  (Bonus points if you can figure out what I'm listening to in that shot.)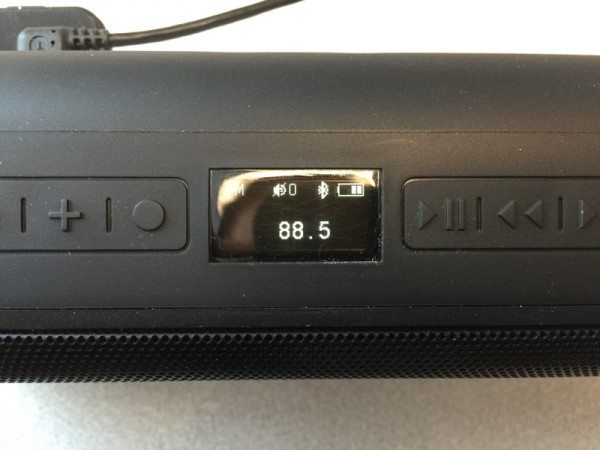 The "round" button on the left of the display toggles the mode.  Here we see the FM tuner.  I never thought I'd need this, but if I don't have my smartphone handy, I've always got FM ready to go.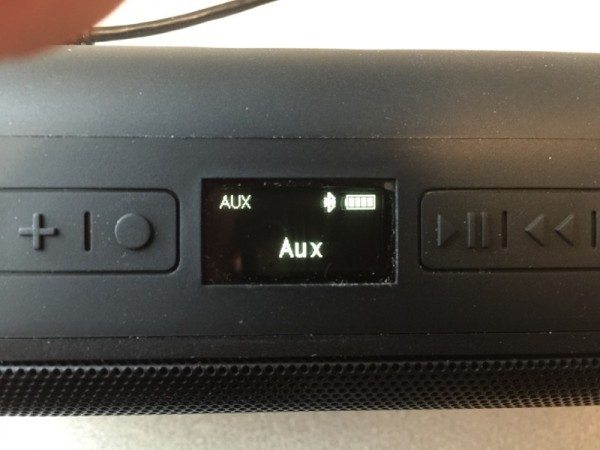 Press one more time and you get the AUX input (found under the rubber plug, previously shown).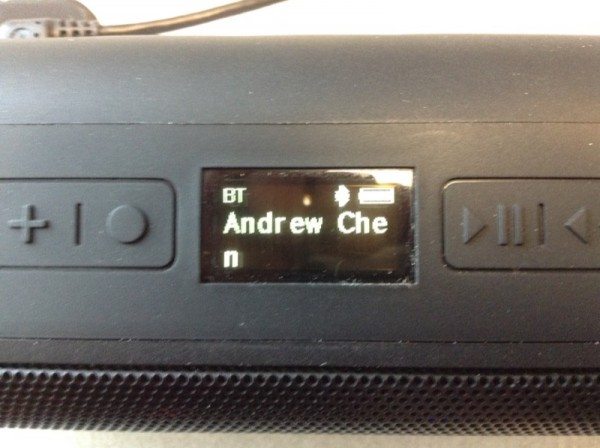 The display even supports caller ID.  (Here, I'm calling myself).  A microphone is hidden behind the perforated speaker grille.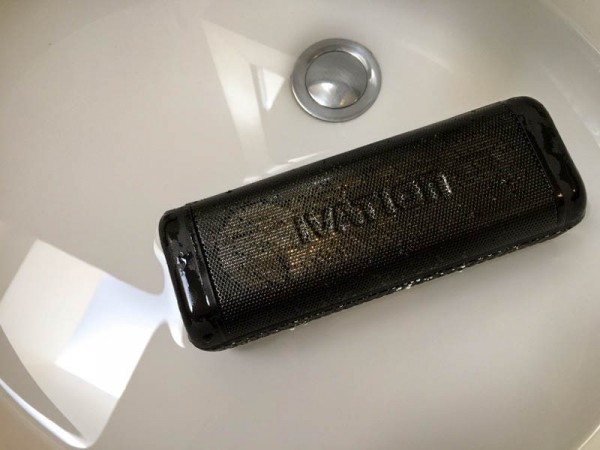 It's bath time!  As with the NYNE floating speaker, the ivation Acoustix floats as well, speaker-side up.  Because of its square "tube" shape, it's pretty easy to roll this thing around so the speakers aren't facing up anymore.  By comparison, the NYNE is quite stable and probably won't roll unless you flip it yourself.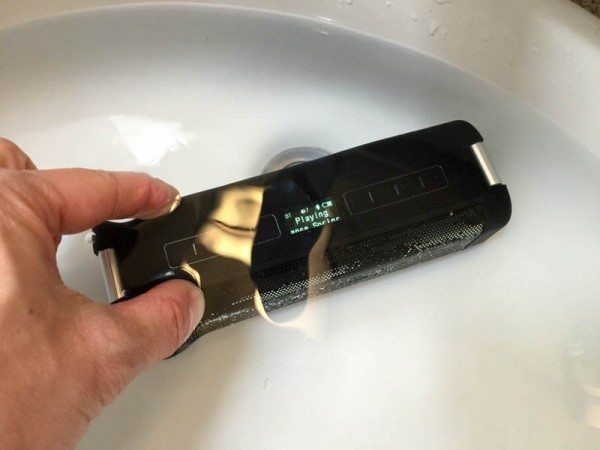 Here I'm holding the speaker under water, and it's still playing.  Unlike the NYNE I can actually still hear the audio when submerged.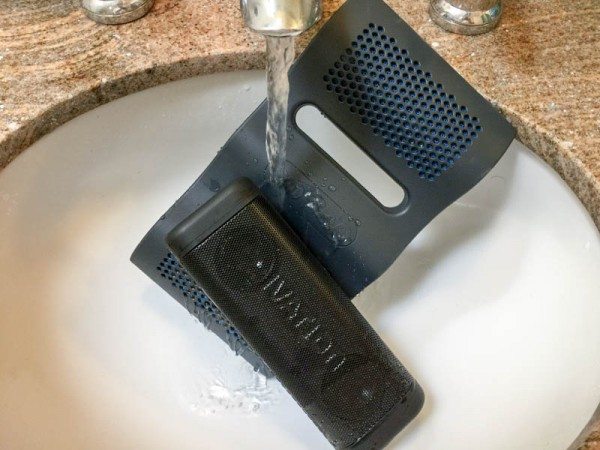 In my residential aquatic test chamber (shower) I really appreciated the separate forward and back controls.  With the NYNE, you had to press and hold buttons to skip tracks.  In fact, I can't even remember how anymore.  Being able to see the battery level at a glance is a plus.
The sound is surprisingly good from such a small speaker.  It's not going to "blow you away".  It's more like "Not bad, I can live with this".  Die-hard bass addicts should look elsewhere.  The Ivation Acoustix doesn't have preset EQs like the NYNE, but that's OK.  On the NYNE, I found myself constantly rotating between the different EQ settings, not knowing which one I was on (no display, remember?) and simply settling for one that didn't sound quite so bad.  The Ivation Acoustix just sounds fine out of the box.  I'm a little glad there's no audio adjustment, actually.
So far so good?  Almost.  I noticed the sound started to change, and that's when I discovered that when the perforated grille gets wet, the water blocks the openings, blocking higher frequencies, as if someone shoved it under a pillow.  Drying off the water corrects this.  The NYNE does this as well, but the effect isn't quite as noticeable.
I think I'll position the Ivation Acoustix waterproof Bluetooth speaker in such a way that it doesn't get a direct spray from the shower.  In the meantime, I'll be using this during shower time, and save the more stable-floating NYNE for the pool.
Source: The sample for this review was provided by ivation. Please visit http://www.myivation.com for more info or Amazon to order.

Product Information
| | |
| --- | --- |
| Price: | $149.99 ($99.99 on Amazon as of this writing) |
| Manufacturer: | ivation |
| Retailer: | Amazon |
| Requirements: | Bluetooth (version 4.0 compatible) |
| Pros: | Waterproof (1 meter), top-mounted display, separate forward and back music controls, FM radio built in. |
| Cons: | Sound gets a little muffled when the grille is damp. |