We use affiliate links. If you buy something through the links on this page, we may earn a commission at no cost to you. Learn more.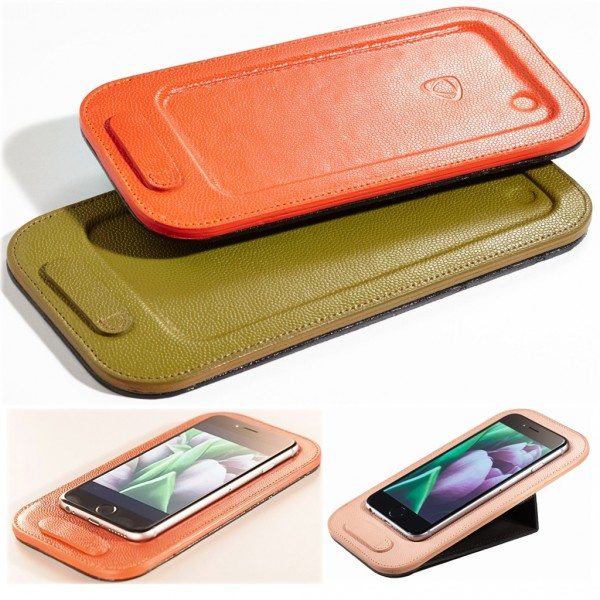 If you use your iPhone 6 or 6 Plus without a case, you are certainly aware that the back camera doesn't fit flush with the back of the phone.  When you try to interact with the phone as it lays on a hard, flat surface, the phone will jiggle and rock as you touch it.  If you don't want to resort to putting a case on the iPhone, the CalypsoPad could solve your problem.  Just like all their products, CalypsoCrystal handcrafts the CalypsoPad of premium Italian leather.  It has a depression formed to perfectly hold an uncased iPhone, and there's a little extra divot for the protruding camera lens to lay in.
The top of the CalpysoPad has a strap to hold your Lightning charging cable in place.  You can use the CalypsoPad flat, or you can fold the bottom together to lift the Pad into a tilted stand.  (Magnets hold the bottom together into the stand.)  It's available to fit either the iPhone 6 or the iPhone 6 Plus in Zurich Night (black), Paris Glory (brick orange), Sydney Morning (green), or Atlanta Mist (pink beige) for $69.00.  You can pre-order the CalypsoPad now from CalypsoCrystal for delivery in 1-2 weeks (the black case will ship in 3-4 weeks).