We use affiliate links. If you buy something through the links on this page, we may earn a commission at no cost to you. Learn more.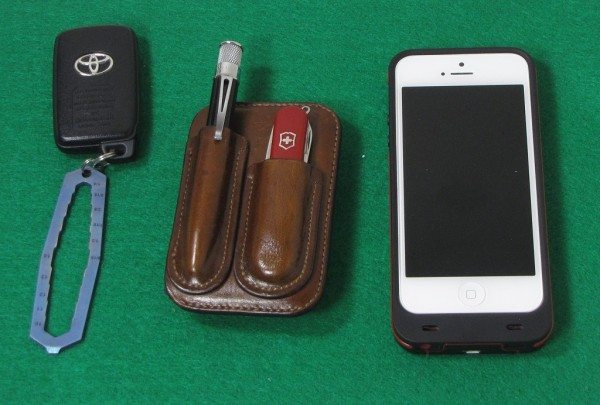 Since Julie posted her EDC update a few weeks ago I figured I would share my current EDC. Since I don't think I can pull off the "murse", I have downsized my EDC to just the items that I can comfortably carry in my pockets.
On the left side I have my Toyota Prius key fob with a HDZConcepts Titanium Pocket Multi-Tool. As far as multi-tools go, I like the size and weight of this one. While it may not have the most functions, it fits my keychain nicely.
In the center I have my Dragonthorn Leatherworks PC. I designed this holder to carry a Retro 51 Tornado pen (a hold over from my Palm Pilot days) and a Victorinox classic pen knife along with my credit and ID card on the back side. This set up has really forced me to think about what I want/need to carry.
On the far right is my iPhone 5 with a Dog&Bone Backbone Qi charging case. Not only does this case allow for wireless charging, it has an optional backup battery and the ability to charge my phone with a standard USB to Micro USB charger. For me this case is perfect for traveling.
So there you have it, my updated EDC.