We use affiliate links. If you buy something through the links on this page, we may earn a commission at no cost to you. Learn more.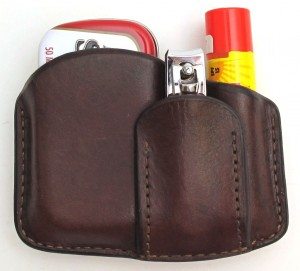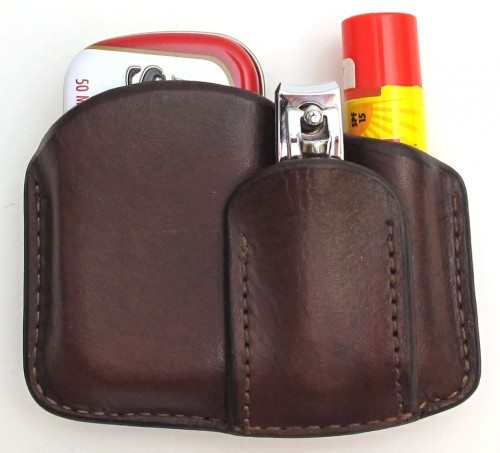 Due to lack of entries and an unclear description of what was required to enter the contest, I'm extending the contest for another 3 days. Please re-read:
The Dragonthorn Leatherworks PCS is custom leather holder  handcrafted by Dave Hauser for your EDC's (Everyday Carry items). You can read my review of the custom PCS that Dave created for me (pictured to the left): https://the-gadgeteer.com/2012/10/18/dragonthorn-leatherworks-pocket-carry-system-pcs-review/.
Dave understands first hand that these are rather expensive and has an idea to bring the cost of his PCS creations down in price a bit … "kits!". What we would like to do is to offer The-Gadgeteer.com readers the opportunity to help Dave determine just what these "kits" will be and have a chance to win one! Contest details after the jump. 
The Challenge
The concept is to design 2-3 standard Dragonleather PCS products that can be cut, stitched and shipped at an affordable price. Once the customer receives his/her kit they would follow the instructions to mold the PCS to their items and would then burnish the edges themselves with the supplied "Dragonthorn slickum" (or dragon spit as Dave likes to say) and burnishing stick. We need you, the readers, to suggest 2-3 PCS kit styles. In order to be more usable by the masses they would contain a standard set of pockets in whatever configuration you come up with. Do they hold items like those contained in my PCS pictured above with an Altoids tin, lip balm and fingernail clippers?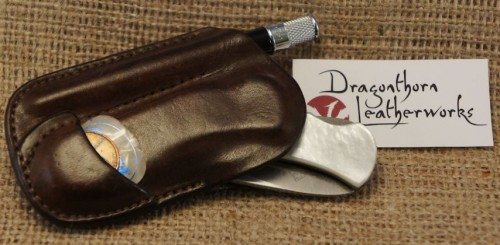 Or something like Dave's PCS which contains his pearl handled knife, a pen and a guitar pick? Your call. The key is to design, or come up with, a standard design or 3, that Dave can offer on his web site for purchase.
Prizes
1st Prize – A full custom PCS with lining
2nd Prize – A PCS kit with lining
3rd Prize – A PCS kit w/o lining
Judges
To determine 10 finalists:
Julie Strietelmeier, The-Gadgeteer
Dave Hauser, Dragonthorn Leatherworks
Never miss one of our posts again. Sent MON, WED, and FRI with the latest gadget reviews and news!
Final Vote:
The-Gadgeteer readers
Myself and Dave will narrow the finalists down to the top 10 and you, our readers, will select the top 3 entries. Sketches are the preferred method of entry but we will accept good descriptive text as well. Your drawing skills are not part of the selection process, only the design concept itself.
This offer is open to all Gadgeteer readers. International shipping will be covered up to $20.00 and shipped via the US Postal "Priority Mail" service (as info, most countries in the world can be shipped to via this method for $20.00 and arrives within 6-10 days).
How to enter (please read carefully – any missed steps and your entry will be disqualified):
1. Between now and 11/10/2012 11:59PM EST leave a comment detailing your idea for a PCS and email me  ( [email protected] ) any sketches you would like to include.
2. At some point on 11/11/2012, I'll announce the 10 finalists and open up the voting to you. Voting will be open till 11/13/12 11:59PM EST. The winners will be announced on 11/14/12.
Rules:
1. Leave a comment detailing your idea for a PCS. Optional – Email me ( [email protected] ) your sketches (.jpg format) and descriptions.
2. Gadgeteer writers, family members and close friends may not enter this contest.
3. the-gadgeteer.com is not responsible for any lost packages or incorrect shipping addresses.
4. Failure to follow instructions will result in the entry being disqualified.