We use affiliate links. If you buy something through the links on this page, we may earn a commission at no cost to you. Learn more.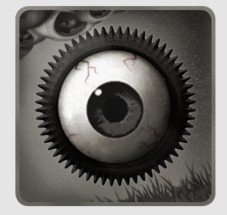 I can only play so many rounds of Candy Crush before my brain feels like it is going to implode from boredom. Words with Friends is usually my go to game when I need a little break from work, but lately I've been trying to find another solo game that is easy to play, doesn't require a lot of time investment and above all else is fun. I think I found a new favorite with Freeze! from Frozen Gun Games. Freeze is a physics based puzzle game that has a creepy cool vibe with its spooky black and white interface. The hero of the game is a rolling eyeball who has been kidnapped and imprisoned. The object of the game to escape each prison cell without an ocular explosion.
Gaming controls require one finger to spin the cell and use the freeze button if there's one in that level. Spinning the cell allows you to move the hero. The freeze button does exactly what you would guess – it freezes all the moving parts on the screen, but still allows you to spin the cell around. Using spinning and freezing helps you avoid spikes, lasers, and other obstacles that will cause the hero explode and restart the level. To make things challenging, some levels only allow you to freeze a couple of times or even not at all.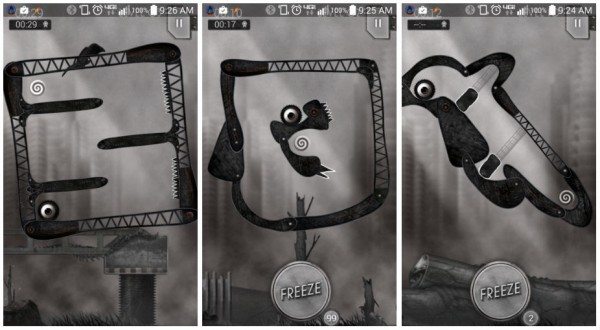 Freeze! has 25 levels plus 15 bonus levels before you are required to purchase more. I'm not even halfway through the free levels but am already hooked on this game. If you get stuck and die more than 10 times, you can skip the level. There are also videos on the maker's site that will help you get through levels when you can't figure out how to escape.
If you enjoy one player puzzle games, make sure you check out Freeze! from Frozen Gun Games. The game is free, so you have absolutely nothing to lose except time, because you will get addicted to this game.
Product Information
Price:
Free (in-app purchases)
Manufacturer:
Frozen Gun Games
Retailer:
Google Play
Pros:

Physics game that makes you think
Addictive
Simple but challenging
No in-game ads

Cons: