We use affiliate links. If you buy something through the links on this page, we may earn a commission at no cost to you. Learn more.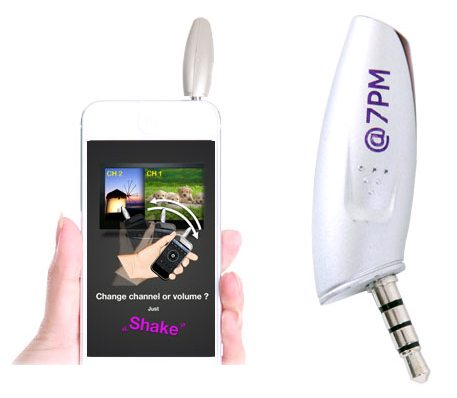 If you're tired of dealing with a stack of remotes to control your home theater system, and you don't want to break the bank buying a universal remote, turn your smart phone or tablet into your one-remote-to-rule-them-all device.  The @7PM Intelligent Universal Remote plugs into the audio jack on your mobile device.  The app has an ergonomic UI that's easy to setup and easy to use.  Search for your devices in a constantly-updated database of 9,000+ entertainment system models used in the US, Japan, China, and Taiwan.  Control your system with the big, easy-to-read buttons in the app, or you can shake your @7PM remote to adjust the volume, change channels, or even power the system on/off.
@7PM works with iPhone, iPod touch, iPad, and iPad mini and with specific Samsung and HTC devices.  The @7PM Intelligent Universal Remote is $34.99 from Looq System.