We use affiliate links. If you buy something through the links on this page, we may earn a commission at no cost to you. Learn more.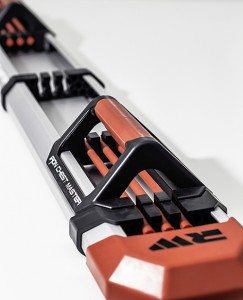 I don't always have time to hit the gym so the next best thing I can do is workout from home. Since working out at home can become stale and boring, it's nice to have a little variety to activate the muscle confusion factor so I jumped at the chance to review the Iron Chest Master. Let's just say that it did add a new and unique method to my home workout.
Keep in mind that I'm reviewing the Iron Chest Master on how the product is built and how it performs and not the included workout and meal program. Although I have a current exercise and diet routine, the short time I have to review the Iron Chest Master wouldn't be ample time to give a complete review on the diet program that comes with it. So I will just stick to reviewing how the Iron Chest Master performs, its benefits and the results.
The Chest Master is a piece of exercise equipment for doing push-ups that has handles, or trolleys, that slide on a track, giving you added resistance to your workout. This adds a little more difficulty to the standard push-up making you use other chest muscles you don't normally use. On each handle there are resistance bands that you can configure for a degree of difficulty. One band for less resistance and three bands for the greatest degree of resistance. The Iron Chest Master is 48″ inches in length and 6″ inches wide. It's made of aluminum and steel construction with plastic. I noticed the trolley handles aren't hard and uncomfortable and it even feels like it has some kind of a soft rubber feel to it.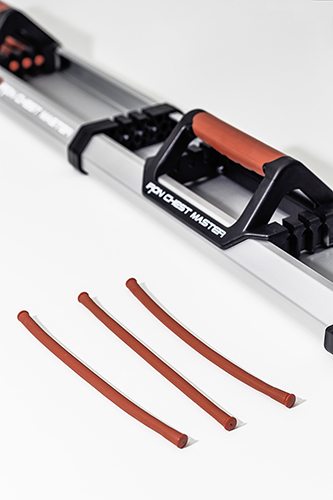 The Iron Chest Master looks and feels well constructed and I was fairly impressed with the materials used for it. It feels extremely solid, considering it has sliding parts. Nothing felt loose or wobbly.  Although the bottom doesn't have any rubber foot-pegs, I didn't experience any sliding or slipping on the carpet. And surprisingly, I tested it on my kitchen floor to see if it would slide, and it did not. So it you don't have carpet in your home I think you should be fine using the Iron Chest Master on your floors.
Along with the resistance bands, there are adjustment plates on each end that you can place in one of three positions to accommodate your body size. This is helpful to accommodate people with a wider push-up stance and someone with a more narrower push-up stance by moving the adjustment plate to a position that is comfortable for them.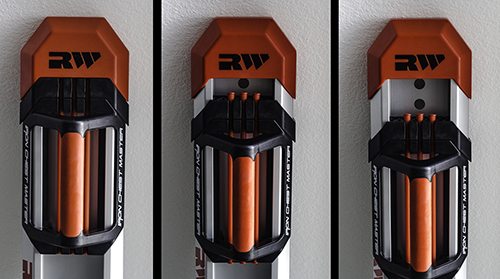 Using the Iron Chest Master won't take the place of traditional free weights to work out your chest, but it is definitely a nice addition to have at home when you can't make it to the gym. However, unlike a few other home gym equipment like cable bands, jump ropes or push-up bars, the Iron Chest Master is not so portable to take with you when traveling on vacation or a business trip. That's not to say if you were taking a road trip and had the room in your car. Then I suppose you could bring it along with you. It's always nice to have some kind of optional equipment for a workout at your convenience, I just don't think it would be ideal for a flight out on that business trip. I think a future design could utilize making it foldable or more portable. Maybe the design could allow the middle to separate or fold to make it portable.

The Iron Chest Master is created by Ron Williams who is a 7 time Mr. National Universe. He is the most decorated natural bodybuilder in the world and was inducted into the International Natural Bodybuilding Association's Hall of Fame in 2008. Ron boasts that in using the Iron Chest Master that you will work out the chest in a full range of motion because in using it you will be accomplishing six exercises in one. That is:
1. The Power Position® and strength of the Bench Press.
2. The individuality of each side of the body carrying its own weight or resistance like the Dumbbell Press.
3. The ability to concave the chest allowing you to capitalize on the pectoral deltoid tie-ins like the Push-Up.
4. A peak contraction using the Arc Movement® — without the excess strain on the biceps that you get from doing the Cable-Crossovers.
5. The arc like what you get when using the Pec Deck, but without the pressure and strain that is placed on the elbow joint.
6. The movement of the Dumbbell Fly without the instability.
The Arc Movement Technology that Ron talks about is the position and movement that the Iron Chest Master is suppose to put you in as you do push-ups with it. And is "based on the muscle and joint structure of the body." Ron references the motion of a birds movement to the  movement of the push-up technique when using the Iron Chest Master.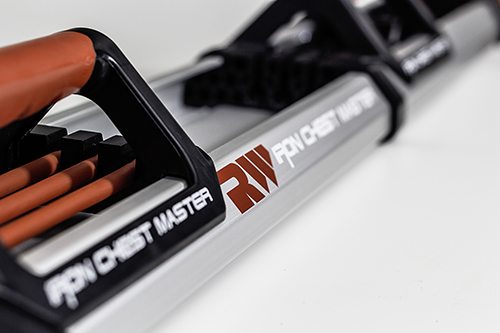 After using the Iron Chest Master for around a month or more, I can say that I noticed some muscle gain and strength and I felt stronger in a sense of doing more reps in a set of push-ups. I think the contraction at the top of the push-up as you slide the handles to the center of the track really hit the center of my chest. You get that concentrated squeeze in the muscle which you will feel the next day. That lets me know that I activated some unused muscles and that I truly worked the center of my chest. I can honestly say that in continuous use of the Iron Chest Master,  you will definitely see some muscle gain, increased strength, muscle definition and increased endurance.
The Iron Chest Master comes with a fitness and instruction guide, a nutrition guide/70 Day Diet Program, an exercise chart, 2 workout DVD's and 2 downloadable workouts. There are also additional extras on their website like resistance band gloves, replacement resistant bands, and supplements.  The instructions are fairly straight forward and easy to understand. And inside of the guide is a brief bio and history of Ron Williams.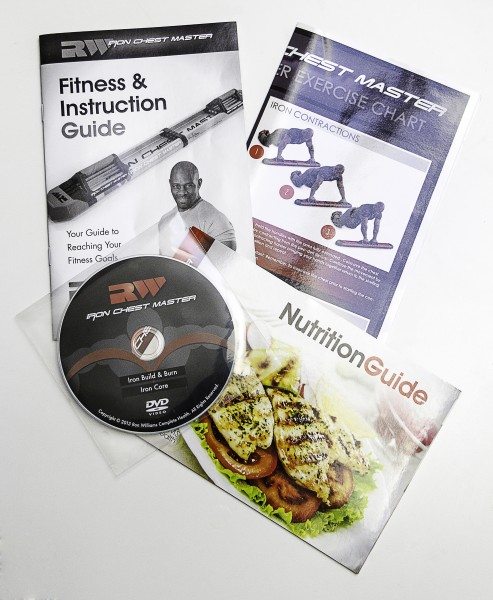 Since I got a good workout and some noticeably decent results from using the Iron Chest Master, in addition to my other workout gear, I know I will be using the Iron Chest Master for a long time and will keep using it in my arsenal of  home gym workouts.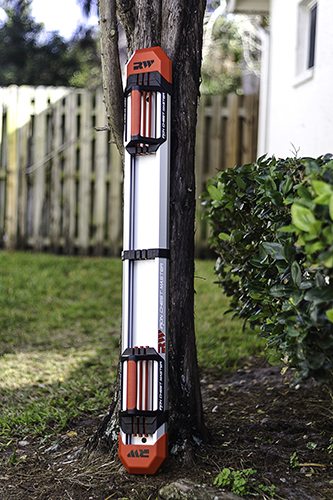 Here I am giving a quick demo of how it works:
Source: The sample for this review was provided by Iron Chest Master. Please visit their site for more info.
Product Information
Price:
$119.95
Manufacturer:
Iron Chest Master
Pros:

Solid construction.
Quality material.
Unique workout method.
Easy to use.
Doesn't slide on floors.
Free Nutrition Guide.

Cons:

Size can make it travel unfriendly.