We use affiliate links. If you buy something through the links on this page, we may earn a commission at no cost to you. Learn more.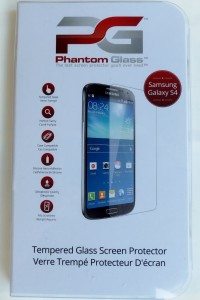 Your choice of the best smartphone for you is a very personal one. Just as personal, and almost as difficult, is your decision of how to protect it. Cases and screen protectors can coddle your baby in rugged armor, can show off your personality, or can be very minimal. Lately, I've swung toward the minimalist extreme, allowing my Samsung Galaxy S4 to remain completely naked. I only stash it away in my Waterfield Designs Finn Wallet on those occasions when some sand or moisture is likely to wander into my pocket. Also, due to past experiences with plastic film screen protectors, with their diminished light transmission and unavoidable permanent screen bubbles, I've left my screen unprotected. 
I'm happy with my naked phone experience, because I like the clean and lightweight handling. And, because I've successfully avoided any catastrophic drops, I have maintained my peace of mind about the risk of damaging the phone. However, after one and a half years, the screen has developed a network of very tiny scratches. They aren't noticeable in use, but I still wish they weren't there and I wonder if maybe I should have opted for some form of screen protection.
Enter the Phantom Glass screen protector, one of the recent generation of thin, tempered glass screen protectors that promise to maintain full visibility without bubbles or other artifacts. On top of that Phantom Glass claims that their "silicone nano-adhesion layer actually fills most minor surface scratches on older and previously-unprotected devices." Well! I practically begged Julie to let me see for myself! She agreed, and I waited for the package from Phantom Glass as anxiously as for any Christmas present.
The Phantom Glass screen protector, sized and fit specifically for my Samsung Galaxy S4 phone, arrived in an attractive, if plasticky, package.
(Note: All images can be clicked to view a larger size.)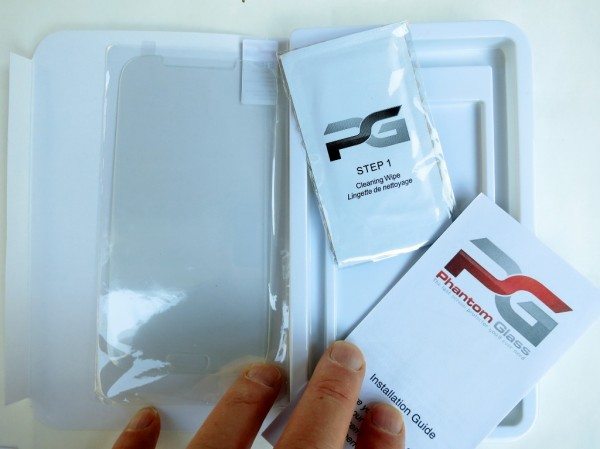 The rigid plastic packaging protects the fragile glass screen inside. Thoughtfully included are a moist alcohol wipe and micro fiber cloth to clean dust and residue from the screen, and step-by-step instructions.
I had four main questions to answer before judging this a satisfactory product:
Is installation straightforward and frustration-free?
Does the screen appear as clear and bright with the protection as without?
Does the Phantom Glass fill and hide existing scratches?
Is the smartphone user experience changed or diminished by the Phantom Glass?
As for the first question, my only prior experience was with plastic film screen protectors, and this glass screen protector was much easier to apply. After cleaning the screen, simply lay the Phantom Glass in place and the "silicone nano-adhesion layer" takes over to provide a clear, bubble-free adhesion process. I actually didn't get the glass quite lined up the first time, and was able to carefully lift the Phantom Glass off and re-install it without a problem. I was worried that the (very thin) glass might break while I was lightly prying it off, but it was strong enough to survive, at least this once!
Subjectively, the display appeared just as clear and bright as before applying the Phantom Glass. There is no distortion – I don't notice any difference in the display when using the phone.
Now, about those existing scratches. Here's a photo of the screen without the screen protector. I deliberately took the picture in a light glare to show off the network of scratches that had accumulated over time (about a year and a half).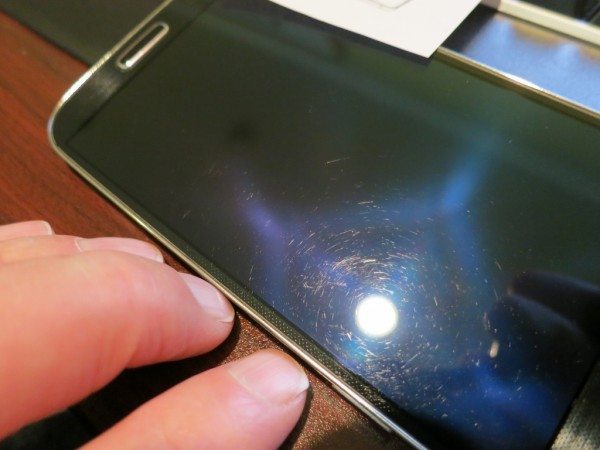 Below is a picture with the screen in place. The majority of tiny scratches did, in fact, vanish. Some did not. However, the remaining ones that I'm showing above and to the left of the reflected light are by far the worst and deepest on the whole screen. Most of the rest of the display now appears scratch-free! I am very happy with this result.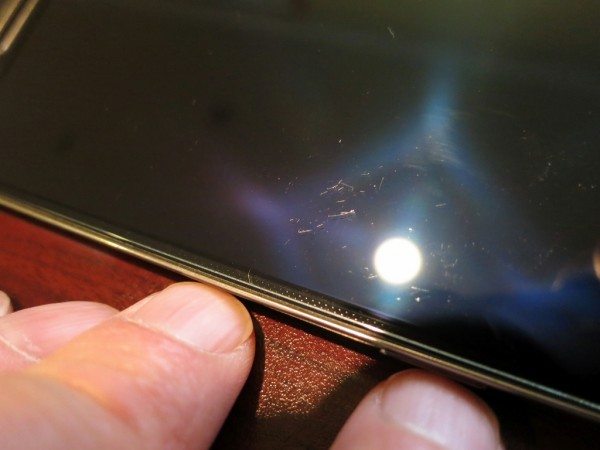 So, my final question pertains to the user experience. Is my "barely-clothed" smartphone any different from "completely naked?" Well, just a little bit. The first thing I noticed is that the "Home" button is now recessed very slightly due to the added thickness of the Phantom Glass around it. (The Galaxy S4 template leaves a cutout for the Home button.) Phantom Glass is extremely thin, 0.2 mm, compared to usual case cutouts and even other screen protectors, so the difference is detectable more by feel than sight. In fact, after a few days, I barely notice this any more and don't consider it an issue. The picture below shows the button within the Phantom Glass cutout. It also illustrates how nicely the Phantom Glass conforms to the edge of the phone.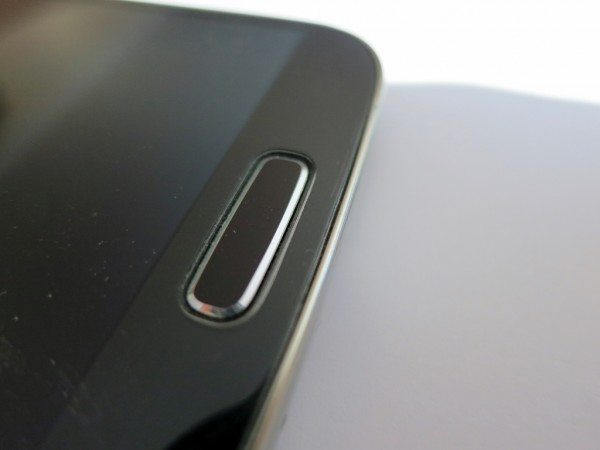 The second user issue is perhaps my own imagination at work. The Phantom Glass website promotes its material as being "oleophobic," or oil-repellent. This helps ensure that fingerprints and other oily residues are easy to wipe off. I can attest that the Phantom Glass is not collecting fingerprints. However, it does collect dust from my pants pockets.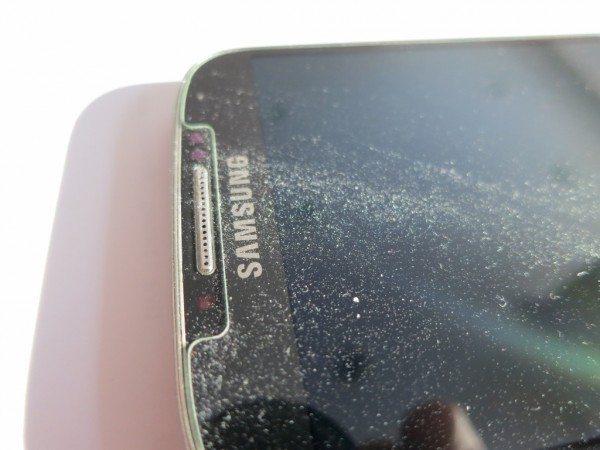 The dust is really only noticeable with the screen off. Because I'm reviewing the screen protector now, I'm bound to be hyperaware of such things, so my phone may have been just as dusty before the Phantom Glass was applied. On the other hand, it's also possible that Phantom Glass adds a little extra static cling to attract dust. Either way, it's easy enough to wipe off, and I'm happy that this dust is no longer in position to scratch the screen of the phone itself.
Phantom Glass is made with Corning Gorilla Glass. I did not conduct any tests with scissors, knives, or hammers. Visit the Phantom Glass website to see these objects starring in videos supporting claims that their tempered glass is very tough. However, Phantom Glass is covered by an unconditional lifetime warranty. If the Phantom Glass does fall victim to a rampaging hammer, or merely starts to look like my underlying screen did, I can simply return it for replacement.
The Phantom Glass screen protector passed all my tests. It's exceptionally easy to install, easy to live with afterwards, and easy to replace if it does break or scratch. Is there a catch? Yes, the price. Phantom Glass costs $35 for smartphones and $40 for tablets. That's several times more expensive than many other tempered glass screen protectors, and an order of magnitude more than plastic film protectors. My guess is that much of this price premium is based on the use of Gorilla Glass, which not only carries a brand name cost but may be the reason that Phantom Glass is 33% thinner than most of its rival products. And there are other premium tempered-glass screen protectors in this price range. Phantom Glass is half as thick as the ZAGG screen protector reviewed here by Dave Rees last year, and the same price. Phantom Glass also costs the same as the PDair product that Dave also reviewed.
I am quite satisfied and will not be parting with my Phantom Glass screen protector. If you're happy with a less expensive product, by all means stick with it. However, if you have any complaints, upgrade to Phantom Glass and it's sure to be the last screen protector you'll need to buy (until you get your next phone).
Updates 08/13/15
Okay, six months after installing the Phantom Glass screen protector, I arrived at two conclusions. First, I really should have a case to protect the edges of my phone. There were three separate dings: one from a sharp wood screw that I stupidly deposited in the "wrong" pocket with my phone, the second from a parking lot drop, and the third of unknown origin. Second, those dings were resulting in minor but visible cracking at the screen edges, but I needed to find out if the damage was to the Phantom Glass or the underlying Samsung glass. For that I needed to test out the company's warranty replacement process.
Technically, I wasn't eligible for warranty replacement because I have a review sample product, but Phantom Glass was generous enough to ship me a one-time replacement anyway. It arrived promptly and I jumped into the replacement procedure.
Removal was trickier than I expected. Either due to its age or the beating it had taken, the old glass fractured in many places as I tried to carefully pry it off. Although it mostly stayed in one piece, I was worried about splinters of flying glass and finally wedged a piece of paper beneath a lifted edge and slid that all the way under the glass to separate the old Phantom Glass from the phone successfully.
I then had a bit of trouble getting the protective film off to expose the "silicon nano-adhesive layer," unlike the first time. I actually even worried that the film was missing entirely, but a quick exchange of emails with PG's friendly support contact, Maddy, got me through the difficulty. The replacement glass then dropped into place almost as easily and flawlessly as the initial installation, except for a spot on one edge where I appear to have gotten a finger underneath and left some fingerprint oils, leaving a little "side bubble" that may not go away. My bad.
Otherwise, the screen now looks as good as it did before. The first Phantom Glass did indeed absorb all those edge hits and protect the phone glass beneath. I'm a believer, and will be purchasing a Phantom Glass screen protector for my next phone.
I should note that the growing popularity of curved screens could be problematic for these types of rigid glass screen protectors, so if my next phone has this feature I may need to research my options. Phantom Glass has released a product that combines acrylic or aluminum to help protect the rounded edges of the iPhone 6, but a screen protector for the more radically-rounded Samsung S6 Edge does not appear on their website.
Source: The sample for this review was provided by Phantom Glass.  Please visit their site for more info about this product.
Product Information
Price:
$34.99 (smartphones, as reviewed); $39.99 (tablets)
Manufacturer:
Phantom Glass
Requirements:

Own one of 37 supported phones and tablets from (currently) seven leading manufacturers

Pros:

Super easy to install
Tough - made from Corning Gorilla Glass
At 0.2 mm, one of the thinnest glass screen protectors available
Oleophobic for easy cleaning of fingerprints
Lifetime warranty

Cons:

Expensive (but in line with other premium screen protectors)
Possibly attracts more dust than naked screen (but this could be my imagination)