We use affiliate links. If you buy something through the links on this page, we may earn a commission at no cost to you. Learn more.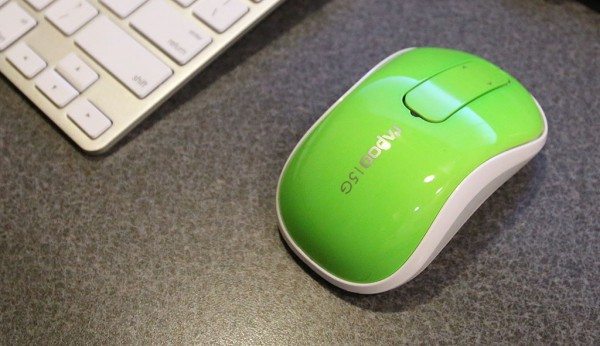 I've been using a Logitech V470 Bluetooth Cordless Laser Mouse with my MacBook Pro for a few years now. I like the size and fact that is wireless, but lately it has started behaving strangely. The cursor moves erratically on the screen when I move the mouse, making it difficult to do detailed Photoshop edits to my review images. When I was offered the Rapoo T120P Wireless Touch Mouse to review, I thought it was great timing and accepted the offer. Although I prefer a completely wireless mouse, the Rapoo isn't Bluetooth and requires a small USB receiver, I decided not to hold that against it. Now after a week of using this mouse I'm ready to deliver my verdict.
Note: Images can be clicked to view a larger size.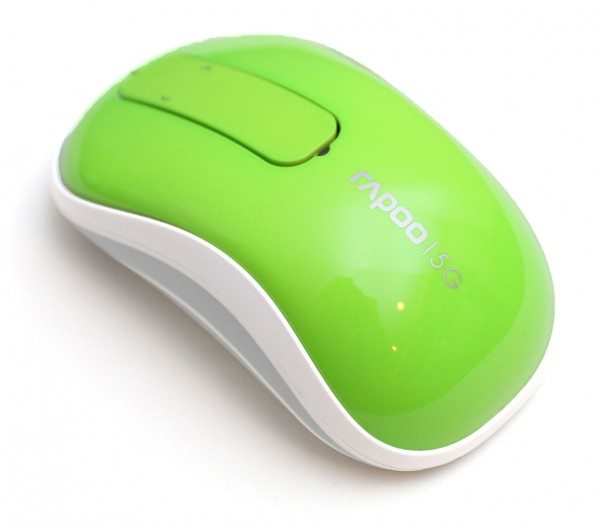 The T120P is made of hard slick plastic on top, with rubberized sides for added grip. It's available in five colors including the green version which they sent to me.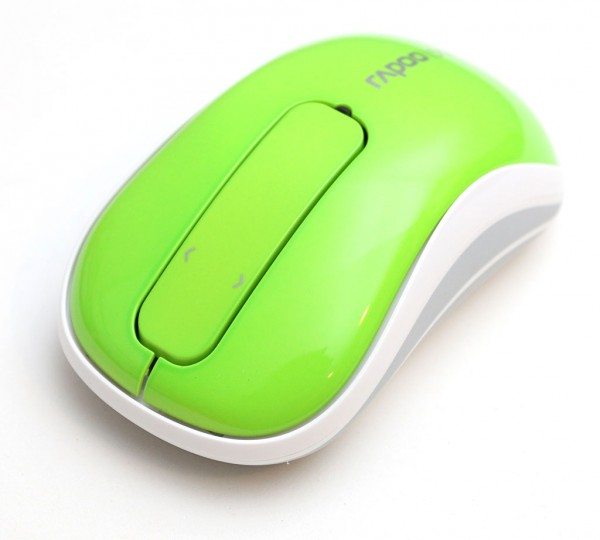 The mouse features a two button design with a 4D touch scroll bar. It's the perfect size for me, not to big and not too small. It's comfortable to grip and maneuver.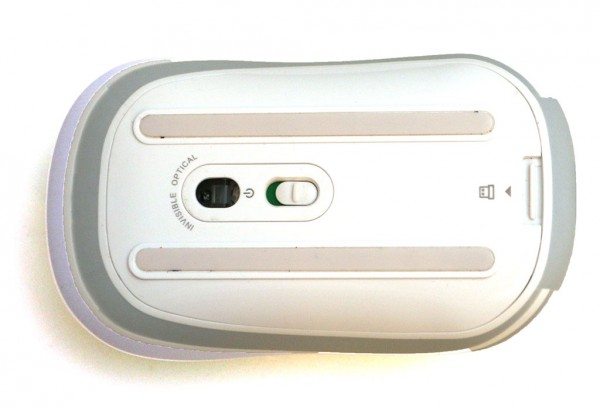 On the bottom of the mouse you'll find the power switch and battery compartment.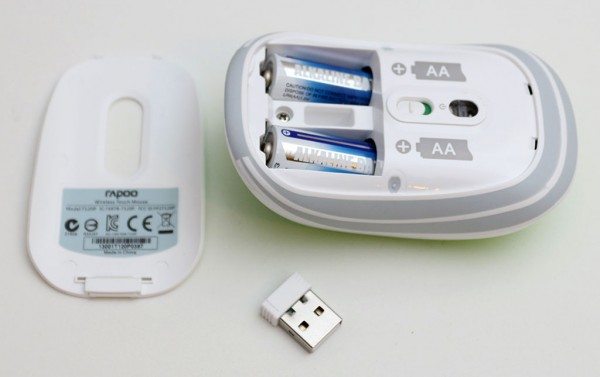 The Rapoo T120P Wireless Touch Mouse runs on 2 AA batteries which are included with the mouse. The battery compartment is located under a cover on the bottom of the mouse. The nano USB receiver stores in the battery compartment when it's not being used. The T120P uses 5G wireless transmission which keeps it away from the 2.4G wireless channel that is susceptible to interference from Bluetooth and WiFi equipment.
This mouse works like every other wireless mouse that I've used in the past. Just plug the USB receiver into a free USB slot and bingo, the mouse is ready for use. What sets the Rapoo T120P apart from other mice is the 4D touch scroll with vibration feedback. As far as moving the cursor around on the screen, this mouse works just fine. It's when you need to scroll that things go a little haywire. Instead of a physical scroll wheel, this mouse has a touch sensitive bar between the left and right mouse buttons. This bar is stationary and doesn't move, but it does vibrate as you swipe your finger up and down or left and right. At first I thought it was a pretty cool feature, but in a short time I found myself wishing for a physical scroll wheel. Why? For two reasons. Sometimes when you are trying to scroll a long page of info the mouse continues to vibrate even when you've reached the end of the page. It's like the vibration feature has to catch up with the scrolling. But the biggest problem I had with this mouse is that the touch scroll feature isn't as sensitive as a physical scroll wheel. It often overshoots by scrolling too far in either direction causing me to have to scroll back in the opposite direction to find the desired spot on the page or list. This became annoying very quickly. Since I am constantly scrolling webpages and lists, this was a deal breaker for me. It's a shame since this mouse didn't have the same erratic movement problems as my Bluetooth mouse. Looks like it's time to go shopping for a new wireless but non-Bluetooth mouse.
Source: The sample for this review was provided by Rapoo. For more information visit http://rapoo.com/. You can buy this mouse on Amazon.