We use affiliate links. If you buy something through the links on this page, we may earn a commission at no cost to you. Learn more.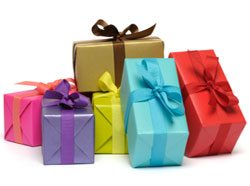 It's now officially the holiday season. That means you have to get in the holiday spirit – it's mandatory! Need some help? Ok, here's a contest with a wide assortment of great gadgets that you can win by just writing a simple comment to this post. If you're willing to jump through a couple of hoops, you can get 2 extra chances to win, for a total of 3 chances. We have a lot of good stuff to giveaway, so don't waste any time, please click through to see the list of prizes and instructions on how to enter.
Prizes: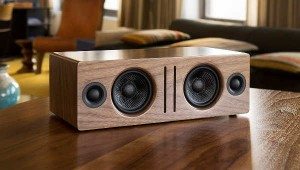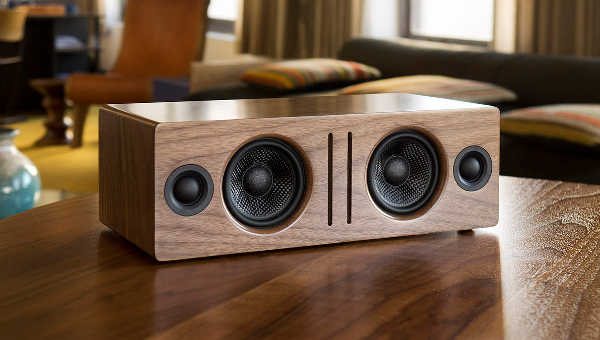 Audioengine B2 Bluetooth speaker
With a 24-bit DAC, extended wireless range, and a aptX Bluetooth audio decoder, this speaker combines the great sound quality into a great looking hand built wood cabinet that is available in Walnut, Black Ash or Zebrawood. Winner can choose the B2 wood type they would like.
Prize value: $299
For more info: https://www.facebook.com/Audioengine ; @audioengineusa ; audioengineusa.com   

Skylink: SkylinkNet Alarm System Kit
All-in-one, DIY kit offers homeowners a complete alarm system solution, conveniently controlled by a smartphone app
Alarm System Kit is controlled by the Internet Hub and includes a motion sensor, keychain remote, and 2 door or window sensors
Comes equipped with back up battery in case of power failure
Starter kit's Internet Hub can be easily set up through a wireless Internet router to coordinate the activities of all receivers and sensors
Monitor and control your home alarm system with your smartphone with sensor activation
Secure cloud server safely brokers connection with no networking knowledge required
Works with up to 100 wireless sensors and controllers & 10 wireless cameras
Track all recent sensor activations and know who armed and disarmed the system
App allows up to 6 users to monitor one or various locations at the same time
No additional monthly fees or long-term contracts
Can be paired with cameras to monitor and control your home with the smartphone app
Can be customized with additional home security accessories, including a water leak sensor, a garage door sensor, an outdoor solar siren, telephone dialer
Can be customized and paired with other kits and accessories for home automation, including a telephone dialer for users to be notified during a power failure
iOS smartphone app sends push notifications when sensors are triggered or if the alarm is armed or disarmed
Prize value: $149
For more info: https://www.facebook.com/skylink.home ; @skylinkhome ; www.skylinkhome.com   

Saffron: Drift Light Bulb
1 each of:
Drift Light Bulb – Eco-friendly LED smart bulb gradually drifts from light to dark to help user rest easy. Read our review.
LED Light Bulbs – Energy efficient LED bulbs that look and feel like traditional incandescent bulbs
Sense Light Bulb – Outdoor lighting system with sun-aware sensors that self-adjusts with sunrise and sunset
Cost-efficient with automatic on/off feature and 1/8 the average cost to power
Each bulb features a 30,000 hour lifespan
Prize value: $70
For more info:  https://www.facebook.com/sewelldirect ; @sewelldirect ; www.seesaffron.com

Recoil: Automatic Cord Winders
Retractable cord organizer designed to automatically wind & store cords, keeping them tangle free & ready for use
Portable winders easily organize cords and cables instantly
Spring-loaded technology offers the fastest way to manage & organize electronic cords
Small Winder: Designed for earbuds and headphones without microphones
Medium Winder: Designed for USB cords, headphones & lightening cables up to 4 ft. long
Large Winder: Designed for laptops, tablets, phones, gaming & cords up to 6 ft. long
SML Combo Pack: Features 1 small winder, 1 medium winder, 1 large winder & a Recoil Rack
MML Combo Pack: Features 2 medium winders, 1 large winder & a Recoil Rack
Available in 5 stylish colors, including blue, black, green, red, & white
Prize value: $27.99
For more info:  https://www.facebook.com/LifeUntangled ; @recoilwinders ; www.recoilwinders.com

Tego: NOVA Mini Wireless Speaker
Bluetooth wireless speaker delivers powerful sound in an ultra-portable package
Boasts version 3.0 Bluetooth Technology for fast and easy connections with superior sound quality from up to 33 ft. away
Ability to daisy chain allows an infinite number of NOVA's to play at the same time for greater sound
Expanding bass chamber delivers 360° of sound to fill a room
For non-Bluetooth devices, a 3.5mm audio built-in input is available for maximum device compatibility
Speaker weight is 5.5 oz., allowing for maximum portability
Available in Onyx Black, Rubine Red and Cosmic White
Achieve up to 5 – 7 hours of playback with rechargeable internal Lithium Ion battery
Prize value: $49.99
For more info: https://www.facebook.com/TegoAudio ; @tegoaudio ; www.tegoaudio.com/

Blast Motion: Blast Athletic Performance
The world's most accurate and consistent motion-capture technology for action sports 
Removable motion sensor analyzes and records motion metrics for 8 hours, allowing users to quantify progress and share highlights via social networks
Paired iOS app performs Smart Video Capture automatically detecting, capturing and personalizing your video highlights with overlaid metrics, creating ready-made sharable videos
Intelligently detects metrics like height, rotation, speed and direction and it helps athletes identify trends through stats and graphs
Sensor has ability to store data when it is out of range from the app
Proprietary sensing technology maintains accuracy within less than one mile per hour
Bluetooth® Smart (Bluetooth® low energy technology) connects the sensor mounted on the waist clip attachment to your iOS device
Blast Athletic Performance app is designed for iPhone 5, iPad 3 / iPad Mini 2 and iPod Touch 5th generation or new
Charges in 1.5 hours with included wireless charging base
Prize value:  $149.95
For more info: https://www.facebook.com/BlastMotion ; @blastmotion ; www.blastmotion.com

Catalyst: Waterproof Sleeves
Stylish and versatile (3 bags in one) waterproof sleeves that carry and protect your electronic devices
Features EVA foam lining to keep electronics protected from drops
Seams and zippers heat welded with double lock construction for waterproof protection
IP66 water tight closures ensure contents stay dry and dust free
Durable waterproof exterior made from Ripstop Nylon
Multiple products in one – Sleeves can be used inside a bag as protective covers or quickly transform into a backpack, briefcase or tote by adding removable straps
Available in small, medium and large sizes to fit the most popular electronics including: MacBook, iPad, Galaxy Note 8, Microsoft Surface and Kindle Fire, among others
Prize value:  Small $39.99
For more info: https://www.facebook.com/Catalyst.Lifestyle ; @cataly_st ; www.catalystlifestyle.com

Zivix: PUC
Wireless link connects MIDI compatible musical instruments with iOS devices via Wi-Fi, providing seamless music creation
MIDI interface directly connects instruments to the iOS device wirelessly without a host Wi-Fi network to create music
Integrates with MIDI-enabled keyboards, DJ controllers, drum pads, floor pedal controllers and more for ultimate portability and to minimize cable clutter
Leverage your existing iOS apps to create music and experiment with MIDI devices
Proprietary MIDI interface is designed specifically for iOS devices
For use in both studio or live applications to wirelessly connect to Logic, ProTools, Live, Cubase, Sonar, Reaper and Garageband
Can be switched to function as MIDI input or output
Features MicroUSB port for charging, or two AA batteries for up to 15 hours of continuous use
Prize value: $129.99
For more info: https://www.facebook.com/pucwireless ; @Zivix_LLC ; www.mipuc.com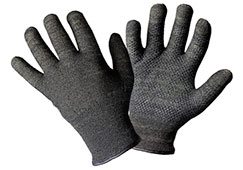 Glider Gloves Touchscreen Gloves
These special gloves will keep your hands warm but you'll still be able to interact with your phone. Winner can choose the color.
Prize value: $29.99
For more info: https://www.facebook.com/GliderGloves ; @glidergloves ; www.glidergloves.com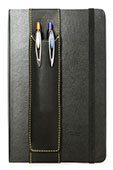 Quiver A5 double pen holder for large Moleskine notebooks or the iPad mini
Keep your two favorite writing instruments right where you need them, attached to your notebook. The Quiver A5 double pen holder is made of leather and slides over the hard cover of notebooks 8″ – 9.25″ tall. It also works great with an iPad mini in a flip cover case. Check out our Quiver review for more info.
Prize value: $26.95
For more info: https://www.facebook.com/pages/Quiver-Pen-Holders/144458462260661 ; www.quiverglobal.com
How to enter (please read carefully – any missed steps and your entry will be disqualified):
1. Between now and 12/04/2014 11:59PM EST leave a comment on this page telling me the one thing you'd change about The Gadgeteer if it was up to you. Feel free to elaborate or provide even more input. I always love reading your ideas and criticisms.
2. (optional) Get a 2nd bonus entry by tweeting:
Win a huge gadget prize pack from @thegadgeteer http://wp.me/p3LRkH-IhR
3. (optional) Get a 3rd bonus entry by posting on your Facebook timeline (to the public):
Win a huge gadget prize pack from @thegadgeteer http://wp.me/p3LRkH-IhR
Make sure you come back and leave a 3rd comment on this page with a link to your Facebook post.
3. At some point on 12/05/2014, I'll pick 1 random winner using random.org. The winner will be contacted by email and will have 48 hrs to claim their prizes. If I do not receive an answer to my email in that time period, I'll do other random.org drawings till the prizes are gone.
Rules:
1. Only one entry per person (warning: I check IP addresses).
2. Gadgeteer writers, family members and close friends may not enter this contest.
3. the-gadgeteer.com is not responsible for any lost packages or incorrect shipping addresses.
4. the-gadgeteer.com is not responsible for the winner not accepting their prize within 48hrs. The winner will be posted on the contest page, in the comments section and will be emailed. Check your spam folder.
5. Winner must have a US shipping address (sorry, this isn't my choice…).
Update 12/5/14:
The winner is #48 Azat Salikhov. Congrats to Azat! Thanks to everyone who entered and our sponsors.
Update 12/7/14:
No response from first winner so I drew another winner: #160 Chris Deckrow. Congrats to Chris.
THIS CONTEST IS NOW CLOSED