We use affiliate links. If you buy something through the links on this page, we may earn a commission at no cost to you. Learn more.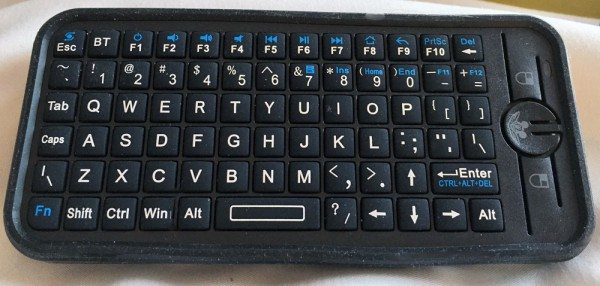 We have an Apple TV, and we love watching programming with it.   In keeping with the Apple design ethic, the device and its remote are both sleek and minimal.  Despite only having two buttons and a 5-way navigation control, the remote works well for selecting and controlling programming – until you need to enter text.  Entering a search string or a password for the Apple TV means using the 5-way navigation control to scroll around a matrix of numbers and letters to first move to a letter than select it.  It would work much better if you had a keyboard for text entry, which is where the iPazzPort Air Mouse Bluetooth Mini Wireless Keyboard for Apple TV with Gyroscopic Mouse and Built In Sleeve for Apple TV Remote Control (KP-810-16BAR) comes in.   You can pair the iPazzPort mouse with the Apple TV and use it for data entry.  You can also use it as a mouse and keyboard with a computer.  Let's see how it works.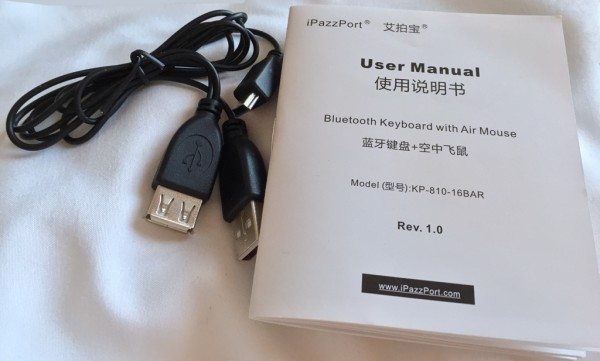 You'll receive charging cables (miniUSB) but no AC charger with this unit.  You also get a small user manual.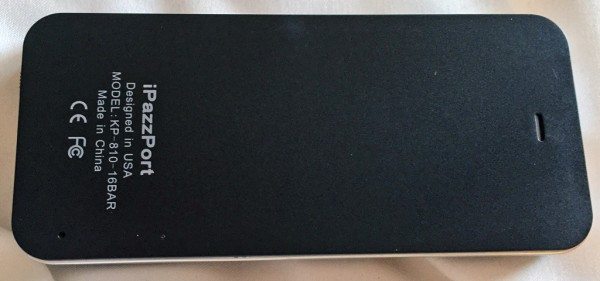 The iPazzPort Air Mouse comes with a silicone cover, but I've removed it for some photos.  You can see the keyboard in the top photo of this review.  The back side is also made of black plastic.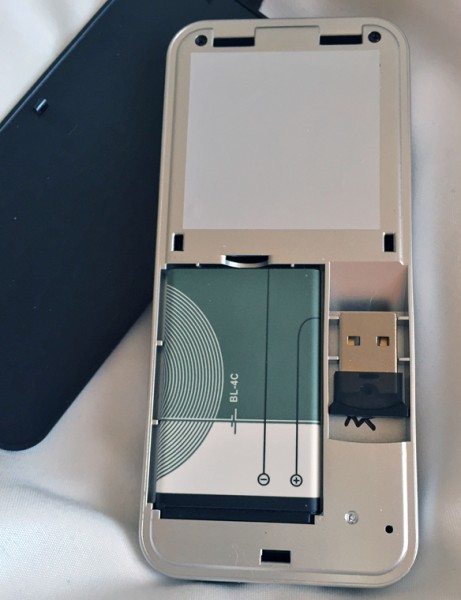 When you remove the back cover, you see the rechargeable, 400mAh lithium-ion battery.  Documentation says you get 400 hours of standby time from a battery charge.  People on Amazon say that the battery discharges quickly if you don't power the remote off when you aren't using it.  I found that you may have to re-pair the remote if you power it off, so you may have to choose between a delay for re-pairing or frequent charges of the battery.
You also see a USB receiver stored in here.  If your computer doesn't have built-in Bluetooth, you can plug this little dongle into a USB port on your computer to add it.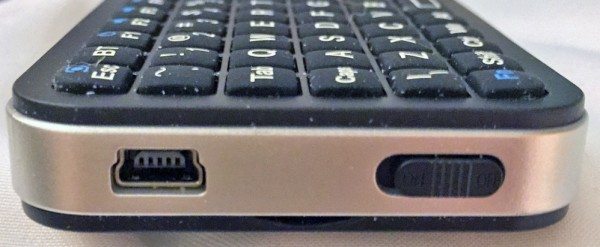 Never miss one of our posts again. Sent MON, WED, and FRI with the latest gadget reviews and news!
The sides of the receiver look like aluminum, but it's aluminum-colored plastic.  One end has the miniUSB jack and an on-off switch.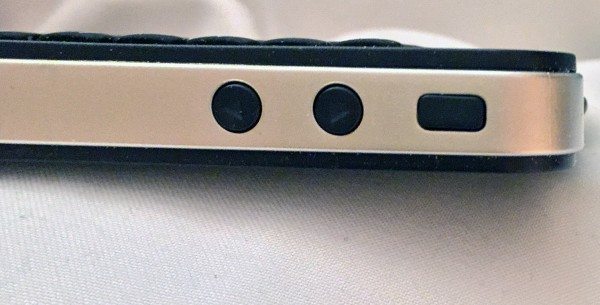 One side has two buttons marked with up/down arrows.  When paired with my Mac computer, they serve as page up/down scrolling mouse buttons.  The rectangular button turns on the Air Mouse's flashlight.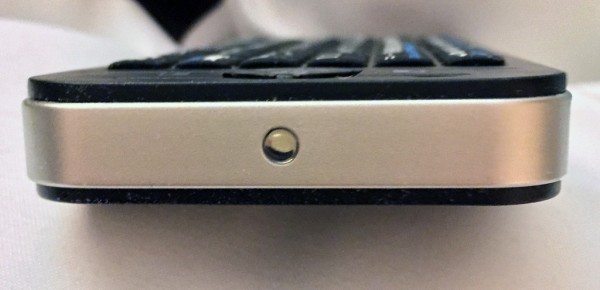 The lens on the end opposite the charging port is the flashlight.  It's not extraordinarily bright, but it can help you see in your dark viewing room.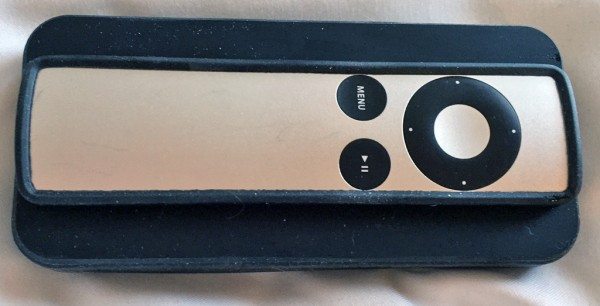 The back of the silicone cover has a molded-in sleeve to hold the Apple TV's remote.  My Apple remote fit perfectly into this sleeve.  Unfortunately, the silicone cover is so soft and flexible, it's easy to pop the Apple remote out of its sleeve when you're just trying to access the Apple remote.  It's also very easy to pull the silicone cover away from the iPazzPort remote itself.  You'll also notice when you enlarge this image that the silicone sleeve is a dust and dirt magnet.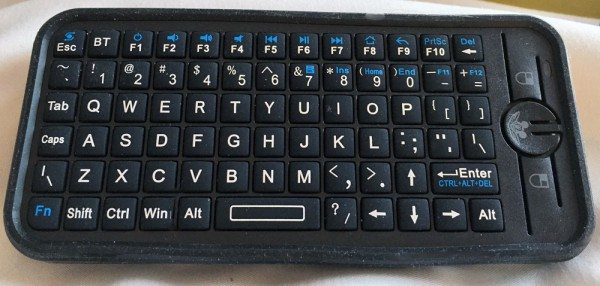 I'm repeating the top image here so we can look at the keyboard.  The Air Mouse measures about 4.9″ X 2.2″ X 1.8″ thick with the silicone cover on and the Apple mouse in its sleeve.  It's a good size to hold in your two hands and thumb type.  It's a QWERTY layout, with function keys to control media playback; you'll need to engage the blue Fn key in the bottom left to use the media playback controls.  There's also a BT button at the upper left that starts Bluetooth pairing.
The mouse buttons are on the right side.  The right and left mouse buttons are on the wrong sides, in my opinion.  When I use these button, I turn the iPazzPort in my hand so that end is pointing toward the device I want to control.  I have to then press the rightmost button to do a normal mouse click, and I press the leftmost button to do a right click.  The large button with a picture of what appears to be Mickey Mouse on it is the mouse-enable button.
I plugged up the iPazzPort Air Mouse to my USB charger and charged it up before putting it through its paces.  I started by pairing it with my Apple TV.  It paired up easily, and I found that it worked great for entering text for search strings.  By the way, the keyboard isn't lighted, so you'll need some light to see to type on the tiny keys.  It works only as a keyboard with the Apple TV; the Air Mouse functions don't work.  Having the Apple TV remote on the back of this bigger remote certainly makes it easier to keep up with.  There's a cutout in the sleeve for the IR signals to pass through, so the Apple remote works well in its sleeve.  As I mentioned earlier, the silicone sleeve is flexible enough and the back of the Apple remote is rounded enough that you can accidentally pop it out of its sleeve if you aren't careful.
I like the iPazzPort Air Mouse as a Bluetooth keyboard accessory with my Apple TV.  It doesn't replace the Apple remote, but it's worth its weight in gold when you need to enter text.
The iPazzPort Air Mouse is also designed to work with Windows, Mac, and Linux computers and with "Android PCs with USB or Bluetooth HID driver/profile".  I only have a Mac computer, so I tried it out with the iPazzPort.  I had to press the Bluetooth pairing key on the iPazzPort and open the Bluetooth preferences to get the iPazzPort to pair.  It did require me to enter a 6-digit code on the keyboard to complete pairing.
It worked as a keyboard for entering text with my Mac, and I could use some of the media function keys, like volume adjustment, to control my Mac.  Some of the other function keys, like screen brightness, didn't work at all with my Mac.  That's fine with me, because I can't imagine using this as the only keyboard with my computer.
The iPazzPort Air Mouse has an "ultra sensitive 3-axial gyro-sensor for in-air cursor control using natural hand motions."  To use the mouse, you have to first engage it with the mouse-enable button.  You can press-and-hold the enable button and the mouse functions will work until you release it, or you can tap it to start mouse functions and tap it again to end them.  I don't find the mouse is easily controlled by "natural hand movements".  I felt like Tom Cruise controlling the computer using giant arm movements in "Minority Report".  The mouse never quite moved in the direction I expected nor moved quite as far as I expected.  Sometimes it seemed to slow down its response as I moved the cursor towards a button, and it was hard to get it settled on the button so I could then press the mouse button.  And I've already mentioned that the mouse buttons are on the wrong side; they're set up for a left-handed user.
The mouse can be used up to 33 feet away from the computer.  My Thunderbolt Display is only 27″, so I don't think I'll ever need to use the mouse from that distance because I couldn't see what I was doing.  However, I could use the media buttons to control a video or music without having to be right beside my computer.
The iPazzPort Air Mouse Bluetooth Mini Wireless Keyboard for Apple TV with Gyroscopic Mouse and Built In Sleeve for Apple TV Remote Control KP-810-16BAR works well as an auxiliary Bluetooth keyboard with my Apple TV.  It makes entering text much easier, and the built-in sleeve on the back of the silicone cover makes it easy to keep up with the tiny Apple remote.  I don't find it quite so easy to use with my computer, though.  I wouldn't use it as my only keyboard or as my only mouse with my computer, but it could be a handy remote to use for media playback on your computer so that you don't have to sit within arm's reach of the computer as you enjoy your entertainment.
Source: The iPazzPort Air Mouse (KP-810-16BAR) sample for this review was provided by iPazzPort. Please visit http://ipazzportusa.com for more info.
Product Information
Price:
$24 at Amazon
Manufacturer:
iPazzPort
Retailer:
Amazon (in the US)
Requirements:

An Apple TV or a Linux, Windows, Mac, or Android PC with Bluetooth or a USB port to accept the included Bluetooth receiver

Pros:

Works very well to enter text for search strings, passwords or other fields with the Apple TV
Has a built-in sleeve on the silicone cover to hold the Apple remote
Works as a keyboard and a mouse with my Mac computer

Cons:

Mouse control is difficult, at least with my computer