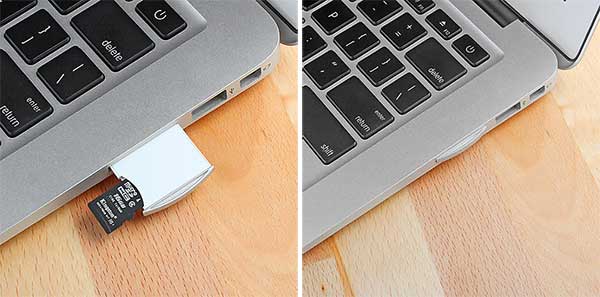 Adding more file storage to a MacBook Pro or MacBook Air usually means hanging an external hard drive off a USB port, plugging in a USB flash drive or inserting an SD card. All these ways will work just fine, but they aren't the most elegant solutions. Dangling an external drive from your laptop when you're mobile can be a hassle and USB flash drives and SD cards stick out from the ports just begging to get snagged on something. The MacBook Pro/Air Micro SD(HC) Card Adapter is from Brando is a small adapter that supports a micro SD / SD(HC) / SD(XC) card up to 64GB. The adapter turns the micro SD(HC) card into an SD card, allowing it to fit in the SD card slot on the MBP or MBA. The advantage to using the adapter is that it doesn't stick out of the SD card slot like a normal SD card will. There's just a small sliver of plastic that sticks out so that it can be removed easily and the color of the adapter matches the laptop, allowing it to blend in and look seamless. The MacBook Pro/Air Micro SD(HC) Card Adapter is available from Brando for $10.
Support The Gadgeteer
:
We may earn a small affiliate commission from purchases made from buying through links on our site. As an Amazon Associate I earn from qualifying purchases. Learn more.