We use affiliate links. If you buy something through the links on this page, we may earn a commission at no cost to you. Learn more.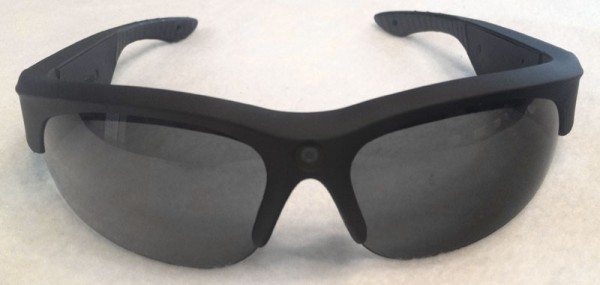 I have 4 kids, all of whom are actively involved in all sorts of activities.  So I am regularly engaged in video-recording their school and community activities.  The problem for me, as well as many other parents I am sure, is that when you are recording something like a soccer game, you often miss the game itself because you are concentrating on the little screen on your camera, trying to keep the action inside the frame.  Am I right?  Wouldn't it be nice if you could simply record what you are looking at? Enter the Inventio HD Camera Sunglasses.
To be honest, I am torn about the $139.95 Inventio HD Video Sunglasses (herein after referred to as the Inventio).  There is a lot to like here, and a lot to be frustrated about.  I'll detail all of it below, and you can decide for yourself if the Inventio is right for you.  But first things first, let's detail the product specs from the manufacturer and the package contents.
Product specs from manufacturer
Dimensions : 6 x 6 x 2 (unfolded), 6 x 2 x 2mm (folded)
Weight: 1.72 Ounces
Video Resolution: 1920 x 1080p @ 30fps
Video Format: MP4
Video Ratio: 16:9
Audio Processing: AAC2 Stereo
Interface: Micro USB 2.0
Storage: Up to 64GB microSD
Power Supply: 3.7V Rechargeable LIPO Battery
Power Adapter: 5V DC/5000mAh
Power Duration: About 1.5 hours
1-year warranty
Removable/replaceable polarized lenses
Package contents
HD sunglasses
Microfiber cloth
Croakies strap
Hardshell zippered carrying case
Cloth carrying case
Micro SD card reader
USB power cord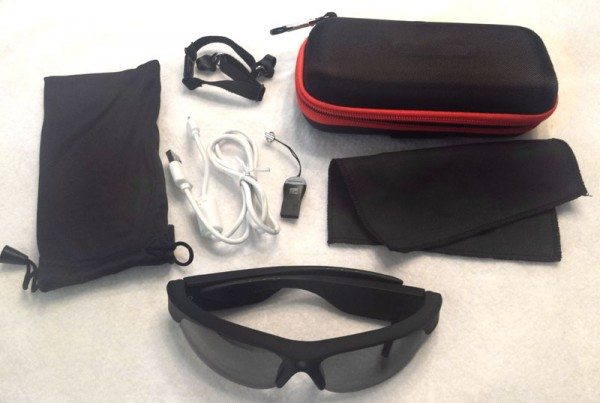 Initial thoughts
When I opened the package I expected that the sunglasses would be bulky and awkward looking considering that there was a 1080p HD camera inside.  And while they are bigger than any pair of sunglasses I have ever owned, when I wore them out in public I never had anyone look at me strangely or ask 'hey, what is the deal with those sunglasses?'.  To me they look like a pair of sunglasses you might wear while doing outdoor or sporting activities.  The camera is located right between your eyes, so it should record whatever I am looking at.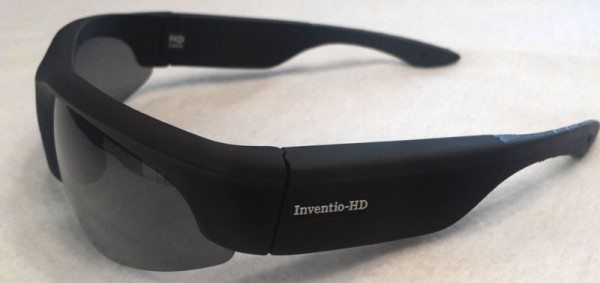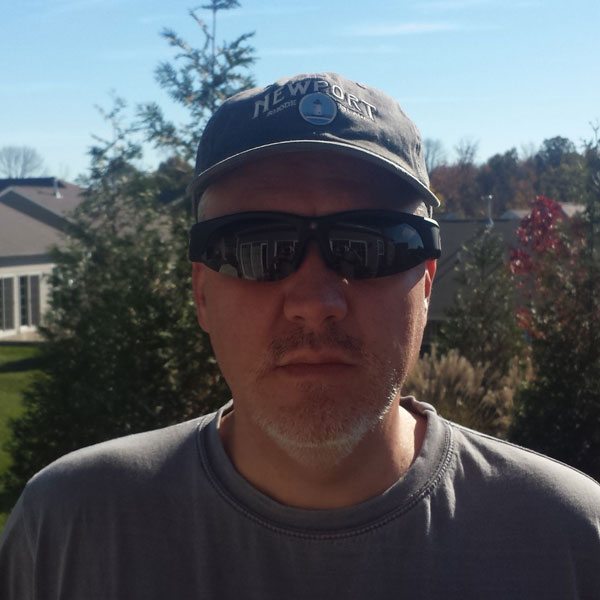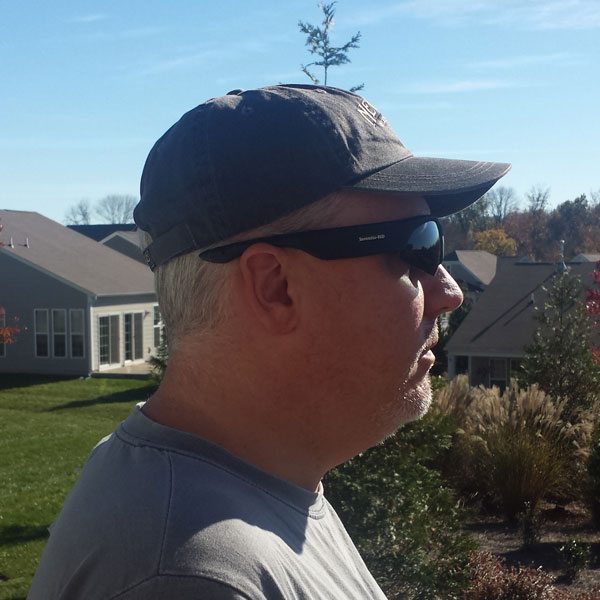 Comfort and wear
The arms that go behind your ears are made of soft rubber and were very comfortable to me.  The bridge that rests on your nose is made of rubber that is a little more firm, so it wasn't as comfortable on my nose as I would have liked.  The polarized lenses worked well and performed as you would expect polarized lens to do.  Overall, the Inventio was comfortable but the nose piece could be better.
Performance
The arms of the Inventio are pretty thick.  When you put them on you lose the largest part of your peripheral vision, so you have to be careful when using them while driving or during outdoor activities. Located on the underside of the left arm are the power button, micro SD card slot, charging port, and reset hole. When you press the power button on the left arm, after a couple of seconds you feel 2 vibrations indicating that the HD video recording has started.  During recording the green light on the inside of the left arm will blink indicating that recording is on.  When you are done recording you press the power button again and after a few seconds you'll feel 1 vibration, indicating that recording has stopped and your video is being saved to the micro SD card in the sunglasses.  When you want to view your videos you pop the Micro SD card out and load into the reader which you plug into your computer.  The specs state that you should get 1.5 hours of recording on a charge, but the best I got was just under 75 min of use before it died.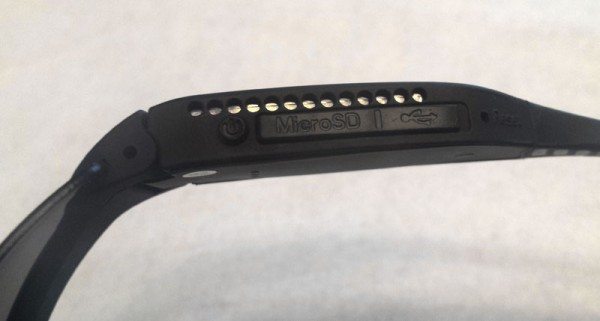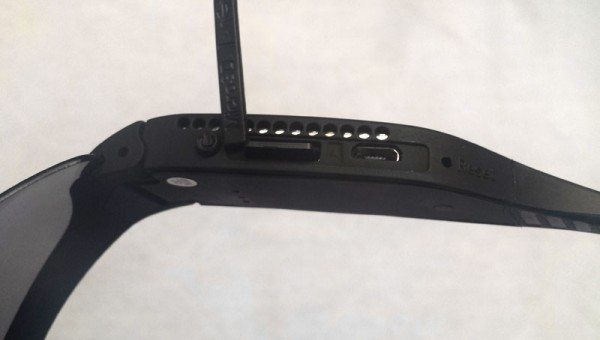 The microphone is located on the inside of the left arm, but that doesn't stop it from picking up wind noise, which you'll be able to hear in the video clip below.  It isn't overwhelming, but you will notice it. I also noticed that when I moved my head around quickly, it appears that some frames are dropped in the video which can make it look a little choppy in places.
But the biggest complaint I have with the Inventio is the angle of the camera.  I show you what I am talking about below in the pictures, as well as the video.  Basically, if I put the Inventio on my head in the same way that I do other sunglasses, the camera points up slightly instead of straight ahead.  It's frustrating and a little difficult to explain, which is why I posted pictures below to show you details.  I found that in order to record what I am seeing I need to lower my chin to a position that doesn't feel completely natural to me, or I need to move the sunglasses lower down my nose, which also doesn't feel completely right.  So this is something that I have learned to deal with when I am recording.
NOTE: the picture below shows a red line that is the line of sight for the camera on the front of the sunglasses. (click for a larger version) The picture on the right shows the red line with a slightly lower angle because I moved the sunglasses farther down my nose.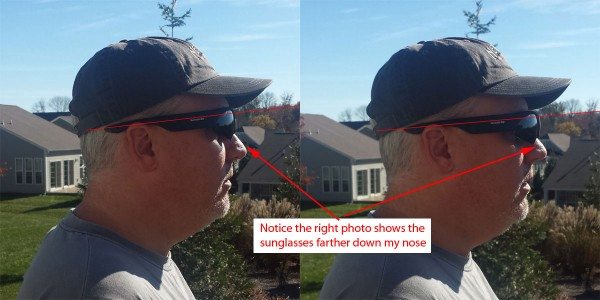 This is what it looks like when the sunglasses are sitting in a normal position on my head: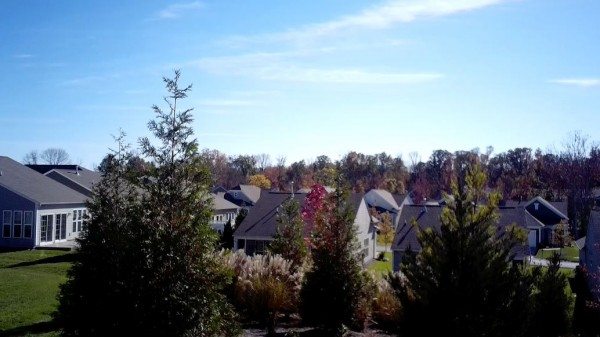 This is what it looks like when I move the sunglasses farther down my nose. As you can see, the view is more straight ahead.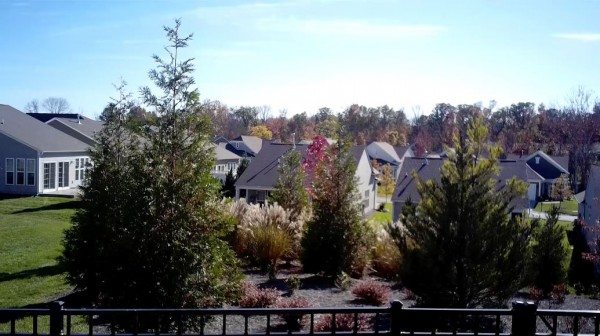 Finally, this video shows examples of recordings of me driving down the street with the sunglasses in various positions, as well as me walking and jogging so you can see the movement that the camera captures.
Minor Annoyances
I also wanted to mention a few other minor annoyances that aren't enough to make me NOT recommend the Inventio, but I feel like I should mention.  There were several times that I forgot the Inventio was recording because there are no indicators that it is recording except the green light blinking on the inside left arm. I am also disappointed in the steps that you have to go through to change the settings on the Inventio.  Because you have an HD camera, there are obviously things that you can adjust… white balance, contrast, quality, saturation, quality, etc.  But the only way you can change these settings is to type cryptic characters inside a text file which you have to load onto the Micro SD card.  And setting the date and time for the camera so that your files have the correct date and time stamp is even more odd. Basically you put a separate text file onto the Micro SD card with the correctly formatted text for the date and time, and then you use the sunglasses to record something.  Then the text file disappears.  Yeah, it seemed odd to me too.
The instruction booklet is helpful albeit a little disorganized and leaves out some vital information, which you can find on the Spy Tech Inc website here:  http://spytecinc.com/downloads/
The bottom line
The Inventio records great video in a form factor that looks good and is really easy to use. Changing the settings and setting the date/time is a hassle, but the reality is that if I wanted the Inventio to have a digital screen to change all the settings, it would be a lot more expensive than $139.  I don't like the angle of the camera and having to tilt my head down to make a better recording, and I supposed it could just be how my head and nose are shaped.  But it is something to consider when buying this gadget.  If you can live with those things, then the Inventio is a great choice.
Source: The sample for this review was provided by SpyTec. Please visit http://www.spytecinc.com/inventio-hd-sl-1080p-video-sunglasses.html for more info.

Product Information
Price:
$139.95
Manufacturer:
SpyTec
Pros:

Ease of use
High quality video
Good price

Cons:

Cryptic settings
Battery life
Camera angle too high