We use affiliate links. If you buy something through the links on this page, we may earn a commission at no cost to you. Learn more.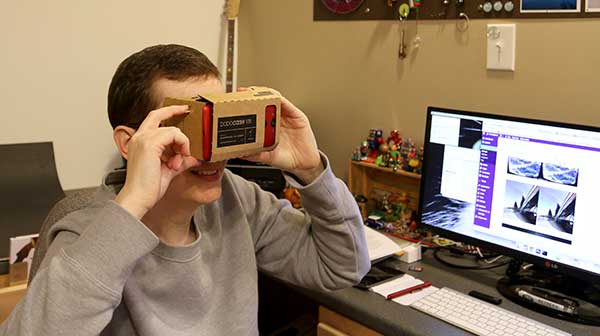 I'm a big Star Trek fan and always wished that the holodeck was a real thing instead of a fantasy created for a TV show. The idea of being able to walk into a different world with a flip of a button sounds so cool. Imagine being able to visit the Sydney Opera House in Australia from the comfort of your home, without buying a plane ticket. Guess what, you can do that now and all you need is your smartphone and a cardboard box. Wait, what? The Regan Arts Virtual Reality Beginner's Guide and Smartphone VR Viewer Toolkit makes it possible, let me show you.
Note: Images can be clicked to view a larger size.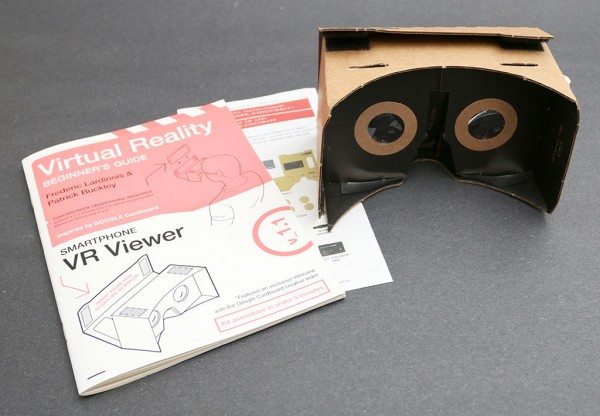 Package Contents
Pre-cut cardboard VR headset
German-designed biconvex lenses
Patent pending capacitive click technology
Near-field communication (NFC) tag, which enables your phone to provide a personalized, curated VR experience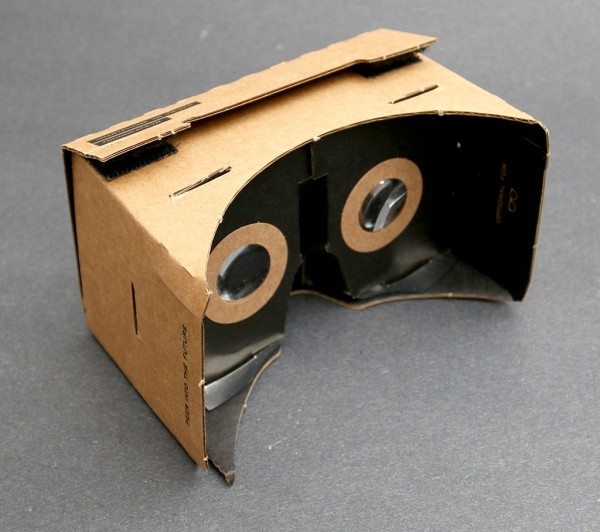 What is it?
What is the Regan Arts Virtual Reality Beginner's Guide and Smartphone VR Viewer Toolkit? It's a book with info and history about the topic of virtual reality, and a VR viewer for your smartphone that you can put together yourself. It's based on Google's Cardboard project. Google's project provides the parts list and templates to build your own VR viewer, but it's up to you to provide the parts. The kit I'm reviewing today skips most of the DIY steps by giving you all the parts you need along with instructions. I was a little disappointed that the folks at Regan Arts sent me a viewer that was already assembled, so I didn't have the fun of building it myself. 🙁
What is virtual reality? According to the Regan Arts Virtual Reality Beginner's Guide, it is:
The clever folks at NASA define virtual reality as the "use of computer technology to create the effect of an interactive three-dimensional world in which the objects have a sense of spatial presence." In other words, VR is an environment generated by a computer, with depth and perspective that change as you explore and interact with it. Ideally, when using a virtual reality viewer, you should feel like you are part of the virtual world, not just looking at it.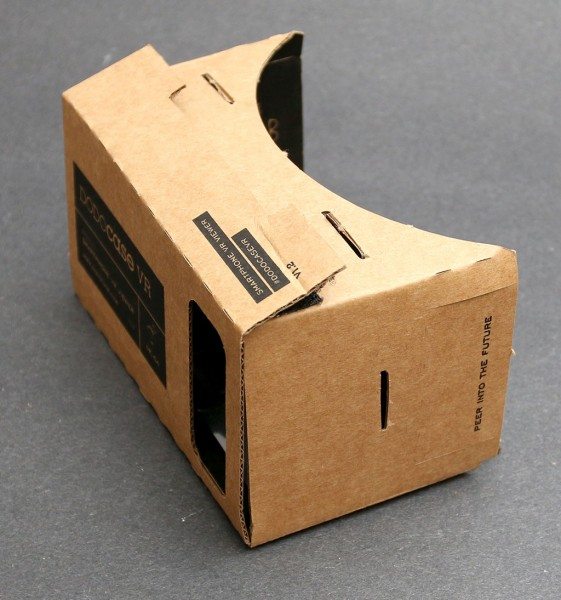 The viewer is constructed of cardboard, Velcro and two lenses.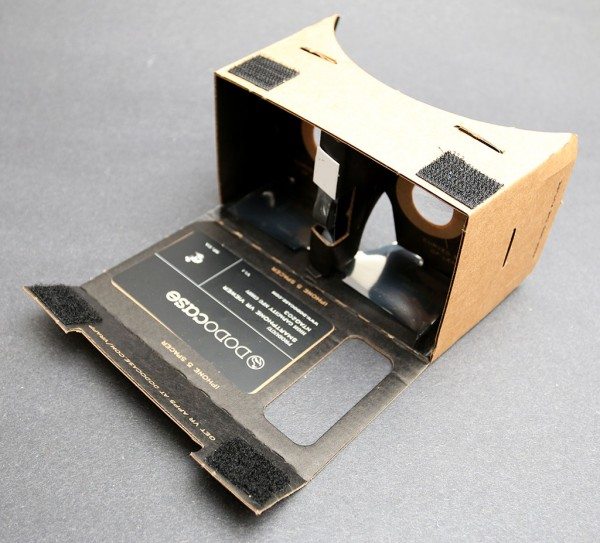 The front flap is held in place with Velcro tabs. This flap opens to reveal the interior of the viewer and to allow you to add your smartphone.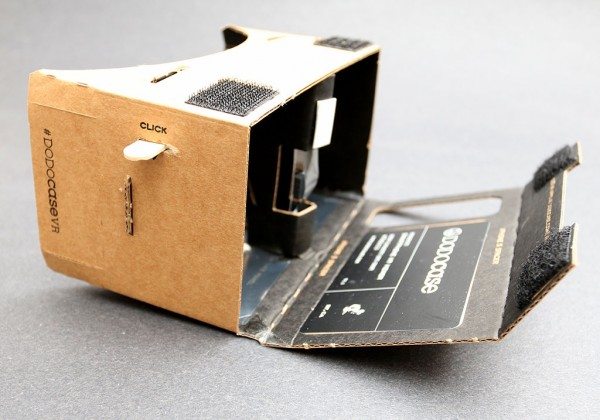 On the right side of the viewer is a "button". According to the parts list for the kit, it's what Regan Arts refers to as "Patent pending capacitive click technology". It's actually a lo-tech Popsicle stick. When the stick is pressed down it activates a "stylus" in the center nose area of the viewer that touches the display and acts as a select button.  In the image above you can see the stylus in the neutral position.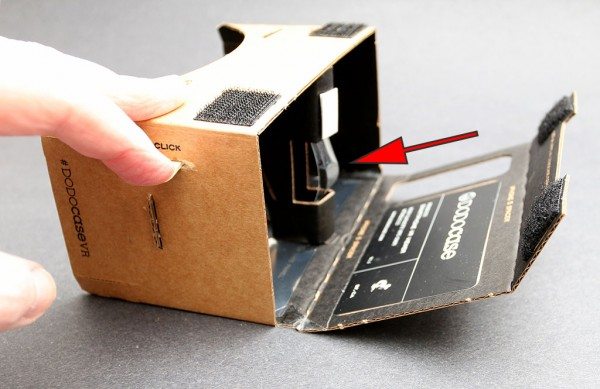 When the button is pressed the stylus extends to touch the smartphone screen as you can see in this image. It looks like a good idea but I found that it didn't work most of the time.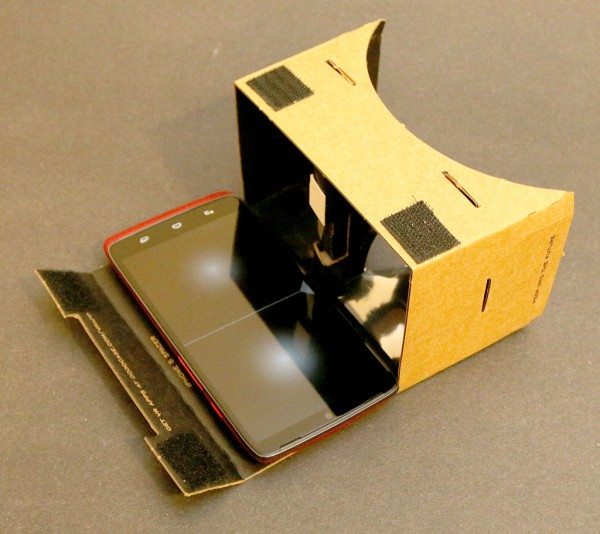 The VR Viewer can accommodate smartphones up to 3 x 6 inches. I tested the viewer with a Motorola DROID Turbo, but it is also compatible with the iPhone. Note that there's an NFC sticker on the flap, when you place your NFC enabled Android smartphone on the flap it will launch the Regan Arts DODOcase VR dashboard app.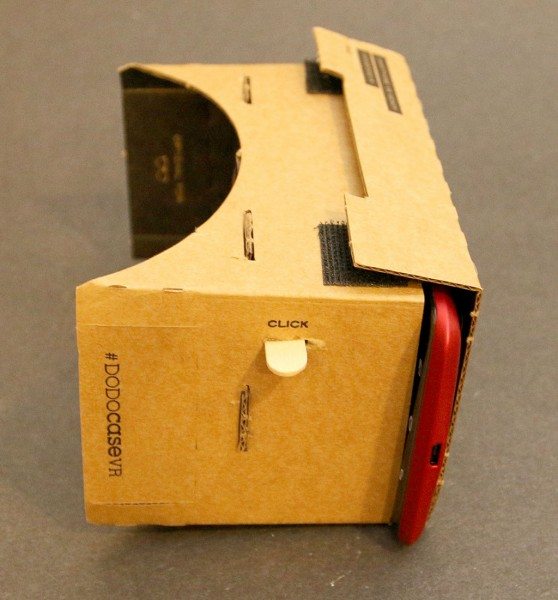 The flap folds back up and is held closed with two Velcro tabs.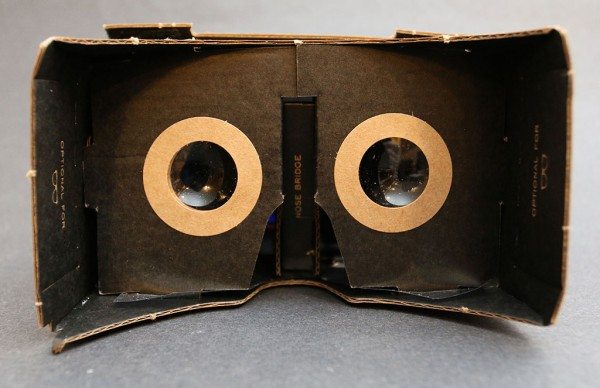 You can then hold the viewer up to your face to look through the lenses. It even works if you wear glasses like I do. The sides have knock outs in case you have really wide framed glasses.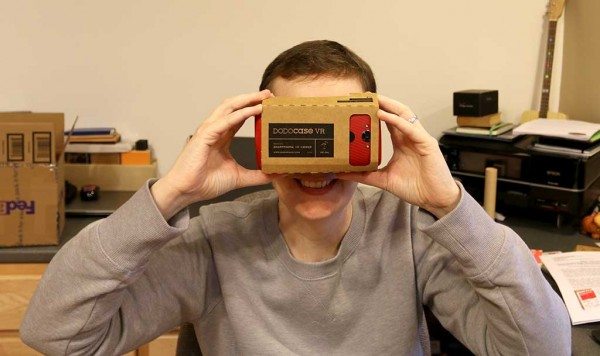 The viewer worked fine over my glasses without removing the sides.
The VR Viewer won't work all by itself, it needs software. The NFC sticker on the flap will install the DODOcase VR dashboard app or you can install it from the Google Play store.
This app provides links to a large variety of free VR apps that you can install through Google Play.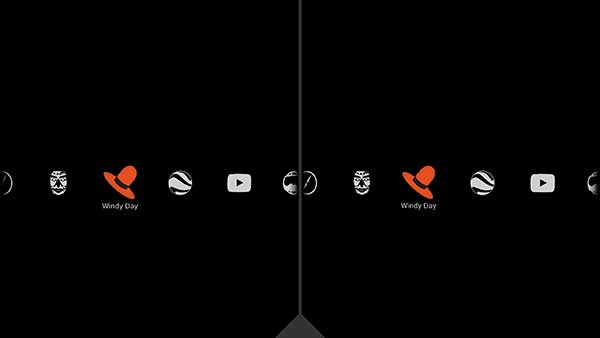 The first app I tried was Google's Cardboard app. This app shows a line of 7 icons that will scroll as you look left and right. You then use the button on side to select the option you want to view. I had a lot of trouble getting the button to work and would usually just open the flap, tap the screen with my finger and then fold the flap back up. This became a little annoying after awhile.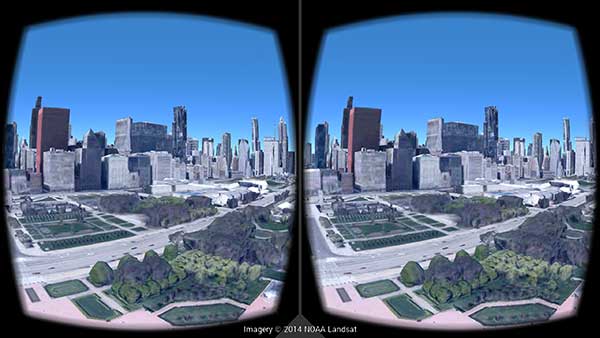 There are all sorts of VR apps that let you fly through cities…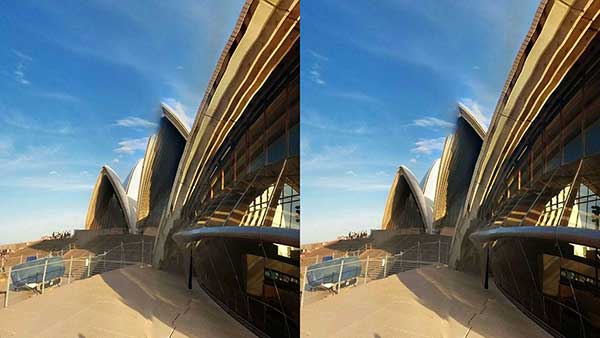 View famous landmarks…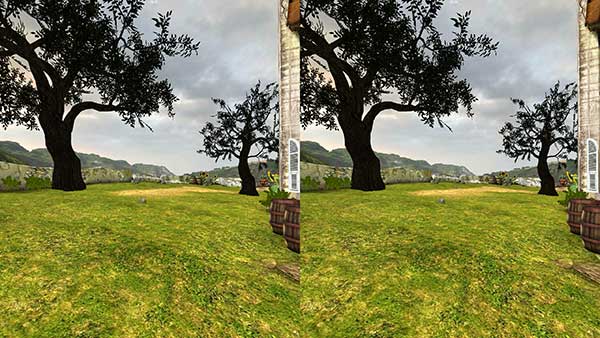 Walk though Tuscan countrysides, ride rollercoasters and more. The cool thing is that the apps use the smartphone's built in gyroscope and accelerometer so that as you move your head right to left, up and down, what you see in the viewer will match the direction where you are looking. Slightly different images will be shown to each eye to create the 3D effect. The 180 degree field of view feels immersive and gives you a sense of being there… where ever there might be. Some of the apps were more fun than others. I really liked the Tuscan countryside app that lets you walk around a building.  The rollercoaster app was also fun although it was a little disorienting. You definitely want to be sitting down when you are using these apps.
I am not a thrill seeker by any stretch of the imagination. The most thrilling things I've done so far have been a hot air balloon ride and para-sailing.  You couldn't pay me to bungee jump or jump out of a plane and I don't even like to ride roller coasters. But the funny thing is that I've always been a fan of those virtual reality rides that make you feel like you're doing thrilling things, but all the while you're just sitting on your couch. That's why I was more than curious about the Regan Arts Virtual Reality Beginner's Guide and Smartphone VR Viewer Toolkit when it was offered to me to review.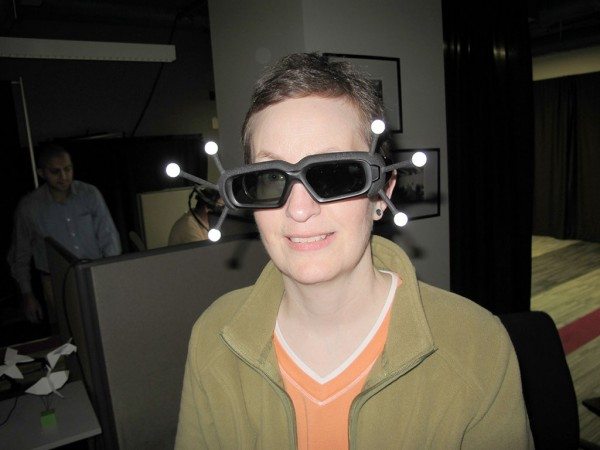 The VR Viewer might not look very impressive since it is made of cardboard, but it's meant to be an entertaining and educational kit. It's not meant to compete with the Oculus Rift and other VR systems like the ones we have at my day job at Cummins Inc. When I found out that I would be testing the Regan Arts Smartphone VR Viewer I asked my co-workers to give me a demo of the real thing. The model simulation team at Cummins has a VR cave with two systems that cost thousands of dollars each.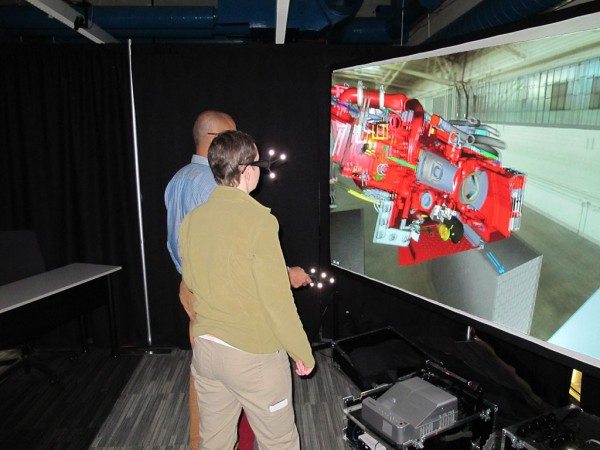 Because you don't have to continually hold these glasses up to your eyes these expensive systems were more comfortable to wear than the Regan Arts viewer, but in the end they really weren't THAT much different than the Regan Arts VR Viewer kit as far as the way things look through the viewer. It's really impressive how your smartphone and a $25 cardboard box with two lenses can compare to a professional VR system costing thousands of dollars more.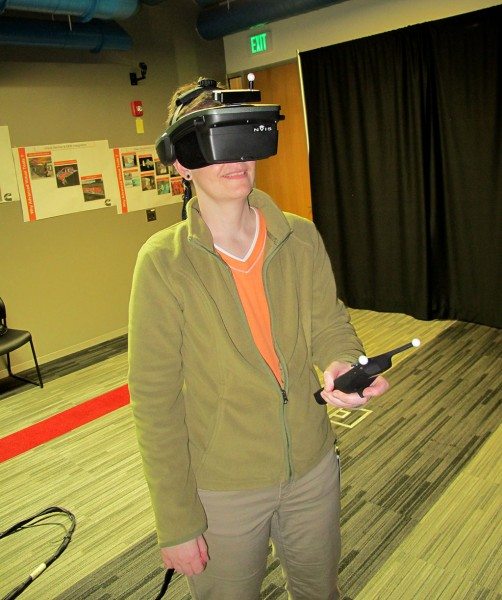 The best part of the expensive systems was the hand held controllers. These controllers let you interact with the engine models to move parts. The Regan Arts VR viewer would be a lot more fun with some sort of Bluetooth controller that would let you choose the apps and interact with the virtual world. The popsicle stick button is pretty lame and just ends up causing frustration.
Final Thoughts
If you are looking for a quick and fun introduction into virtual reality, the Regan Arts Virtual Reality Beginner's Guide and Smartphone VR Viewer Toolkit provides everything you need in an inexpensive package. You'll learn the history behind VR and get to immerse yourself in fun 3D apps. You really can't go wrong buying this kit. I am looking forward to future developments of this and other VR hardware. I know that this is only the beginning.
Source: The sample for this review was provided by Regan Arts. Visit http://reganarts.com for more info.

Product Information
Price:
$25.95
Manufacturer:
Regan Arts
Retailer:
Amazon
Requirements:

iOS 7 or Android 4.2 and above. Smartphone no larger than 3 x 6 inches.

Pros:

Easy assemble kit
Inexpensive way to learn about virtual reality
Fun

Cons: