We use affiliate links. If you buy something through the links on this page, we may earn a commission at no cost to you. Learn more.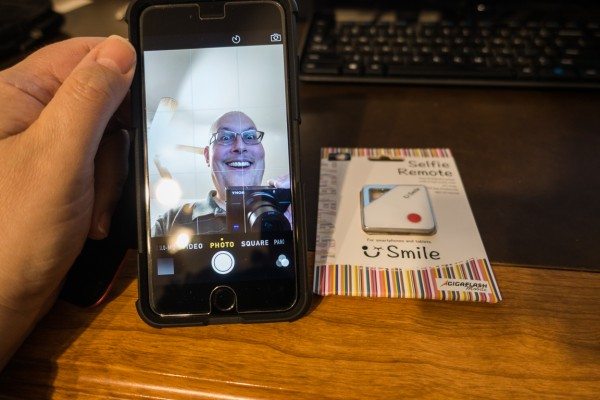 Whether you like it or not, the selfie is here to stay.  Capturing yourself in the moment is an extremely popular form of self-expression these days.  Heck, I used to turn my film camera around and point it towards myself and take what I hoped would be a usable shot.  Even some new phones are coming with "selfie-friendly" high resolution front-facing cameras.  The iPhone 6 Plus is not one of those, unfortunately, but I can still capture myself in the moment.
Of course, taking a selfie requires you to have a firm grip on your cameraphone.  It's not always easy to juggle the phone to frame the photo right and then click the shutter button.  You also can't set the camera up, walk away and have the shot taken.  Well, at least not until now.  Enter the Gigaflash Smile Selfie Remote. 
This little metal, IP67 waterproof rated slab is 4 cm square and 4mm thick.  It has an internal battery that cannot be recharged but it supposed to last "730 days".  The only control on it is that little red button on the front.   That button is pressed to set bluetooth pairing with your mobile device and then as your remote shutter.  It supports Bluetooth 4.0.
The back of the device has the directions, which are really straightforward.  My phone would not pair with it on the first try but was successful the second time.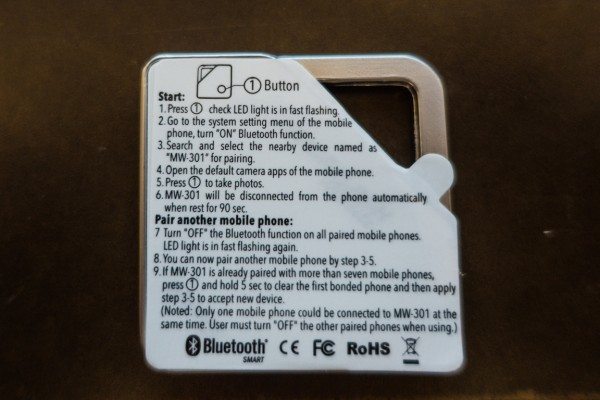 The red button glows blue with successive brief flashes.  I took a dozen shots and this was the only one that captured the flash, it's that quick.  The device turns off after 90 seconds of inactivity.  That bears out in testing.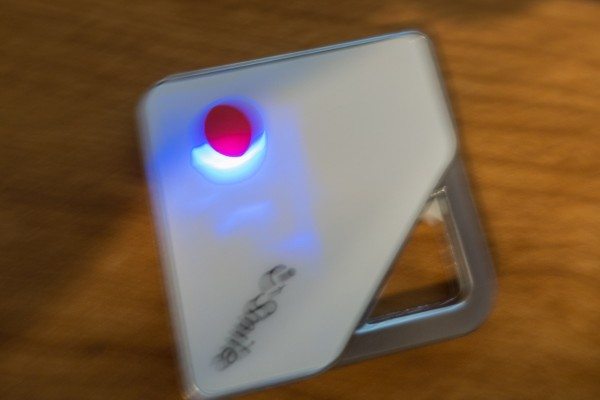 Pairing was effortless on the second try.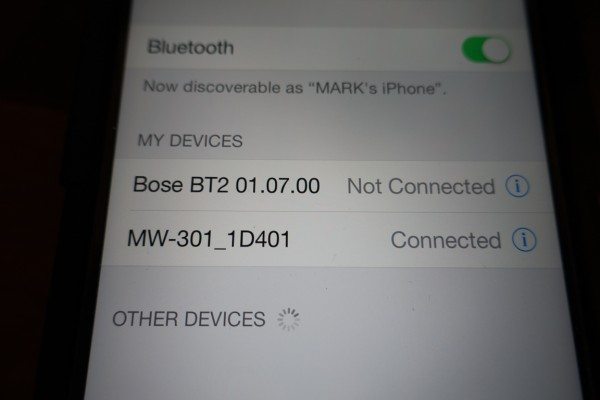 So how does it work?  Well, it's a one-trick pony but it does that one trick extremely well.  I was able to take a photo of myself within 20 feet of the phone with no walls in the way.  If there were walls in the way, it wouldn't be much of a selfie, would it?
From two feet away: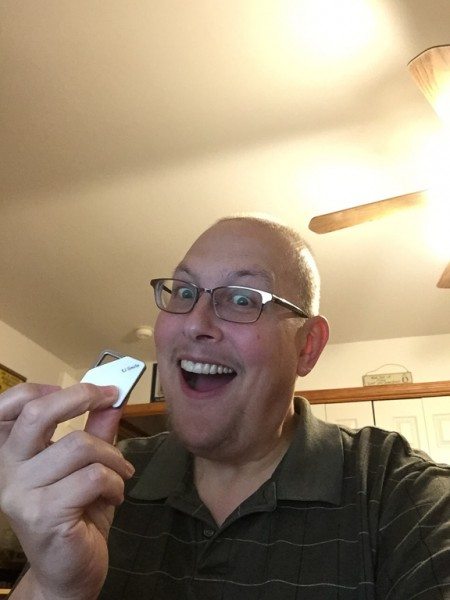 From 8 feet away: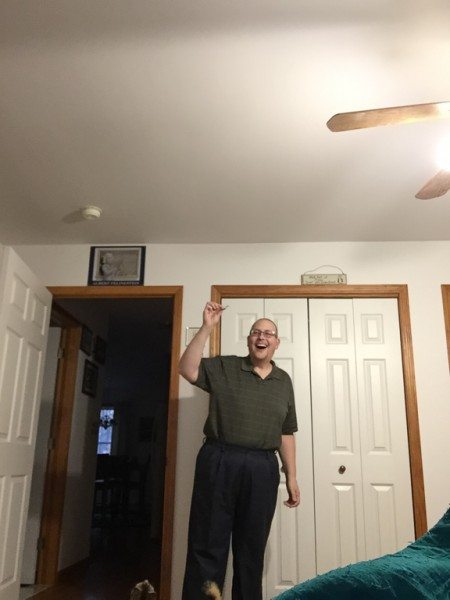 And from 20 feet away: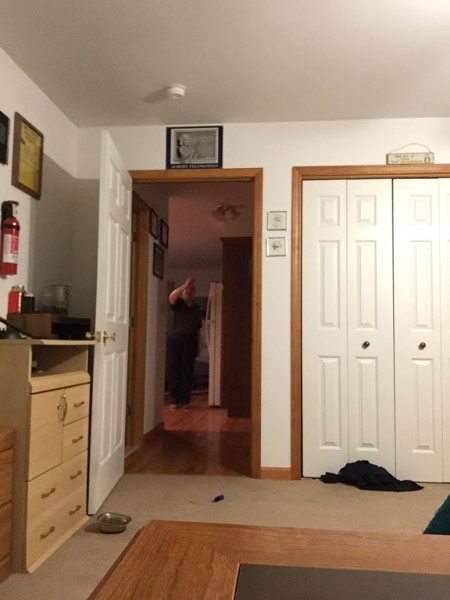 Much past that and there's not much point to making a selfie, anyway.  Maybe next time I should take the laundry off the floor before taking the shot, but nobody's perfect.  🙂
Not much to say about this gadget except that it works exactly as advertised.  It has a nice loop on one side so you can slide it onto a carabiner and attach it to your belt.  The only downside to this gizmo is that its battery cannot recharge.
Purchase information can be found at the Gigaflash web site.  It supports iOS 7 and above and Android 4.4 and above.  You can also have custom logos printed on the front.  This product is currently available at their Indiegogo site, for a promotional price of $29.  The promotional price ends November 30th, 2014.

Source: The sample for this review was provided by Gigaflash Mobile.  Please visit http://iiismile.com.

Product Information
Price:
$29 until November 30th, 2014
Manufacturer:
Gigaflash Mobile
Retailer:
Indiegogo
Requirements:

iOS 7.0 or above, Android 4.4 or above

Pros:

Auto-shutoff
20-foot range
IP67 waterproof rating
Just WORKS

Cons: