We use affiliate links. If you buy something through the links on this page, we may earn a commission at no cost to you. Learn more.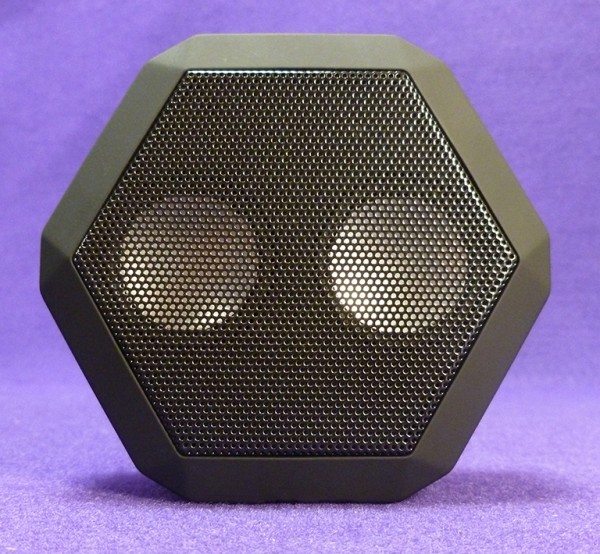 The Boombotix Boombot Rex joins an ever-increasing group of small and affordable wireless speakers that sound way better than our old portable radios ever did. This market is becoming so crowded, that it's hard to keep up with the speakers – much less review all of them. When I do review a speaker, I try to find what makes them unique among the rest of the pack and truthfully, it's getting more difficult each time.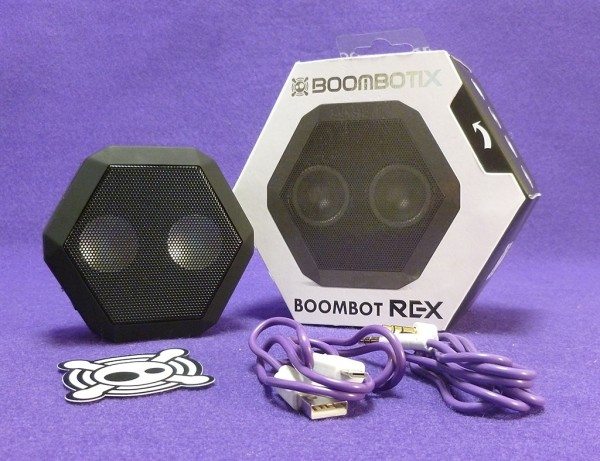 The Boombotix Boombot Rex differentiates itself in a couple of ways. But first, let's go over its specs. The Boombot Rex is a hexagonal (six sides) shape which has the benefit of being round(ish) but easier to grab and hold onto. It also helps that the exterior has a non-slip rubberized coating, making it both tougher and fingerprint free. My sample came in the color Pitch Black. However other colors are offered: Spring Mint (green), Rescue Orange, Pacific Blue and Arctic White. There are also three more expensive Limited Editions, but the audio parts are identical on all Boombot Rex speakers.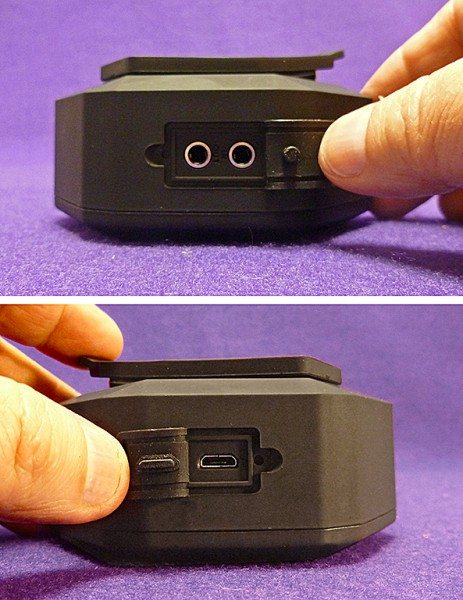 The Boombot Rex speaker is an update to the original Boombot Rex with 50% more battery life and re-positioned buttons for easier and clearer access. The On/Off, Volume, Play/Pause/Skip buttons (called Command) sit together on one of the sides of the speaker. Hold down the Play button for a couple of seconds and it activates Siri voice-activation on an iPhone. Pretty cool. And yes, there is hands-free talk for smartphones. On two other sides, there is an In/Out AUX ports and a USB charging port. You can attach another speaker to the Out allowing the sound to go to that speaker while still using audio from the Boombot Rex speaker itself. Additional Boombot Rex speakers can be daisy-chained (wired only) for a wider sound field. This setup will not create true Bluetooth stereo, however.
Battery charging takes about 2 hours and lasts for appx. 6 hours depending on volume. There is a solid blue light that flashes red when battery life is getting low, plus a more accurate battery life indicator shows in the top menu of an iOS device. I like this feature.
There are two things that bug me about the Boombot Rex speaker. First, it's a Bluetooth hog. What I mean is that if you try to switch Bluetooth to another speaker, you can't. Plus, if another speaker is connected, turning on the Boombot Rex will cancel out the other speaker. I don't know why this happens or if it's even the Boombot Rex's fault, but it bugs me. Secondly, when the Boombot Rex is turned off, paired or shut down, there are very LOUD sound effects for each no matter the volume setting on the speaker. If there is a way to turn this down, I haven't found it. In an office setting, those sounds can carry and are annoying and embarrassing. I can see where it wouldn't be an issue outdoors.
Like any wireless speaker, the Boombot Rex sounds a bit clearer and louder when hard-wired compared to Bluetooth. Since this speaker is made primarily for the outdoors, then wireless is what I'm using.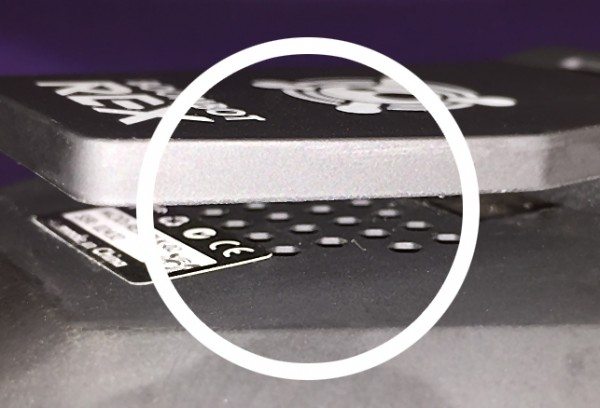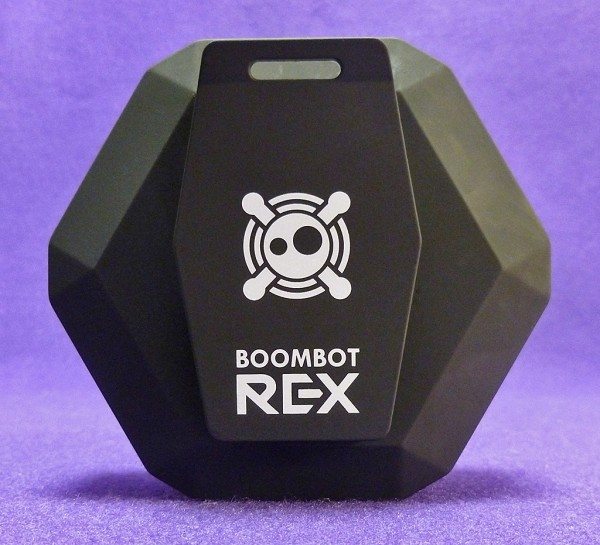 I had a pleasant surprise when listening to the Boombot Rex. The audio was impressive and powerful, especially in a speaker only 3.4 in. wide. Twin drivers in the front backed by a rear-facing woofer helps the sound be omni-directional. This works well in open spaces—indoors or out. Then, there's the clip attached to the back of the speaker. This clip is very hard to open, but once it's clipped onto something, it's not letting go. However, the clip is thick and solid and it blocks the port holes for the rear-firing woofer. Even though there is a gap, my concern is that the the bass is compromised by this blockage. I wonder if there were matching holes on the clip, then even more bass could be heard and appreciated.
Included in the package is a USB to mini-USB charging cord. An electric plug is an extra-cost option, but the charging cord will fit any existing USB plug. There is also a mini to mini cord for daisy-chaining or wiring to a smart phone or computer. Lastly, there is what Boombotix calls a "Swagonomics" card which is good for 10 points towards swag or free products.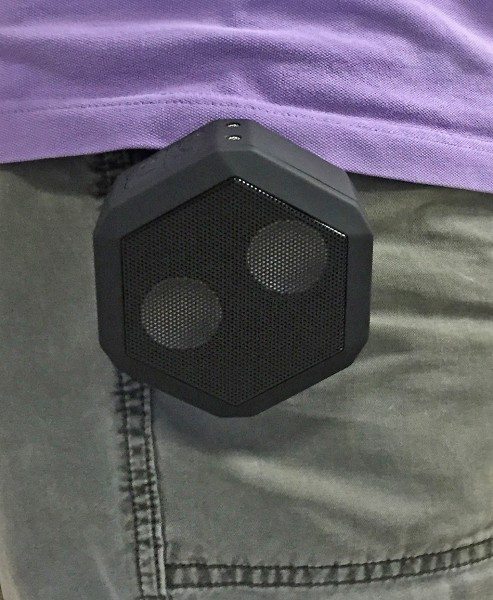 I've been trying different kinds of music with the Boombot Rex. One thing I could do was turn up the volume on my iPhone all the way and then control the volume on the speaker. I seemed to get slightly better quality sound that way.
Just for kicks, I went disco with Barry White's "You're the First, the Last, My Everything." This song is almost a disco cliche, but it's also a classic. The back beat was solid while the higher frequency strings were almost too bright. A more bass-heavy remix of this song would have helped.
Brian Wilson's multi-instrumental use with The Beach Boys'  material created a "wall-of-sound", similar to Phil Spector's early work. Songs such as "Don't Worry Baby" are an aural assault on the senses. It's hard to distinguish individual instruments. Ironically, this approach is almost perfect for speakers like the Boombot Rex. These songs were made for AM radio, so the mixes hold up well making this music fun to listen to, especially if you grew up in that era.
Matthew Dear's song, "Her Fantasy" is a incessant mixture of urban sampled sounds and beats overlayed with Dear's monotoned, grainy vocals. The Boombot Rex was able to cover the frequencies inherent in the song without steering too much in the bass direction, which a lot of small, portable speakers tend to do.
The Boombotix Boombot Rex speaker does what it's designed for in a tough, attractive package. Are there better sounding small, wireless speakers? Yep. Are there speakers better suited for the outdoors? Yep. Are they less than 60 bucks? Not even close.
Source: The sample for this review was provided by Boombotix. Please visit http://www.boombotix.com for more info.
Product Information
Price:
$59.99 US
Manufacturer:
Boombotix
Requirements:
Pros:

Conveniently small
Tough and weather-resistant
Powerful audio for its size
Bass not overblown

Cons:

Solid clip blocks holes for woofer
On/Off/Bluetooth actions create annoyingly loud sounds
Can cancel out other Bluetooth speakers