The Gadgeteer is supported by readers like you! If you buy something through links on our site, we may earn an affiliate commission at no cost to you. Thank you! Learn more.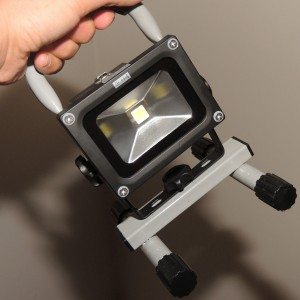 I am the quintessential handyman…always building, repairing, and/or tearing out something. I started my first home improvement project nearly 25 years ago. Back in the day, there were limited battery operated tools and work typically involved dragging electrical cords everywhere you went. As battery technology improves and becomes much more cost effective, we find it powering devices/tools only dreamed of 30 yrs ago. With the advent of LED, energy efficient lighting technology has also become much more prevalent in our world as well. In this case, LOFTEK has married the two together, creating a long-lasting, very bright, rechargeable LED worklight engineered to cordlessly illuminate your project.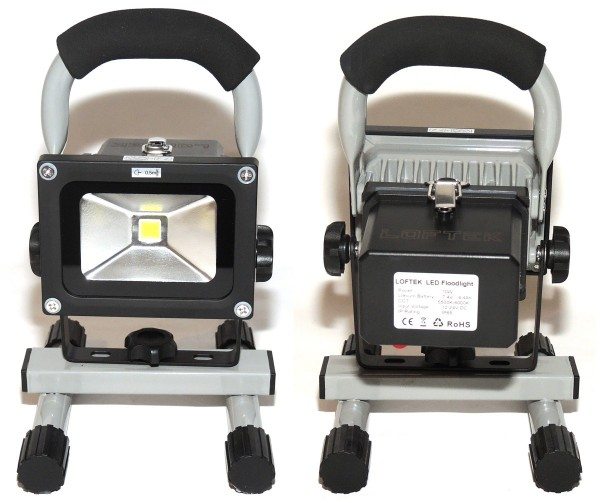 The LOFTEK 10 watts rechargeable LED floodlight is a battery-operated torch designed into a hardened worklight form factor. Its small size and lightweight build make it very transportable, ideal for lugging it around in dark, cramped places (think addict or crawlspace). Its handle is well sized and foam padded to make it comfortable to carry. While you could not submerge it, the light has O-rings along all of its seams and port plugs, making it highly water-resistant.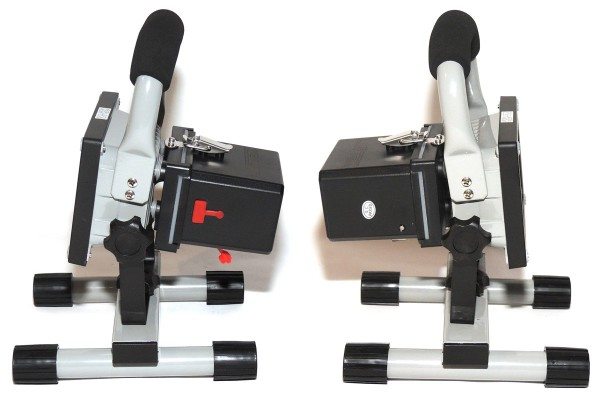 The light's build quality is good and should be able to handle work/construction situations though I do not seeing it survive a large drop. The LED light and battery assembly are mounted in a compact lightweight stand with two axis of rotations. The light can be rotated up and down and side to side.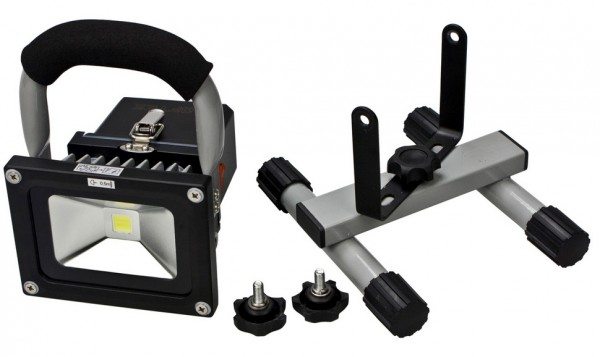 There are screw clamps on either side and bottom of the U-bracket to hold the light in the orientation you need. The base of the stand and end points have rubber and plastic caps to keep the stand from scratching surfaces/objects the light is set on/near.
Specifications:
Power: 10 watts
Color of Light: Pure White
Lithium Battery: 4400mAh
CCT: 5500K-6000K
Input Voltage: 12/24V DC
IP Rating: IP65
Working Time: 3-4 Hours
Charging Time: 4-5 Hours
CE Approved
No Hazardous Emissions. No UV or IR Radiation.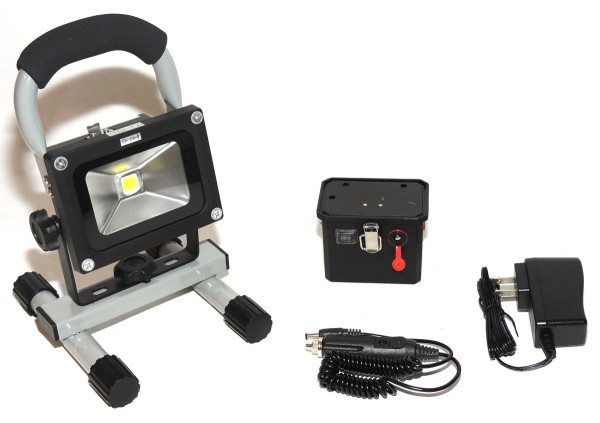 Package Included:
1x Light
1x Battery
1x Adapter
1x Car Charger
1x User Manual
My only thought/wish in what LOFTEK includes with the worklight is a spare battery for quick change out if a power source is not available. LOFTEK says the battery is rated for 3-4 hrs of use and recharging the 4400 mAh battery takes 4-5 hrs. So for a full days worth of work (in the dark), two batteries are a must. Though for an evening of camping, a single battery's charge should be enough.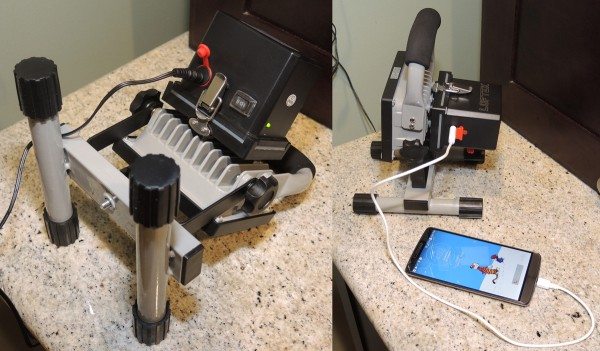 The LOFTEK floodlight charges via a water resistant port on the bottom of the battery. The small LED on the side of the battery flashed red and green while charging. Once fully charged, the LED indicator turns a steady green. As the battery capacity drops to 10% the LED flashes slowly red and quickly red at 5%. A cool feature of the floodlight is that the battery has a water-resistant USB port on its side that can recharge other devices while on the fly.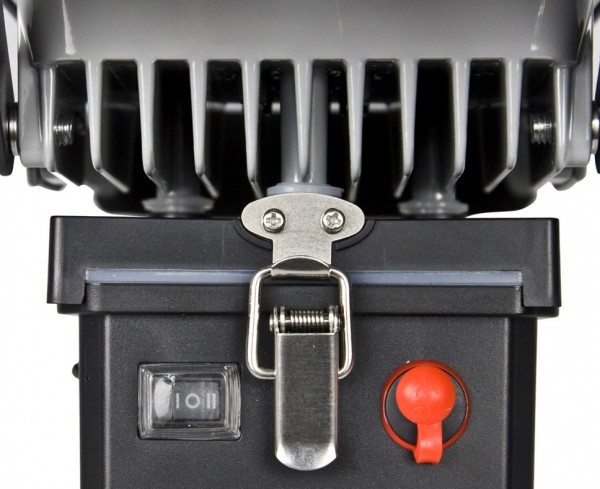 The floodlight's power switch is on the bottom of the battery as well. The LED and battery are held together by two D-clamps on the top and bottom of the battery/light. Here you can also see the dissipation fins that radiate excess heat away from the LED assembly.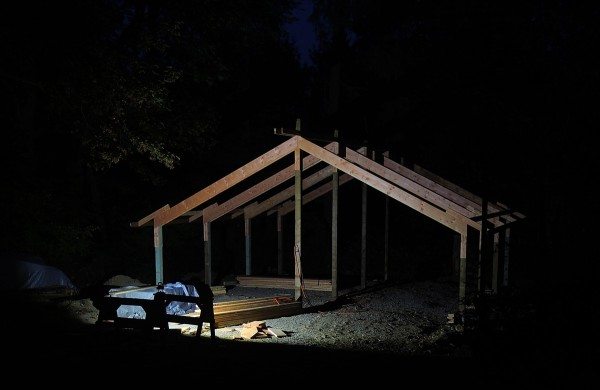 The LOFTEK 10 watts rechargeable LED flood/worklight produces a bright (~100 watts equivalent) pure white beam with approximately 160 degrees of throw. As you can see, it does a pretty good job of illuminating one of my latest projects. This portable, rechargeable LED floodlight is an excellent addition to my arsenal of tools. I have always disliked crawling around in the dark with a flashlight in my mouth or underpowered lamp strapped to my forehead. This worklight is a great way to light a place up handsfree.
Source: The sample for this review was provided by LOFTEK via Amazon.com. For more information, visit http://www.loftek.us.
Product Information
Price:
$70
Manufacturer:
LOFTEK
Pros:

Bright, white LED
Solid, lightweight construction
Rechargeable battery
3-4 hours of use
Water-resistant
USB power port
Comfortable handle
Adjustable stand/mount

Cons:

Would be nice to include a second/spare battery