We use affiliate links. If you buy something through the links on this page, we may earn a commission at no cost to you. Learn more.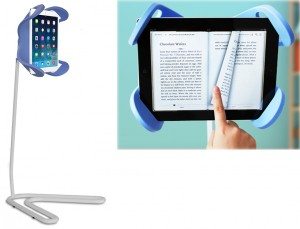 Holding an iPad while you watch a movie can be tiresome, and it can be difficult to get it positioned so that everyone can see the screen.  With the Manatee stand, you can set your iPad in any desired position, and it will stay there.  The holder is made of a steel framework that's coated in soft silicone.  The holder can accommodate any full-sized iPad – from the original model to the Air – even in most cases.  The frame sits on a maple ball, so it can rotate up, down, left, or right and orient the iPad horizontally or vertically.  The metal base can be adjusted to the appropriate height.  There's even a little silicone strap to put on your charging cable; magnets in the back of the strap hold the cable to the stand, so you never have to hunt for it.  The Manatee will hold your iPad while you sit on the sofa, work at a desk, or lounge on the bed.  Think how nice it will be to never again fall asleep holding the iPad and drop it on your face…
The Manatee is available in all black, all white, black frame with a white stand, or sky blue frame with a white stand.  The Manatee is $299 from Realize Inc.