We use affiliate links. If you buy something through the links on this page, we may earn a commission at no cost to you. Learn more.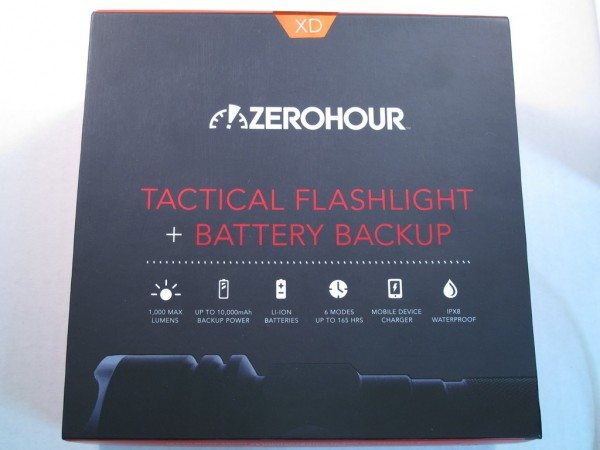 I'm starting to see the benefit in the multi-purposing of devices.  ZeroHour takes a flashlight  and uses the batteries to also serve as battery backup for devices powered by a USB cable.  As I usually carry two separate items in my car or pack to accomplish the same goal, I'm now able to cut back to just one.  This isn't the first light/battery pack item I've reviewed, but so far it's the best.When I first received the unit, I checked out their website and almost fell out of my chair when I saw the price, but after using the ZeroHour XD for several weeks I've come to the conclusion that  it's worth every cent.  I used it in several real world situations and it worked as advertised.
Features:
BATTERY                              Up to 3 x 18650 3.6/3.7 Lithium-Ion
MATERIAL                           Anodized 6061 Aircraft Aluminum Alloy
FINISH                                  Type-III Hard-Anodized Anti-abrasive
BEZEL                                    304 Stainless Steel
mAh                                        10,000+ (3 x 3400mAh 18650) / 7,800 (3 x 2600mAh 18650)
LED                                        CREE XM-L2 U2
MAX LUMENS                    1,000 Lumens
MODES                                  Low-Med-High-Full + Strobe/SOS
LUMENS                               20-400-600-1,000 + 1,000/1,000
RUNTIME HOURS             3400mAh: Approx. 165-13.6-6.6-6.5 / 2600mAh: Approx. 95-7.9-3.8-3.7
BEAM THROW                    Approx. 420 meters (600-1000Lm)
INTERNALS                         Gold-Plated
PROTECTION                      Rev. Polarity / Overcharge / Auto-Off
REFLECTOR                         Orange Peel Reflector
SWITCH                                 Electronic Side Switch
LENS                                      Toughened Glass
O-RINGS                               Black / Red Silicone
TEMPERATURE RANGE  0-40 degrees Celsius
WATERPROOF                    IPX8 1 meter
DIMENSIONS                      2.28″ x 7.28″
USB OUTPUT                      1.5 Amp / 2.1 Amp
UL CERTIFIED                   Battery and Wall Charger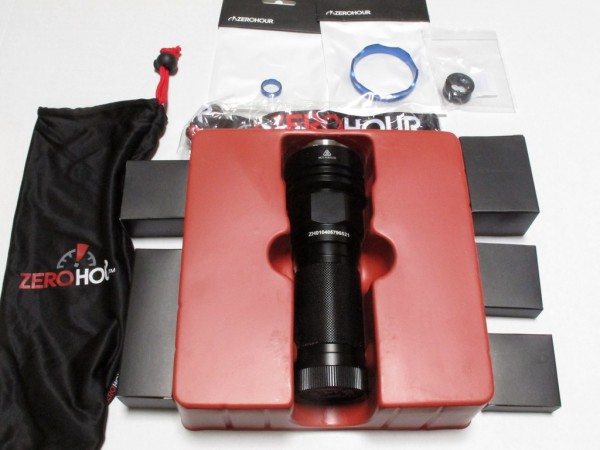 The device I received was their top of the line package which included the light and backup capability.  ZeroHour offers other configurations that cost less and consequently don't have the same features.  For example you may just want a battery backup unit.  The ZeroHour device is very modular and can be configured to your needs.  They even sent along blue bezels that can replace the standard stainless ones.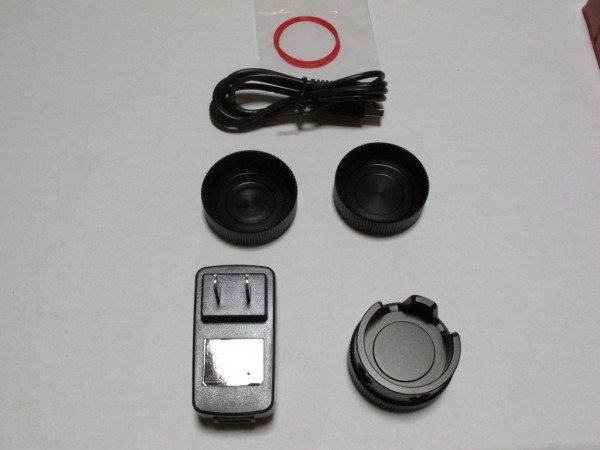 After opening the small black boxes, I wound up with two solid end caps, spare red gaskets, a  carabiner end cap and a power cable and wall wart.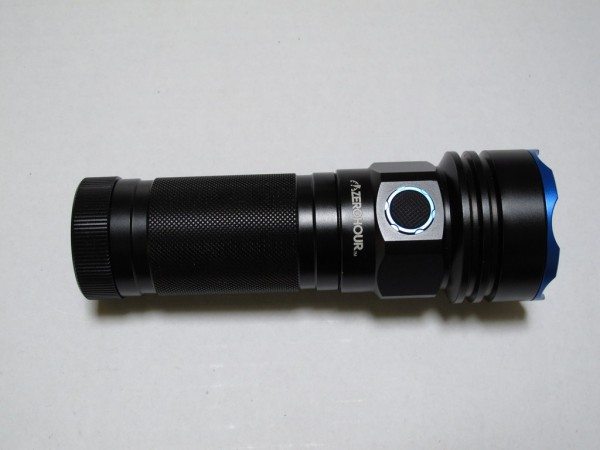 Here I have the ZeroHour assembled as a flashlight and changed the bezels around the on/off switch and lamp head, to the blue ones provided.  There are seven different colors available for the bezels.  There is a special tool required to change the switch bezel.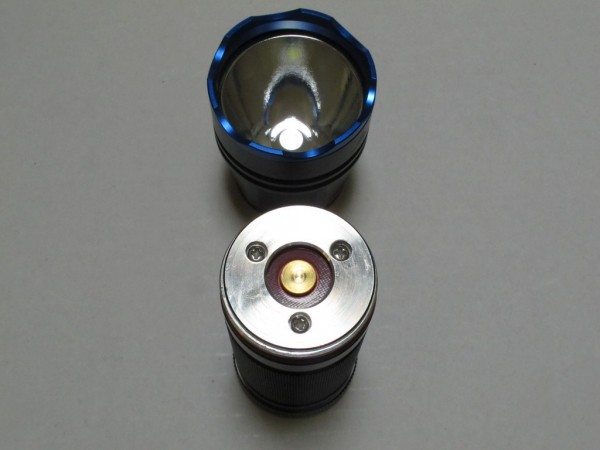 This is the connector end of the battery pack.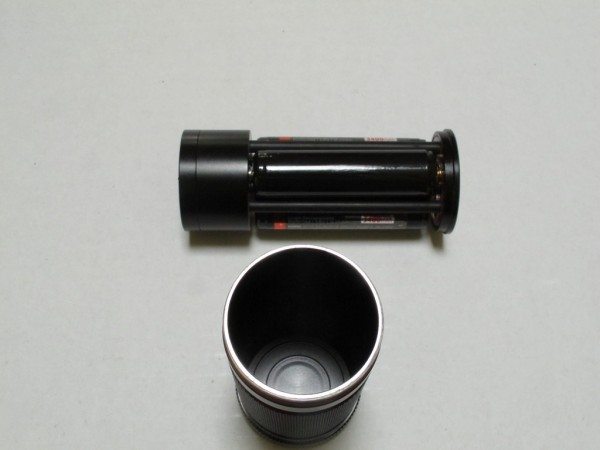 There are 3  x 18650 batteries in the pack.  I have run the flashlight with only one installed.  The battery pack can be completely removed.  You could then use the empty tube with the solid end caps as a watertight container.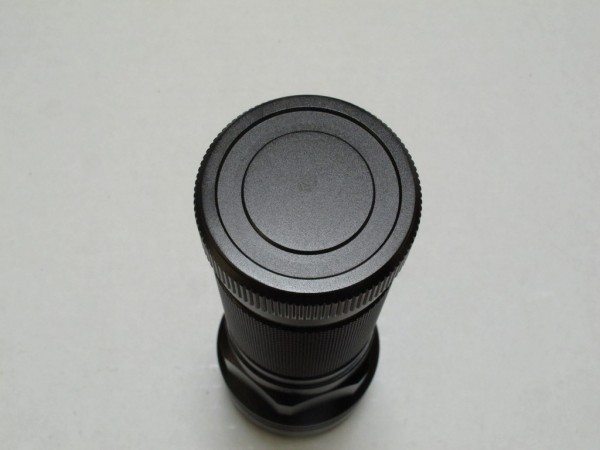 With the solid end cap on the flashlight, it's pretty much waterproof.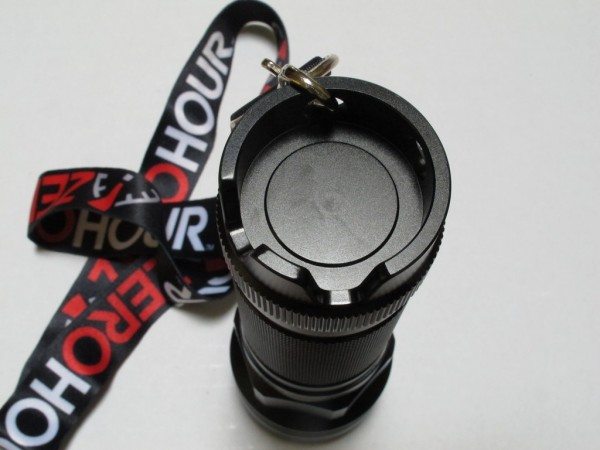 If you want to sling the ZeroHour to a lanyard, there is an end cap for that.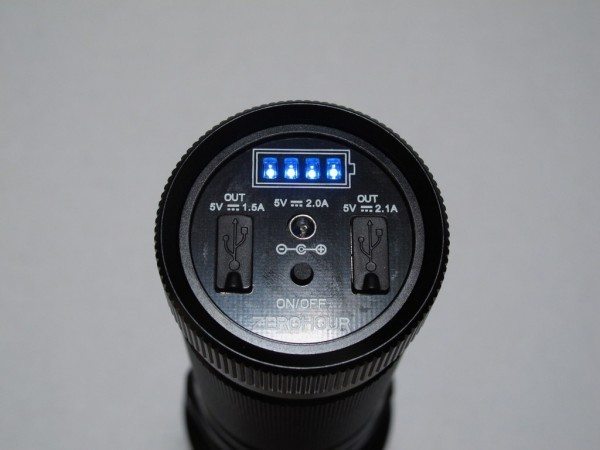 There is an end cap that allows access to the battery output ports without having to unscrew anything.  Now you can plug-in the device that needs charging.  The status of the ZeroHour battery is displayed by the 4 indicators.  In the center is the input for the charging cable and an on/off switch for the battery backup.
My first impression after handling the ZeroHour was, this thing is built like a brick …….well, you get the idea.  It's quality all the way. Glass lens, anodized aluminum body, gold plated contacts, battery protection, all backed by a limited lifetime warranty.
The flashlight has four levels of illumination and they are selected by sequential taps on the button.  At the highest level it projects at 1,000 lumens which is about equivalent to a 75 watt incandescent lamp.  At this level, the battery pack can sustain about 6 hours of run-time.  I had the chance to check this out when my wife's garden club was having a meeting at a location that lost power.  Having seen me use the flashlight, she called on her cell to borrow the unit and for the next two hours they held their meeting illuminated by the flashlight.
Beside being a simple flashlight there are two "emergency" modes, selected by hitting the button twice.  The first is a strobe mode that is very annoying and could be used to disorient a bad guy.  I used it to harass my neighbor, in a fun way.  The second mode is an S.O.S. signal that continues until the batteries die.  This would be great for people who like to trek through the back country giving them something to help, in case they get lost.
Just recently, I became a hero when two people's cell phones died during a primary election.  They were trying to report the results back to campaign headquarters and neither had chargers with them.  I came to the rescue with the ZeroHour and they both plugged  in and got back online.  Luckily, I also had an assortment of cables to connect their phones.
The ZeroHour isn't an impulse purchase.  At $225, it's a daunting amount for a "flashlight" and you'll have to give it some thought.  For me, it's probably the last flashlight I'll ever need, assuming I don't lose it or it's not snatched by one of my envious neighbors.  When you consider all the features, it's not a bad investment.
Source. The sample for this review was provided by ZeroHour. Please visit their site for more info.
Product Information
Price:
$224.99 as tested. Less expensive variants available
Manufacturer:
ZeroHour
Pros:

Well built
Multi-function (light/charger)
Safety device

Cons: