We use affiliate links. If you buy something through the links on this page, we may earn a commission at no cost to you. Learn more.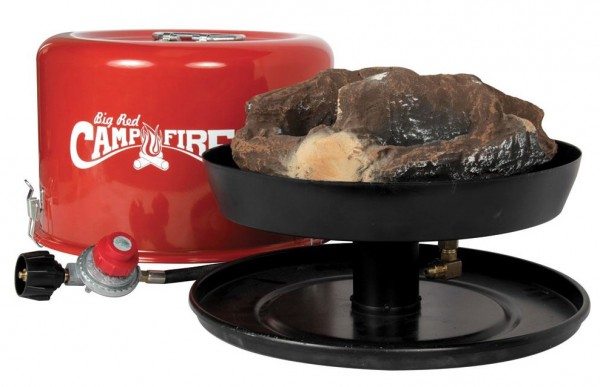 With the Camco "Big Red Campfire" Propane Camp Fire, you can have a fire without having to gather firewood first.  It uses standard LP gas and has a built-in gas regulator with a 10-ft hose.  Camco says the "realistic log pieces and full ring burner help create the natural look and ambiance of wood log campfires", and there's no ash to clean up.  The Campfire's red cover allows you to safely transport Big Red, and you can use the lid as the base for the 13.25″ fire tray.  You'll get up to 65,000 BTU/hour from the Big Red Campfire.  It's perfect for use in campgrounds with fire restrictions, and you can even cook on it with the optional Campfire Cooktop.  The Big Red Campfire is $120 from Amazon.
If the Big Red is too big for your use, Camco also offers the Little Red Campfire.  It has an 11.25″ fire tray and an 8-ft propane hose.  It also uses standard LP canisters, but you can't use the top of the Little Red to elevate the fire tray.  It's $90.85 at Amazon.