We use affiliate links. If you buy something through the links on this page, we may earn a commission at no cost to you. Learn more.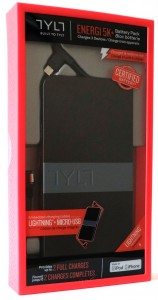 Backup batteries are a necessity for me and my husband. There have been times when both of our phones were on their last leg while sight seeing on vacation and we only had one portable battery. It would charge one device at a time and would do so very, VERY slowly. Nothing screams "Get a better battery!!" like those types of circumstances. So, when the Gadgeteer was offered the TYLT ENERGI 5K+ 5200 mAh Battery Pack that had two built in charging cables (micro USB for Android devices and Lightning cable for iOS devices) and a USB A port to charge a third device, I was eager to try it out.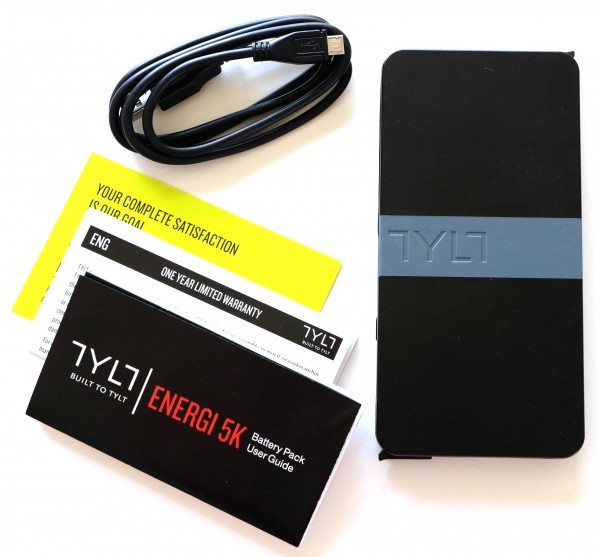 Package Contents
TYLT ENERGI 5K+ Battery Pack
Micro USB charging cable (no power adapter)
User Guide
One Year Limited Warranty
Satisfaction guarantee information
Technical Specifications
Battery Cell: Lithium Ion
Battery Capacity: 5200 mAh
Output Voltage: 4.75V-5.25V
Output Current: 3A total
Battery Charge Time: 6 hours
Dimensions: 14.3mm x 70mm x 142mm
Design & Build Quality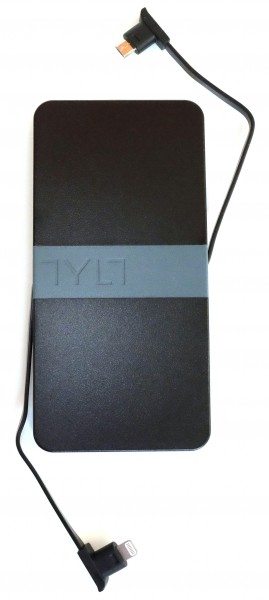 The TYLT ENERGI 5K+ 5200 mAh Battery Pack is about 2.5″ wide by a little over 5.5″ long by a little over 0.5″ deep (it is a little bigger that my HTC One X phone with its Speck case). It is made of rigid black plastic, has a matte finish, and is fairly lightweight. The Lightning and micro USB cables are flat and coated in smooth black plastic.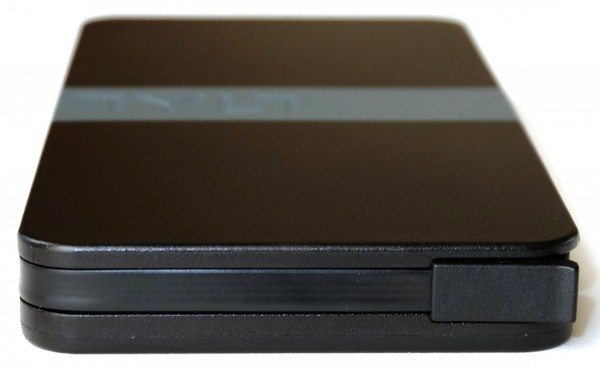 Each of the two built in cables fits flush along the edges of the battery creating a nice sleek look.

One of the sides of the battery contains the USB A port for connecting an additional device. This side also has the battery's micro USB charging port.

The built in micro USB cable and Lightning cables snap in and out of the top and bottom of the battery for easy access.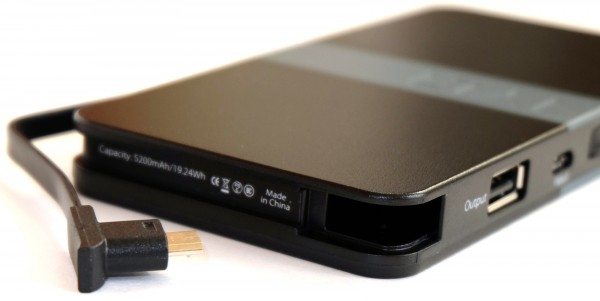 The built in micro USB cable.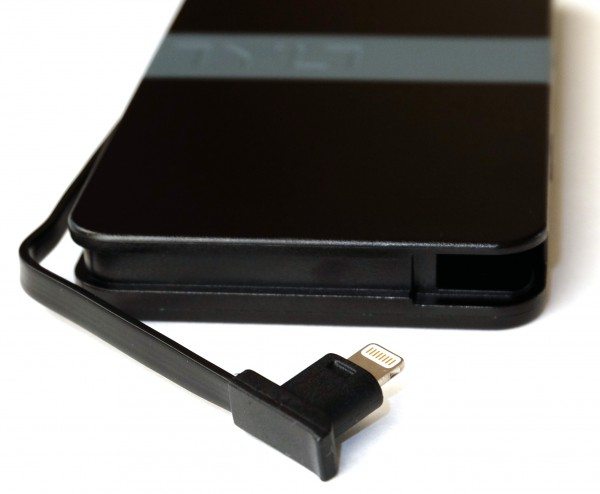 The built in Lightning cable.

On the other side of the battery is the Power button that contains the status LED light which indicates the level of charge the battery has left:
Green LED = 71-100%
Yellow/Gold LED = 31-70%
Red LED = 3-30%
Flashing Red LED < 2%
When plugging in a device to charge it, it is necessary to press the power button to start the charging.
Use
I put the TYLT ENERGI 5K+ through a battery of tests (pun intended). In my first tests, I started with a fully charged battery and charged each device separately using the built in cables. I was able to charge my completely depleted iPod Touch 5G (1030 mAh) in about 1.25 hours, after which, I charged my completely depleted HTC One X phone (1800 mAh) fully in about 3.25 hours, leaving the battery somewhere between 3-30% charge. I also noticed that my iPod went from 10% to 60% within the first 15-20 minutes of charging (as observed using the iPhone/iPod app BatteryNowFree), and that my HTC One X phone went from 14% to 60% within the first hour of charging (as observed using the Android app Battery Monitor Widget). These tests were replicated several times with the same results.
In other tests, I was able to charge one phone completely and the other to 96% when charging them one at a time using the built in micro USB cable (both started at 14% charge). On another occasion, I was able to charge both phones simultaneously from 4% to 100% in about 3.25 hours which was very impressive.
I also tested the battery using an iPad Mini (1st generation with 4440 mAh battery). In one instance, the battery was able to charge a completely depleted iPad Mini to 93% using the built in Lightning cable (as observed by using the iPad app Battery Watch Plus), but another test showed that the ENERGI 5K+ was only able to charge the iPad mini from 4% to 73%.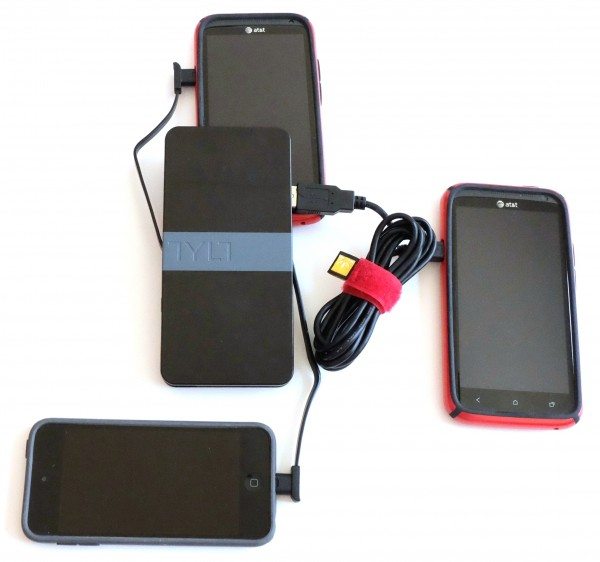 When charging my two phones and iPod simultaneously, the iPod charged fully and the phones were able to charge to 70% and 80%. The charging rates in all of the tests (except for tablets) were comparable to that of our OEM AC power adapters. While performing this test, I did notice that when using my own micro USB charging cable plugged into the USB A port on the battery, it charged at a slower rate than the built in cables. I switch the phones while charging and was able to determine that it was indeed slower. In another test with only the phones connected simultaneously (no third device), I found that the USB A connected device charged only 10 minutes slower.
The user guide states that it takes 6-7 hours to completely charge the ENERGI 5K+ battery. While charging, the LED light stays on indicating the level to which it is charged, progressing from red to yellow to green. When it is fully charged the green LED light shuts off. It was my experience that the LED shut off generally after a little more that eight hours of charging, although a couple of time is was more.
Final Thoughts
I have to say that I was thrilled with the way the TYLT ENERGI 5K+ 5200 mAh Battery Pack charged my devices. It charged our phones and iPod very quickly. And when starting with a fully charged battery, I was able to get two complete charges of our phones (although this is not consistent). The charging rate for tablets is slow because of the 1A output, but it was able to charge an iPad mini from 4% to 73% over a four hour period. There are only a couple of drawbacks to this portable battery: the time to charge the battery seems excessively long (8 hours or more) and the price of the battery seems fairly high ($89.99). The battery worked phenomenally well in all but the tablet charging tests and I enjoyed the built in micro USB and Lightning cables which cut down on cable clutter and the need to carry additional cables. However, I must admit that I'm not so sure I would have purchased this battery for the price, but perhaps this is what you must pay for flat, built in cables that charge as fast as being plugged into an outlet.
Update 01/01/15
Still going strong after 3.5 months of use! I really enjoy how quickly the Tylt Energi 5K+ 5200 mAh battery charges my small mobile devices, however, it still takes a long time to fully charge the battery pack itself – sometimes as long as 11 hours.
Update 07/13/16
I gave the TYLT ENERGI 5K+ 5200 mAh Battery Pack to my husband to use. He likes the fact that you don't need to carry around any additional cables to charge his devices (unless you have more than one Android device or iOS device) but points out that the attached cables charge more quickly than the USB port that requires a separate cable to charge the third device.
Source: The TYLT ENERGI 5K+ 5200 mAh Battery Pack was provided by TYLT. It has a one-year limited warranty and can be purchased from Amazon or TYLT for $89.99 with a gray, red, or blue band on the body of the battery.