We use affiliate links. If you buy something through the links on this page, we may earn a commission at no cost to you. Learn more.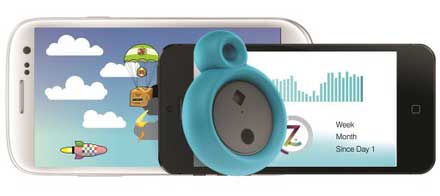 Do you play games on your smartphone to relax and de-stress? The Zenytime Puck is a small handheld Bluetooth gadget that pairs with your iOS or Android smartphone and is used like a joystick to play games – but instead of manipulating it with your hands, you breath into it. No, I'm not kidding.
The Zenytime solution enables gaming apps to act as breathing coaches thanks to a Bluetooth accessory called "the Puck" which features an exclusive patented sensor that tracks controlled breathing and translates it into game controls. To deliver a comprehensive experience, the Puck also captures heart rate and blood oxygen levels. It integrates Bluetooth 4.0 for long battery life and seamless connection with iOS and Android mobile platforms.

Zenytime games are founded on scientifically proven breathing patterns for improving stress management, cardiovascular health and cognitive and athletic performance. The Zenytime dashboard provides stats, tips and rewards toward a healthier you.

"Our games have been designed to promote deep, rhythmic breathing to bring more oxygen into your cells and to trigger the many short-term rewards of controlled breathing," said co-founder Celine Vignal. "Zenytime games are adapted to people of any age, as well as exercise enthusiasts and professional athletes."
It sounds kinda kooky, but it's true that deep breathing can help calm you down when you're stressed and it's also true that most of us are very shallow breathers that could benefit from conscience breathing exercises. I don't think I'd use the Puck out in public for fear of looking like a complete dork, but it does look like an interesting gadget.
The Puck can run for several weeks on a single charge and can be recharged with the included USB cable. The Zenytime Puck comes in 5 colors and will be available this winter (2014/2015). It can be pre-ordered for $79 from Zenytime.com