We use affiliate links. If you buy something through the links on this page, we may earn a commission at no cost to you. Learn more.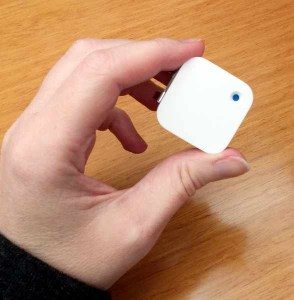 Do you have a good memory? Do you remember everything that happened on your last birthday, vacation or family outing? Do you wish you had some pictures from that one time… at band camp? Although most of us carry a smartphone with a camera, we can't take a picture every minute to document our lives. That would be crazy… or would it? The Narrative Clip is a small wearable 5 megapixel camera that automatically snaps a picture every 30 seconds so that you can keep a log of your life.
Note: Images can be clicked to view a larger size.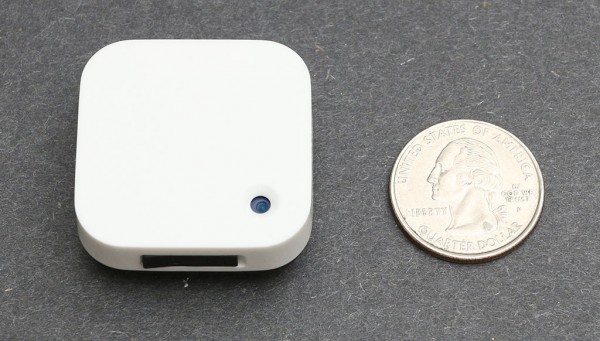 The Narrative Clip comes in three colors: white, grey and orange. As you can see from the image above, I was sent the white version for this review.
The device is relatively small and is made of light weight plastic. It's designed to be weather resistant, but it's not waterproof.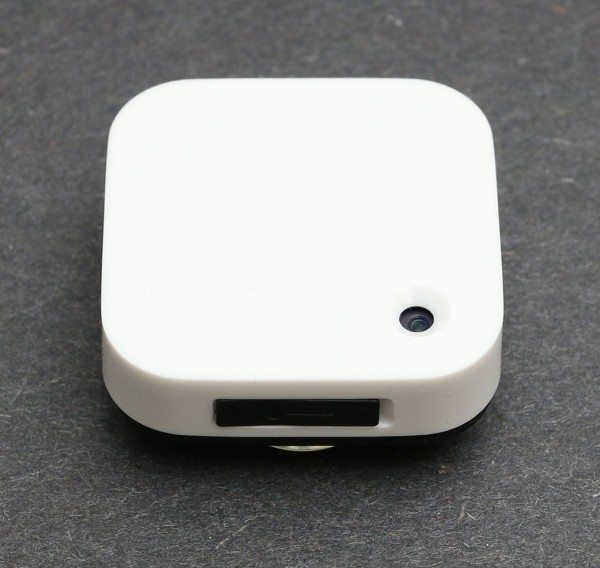 The face of the Narrative Clip has a small camera lens in one corner and a rubber flap on the side that protects a micro USB port that is used for charging and syncing.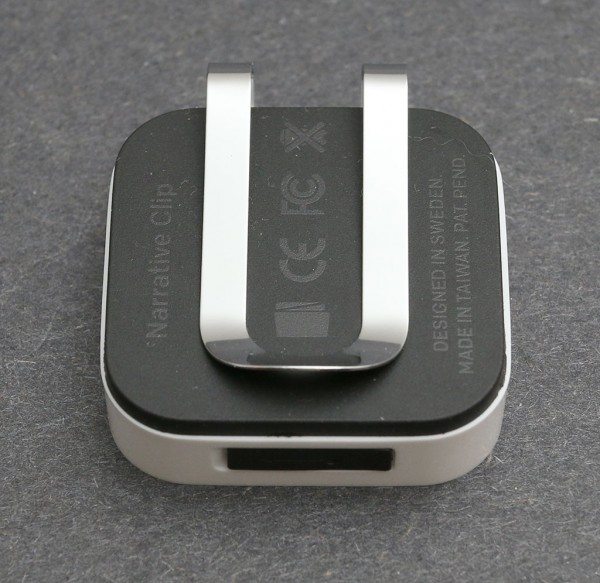 Never miss one of our posts again. Sent MON, WED, and FRI with the latest gadget reviews and news!
The back of the camera has a strong metal clip that is used to attach the camera to your shirt, cap, bag, etc.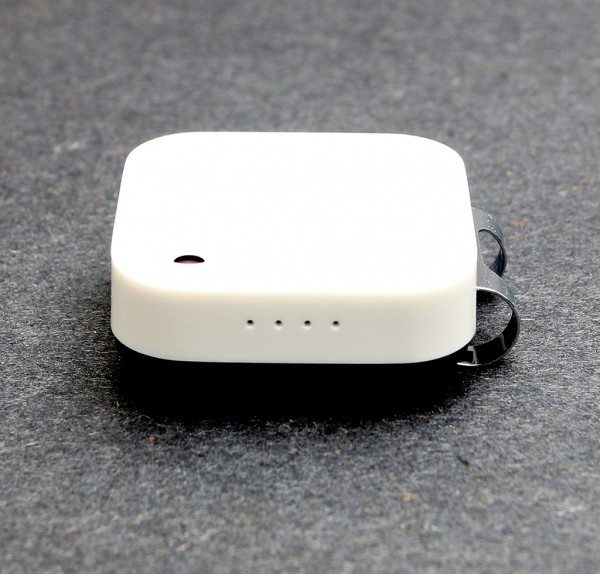 There is a group of four LEDs on one edge that shows the battery status when you double tap the face of the camera. This action will also snap an image and mark it as a favorite.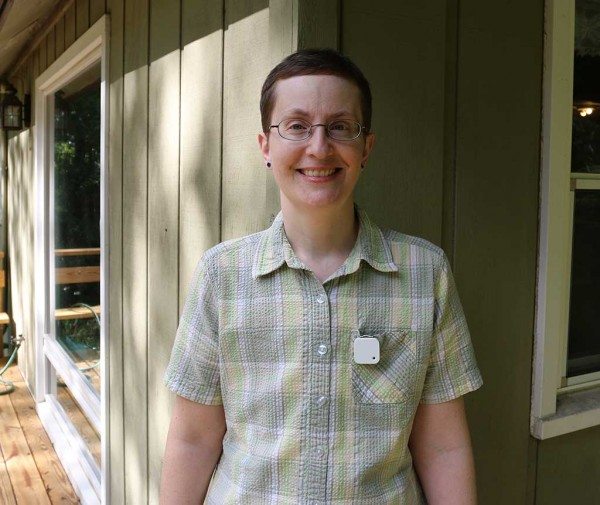 The Narrative Clip is meant to be worn all the time. During my review period, I wore it clipped to my shirt. The camera isn't heavy and isn't all that noticeable. I only had two people ask me what it was during the few days I wore it at work.
Before we go any further, I need to make you aware of an issue with this camera. It takes a picture every 30 seconds. That means if you forget to remove it when you're in the bathroom, it will continue to snap pictures and will record your time there twice a minute. You're supposed to take off the camera and put it in your pocket or leave it face down when you don't want it to take any pictures. That's fine, but if you're lazy like me, you'll just leave it on. Considering the fact that the images sync to the cloud, that could make some people a little queasy. There really should be some mechanical way to pause the image taking process. Maybe a cover to put over the camera or a small button that pauses the images for 5 mins if you press it once, 10 minutes if you press it twice and so on.
With that in mind, I put the camera on at 6:30am each morning and didn't take it off till about 12 hours later.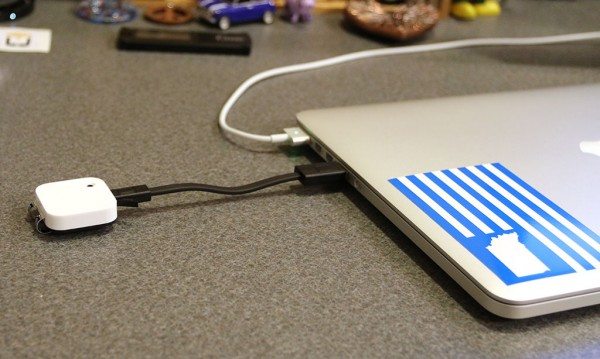 To view the captured images, the Narrative Clip has to be connected to a PC or Mac using the short micro USB cable which is included in the package. A special app has to be installed on the computer, which recognizes when the camera is connected and automatically downloads the images from the camera and uploads them to the cloud. It's important to note that the Narrative Clip requires a subscription to their cloud service in order to view the images on your smartphone. A purchase of the camera comes with either 3 months or 12 months of the cloud service. Once that expires, you can renew for $9 per month. The Narrative Clip can be used without the cloud service, but you will only be able to save the images to your local hard drive and will not be able to use the app to manage / view the images.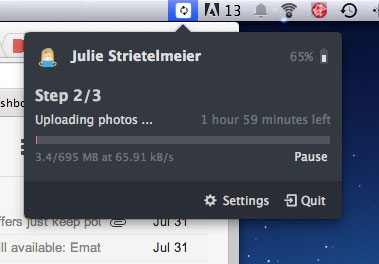 After wearing the camera for 12 hours, I connected it to my Mac where it automatically started the syncing process. I'm not a math whiz, but two 5mp images a minute for 12 hours is 1440 images and a lot of megabytes of data to transfer to the cloud every day. Each night when I would get home from work, I'd sync the images and it would take about 2 hours each time. Imagine if you only decided to sync once every couple of days, it would take forever. I guess you wouldn't be able to wait that long between syncs since you'll also need to recharge the camera's battery. Each day the battery status LEDs would say that the battery was at 50%. That's with 12hrs of snapping pics, so I'm estimating that the battery might last a full day to a day and a half per charge.
Only until after you sync the images can you then actually view them on your smartphone using the Narrative Clip app. I tested the app on my LG G3 and found it to be pretty basic. All it really allows you to do is see your photos grouped by day in 1 hour and 45 minute batches which they call moments. You can scrub through the thumbnail images at the bottom of the display or you can tap the large image to play a slide show. Each snap shot can be saved to the gallery or shared with social media. The Narrative Clip is supposed to geo tag images but I found no way to see this info.
Most of the images snapped by the camera are not very good. Since I'm not very tall, a lot of people had their heads cut off. Or the images were crooked because the camera wasn't exactly straight. The idea behind the Narrative Clip is to capture all these moments so you can go back and relive them. But for the most part, my images were of the computer screen in front of me while I was at work all day, mixed in with a few other images that I didn't really care to remember.
For people who lead pretty boring lives like myself, I don't see the Narrative Clip as a useful gadget for every day use. It's not interesting for me to relive the 8hrs a day I sit in front of a computer at my day job. That said, I can see it being used for special events like vacations, parties, etc. I think I'd like this product a lot more if it synced wirelessly to my phone / cloud instead of being required to connect it to computer every night. Of course syncing 1440 pics every 12hrs would really eat into your data plan. There's also that monthly subscription fee that turns me off. Yes, you can pay extra and get 1yr of service with the purchase of the camera, but after that you are locked in to paying another monthly fee. Ick. I like the idea of lifelogging and do think the Narrative Clip is heading in the right direction, I think it could use some tweaking. I'll be very interested to see how well it does and any similar products that it helps spawn.
What do you think? Is lifelogging important to you?
Source: The sample for this review was provided by Narrative. Visit their site for more info and Amazon to order.
Product Information
Price:
$229 w/3 month subscription, $279 w/12 month subscription
Manufacturer:
Narrative
Retailer:
Amazon
Pros:

Easy to setup and use
Automatically snaps a picture every 30 seconds

Cons:

Have to sync images with a computer using a USB cable
Syncing is slow
Requires a monthly subscription to their cloud service