We use affiliate links. If you buy something through the links on this page, we may earn a commission at no cost to you. Learn more.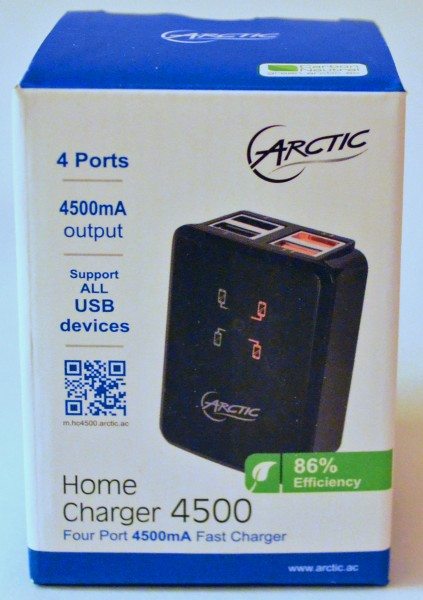 Owners of multiple mobile devices realize that their gear bag or their power strip at home can quickly become a jumble of power adapters.  Sometimes you can share a single charger between multiple devices, but then you're limited to charging only one of your devices at a time.  With the ARCTIC Home Charger 4500 Four Port 4500mA Fast Charger, you can charge up to four devices at once.  Best of all, this charger is very reasonably priced.  Let's give it a look.
This ARCTIC charger is made of black plastic, and it measures 2.1″ wide X 2.1″ deep (including the prongs) X 3″ tall.  It weighs about 3.6 ounces.  It's small enough to fit in your bag, and it's small enough you can plug it into a wall outlet and still be able to use the other socket.  ARCTIC says the Home Charger 4500 uses 110-240V 50/60Hz power (input) and outputs DC 5V power with up to 2900mA per USB port, with a total of 4500mA possible combined from all charging ports.  ARCTIC says the Home Charge 4500 supports USB 3.1 (USB Power Delivery Profile 1), so you don't have to worry that this charger will become obsolete any time soon.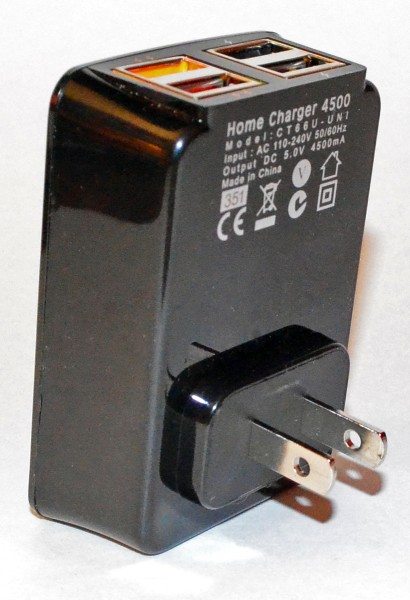 Since I live in the US, I received the US version of the Home Charger 4500.  There are EU and UK versions of this charger, as well.
Using the flash when taking my pictures made the orange set of plugs seem to glow, so I included an image from ARCTIC's website so you could see what they really look like.  There are a total of four plugs.  The two with the black interior are for charging smart phones.  ARCTIC says these ports will fast-charge phones from every manufacturer, including Apple, Nokia, LG, Huawei, Blackberry, Samsung, Motorola, Sony, HTC, and Lenovo.  The orange ports are higher power for quickly charging iPads and other tablets.  ARCTIC warns that Samsung tablets only charge in slow mode.  The Galaxy Tabs and Notes may indicate that they are not charging, but they will be charged in slow mode when they are switched off.
I'm including the lead image again here so that we can discuss the front display.  The center circular light will illuminate to show the charger is receiving power;  it will blink to indicate that the charger is outputting more than 4000mA to indicate that you can't plug anything else in at the moment.
Each of the four USB ports has an individual indicator on the front of the ARCTIC charger.  The two white device icons are for the smart phone ports (black plastic interiors), and the two orange icons are for the two tablet ports (orange plastic interiors).  The lightning bolt indicators will light and blink to indicate the power load, as explained in the above table.
I tried charging some of the devices in my house with the ARCTIC Home Charger 4500.  I connected my iPad mini with Retina display to one of the orange ports.  I connected my iPhone 5 and my husband's iPhone 5 to the two black ports.  I should note that each of the iPhones were wearing mophie juice pack cases with built-in backup batteries.  As the phones charge, so do the cases' internal batteries.
At the time I took the video (above), only one of the iPhone indicators was flashing.  Eventually both of them started flashing.  When you charge the iPhone in the mophie case, I believe that the iPhone's battery charges first, then the case's battery charges.  I don't know for sure, but I wondered if the icon flashing indicated that the iPhone's battery had charged and it was now charging only the case's battery.
Assuming the iPad could have been pulling up to 2000mA and each phone was pulling around 1000mA or so, I decided I didn't want to plug anything else in and potentially overload the device.  The charger has thermal, short circuit, over-current, and over-voltage protection to protect the connected devices.  Should you overload the device, it will simply shut down.  You'll need to unplug everything and then add only some of them back to charge.
My iPhone started out with a 36% charge and an almost completely charged mophie battery, and it charged in about an hour.  Butch's phone was 95% charged, but the mophie case was depleted; the mophie's charge indicator didn't seem to move much until the iPhone showed that it was fully charged, then it started charging.  It took longer than my iPhone, but Butch's phone and case also charged in less than 2 hours.
While the iPhones were charging, I was also charging my iPad mini.  It had given me the low-battery warning at 10% when I plugged it to the ARCTIC charger.  My iPad quickly charged, even though I was continually using it the entire time it was charging.  I'm not sure exactly how long it took to completely charge the iPad, but it charged at least as quickly as it does with the Apple 12W charger (not the standard charger that came with my iPad).  And remember, the ARCTIC charger was also recharging the two iPhones and their mophie cases simultaneously.
As each device completed their charge, their indicator light on the front of the Home Charger 4500 turned off.
Using the ARCTIC Home Charger 4500 saved me space on my already crowded power strips, allowing me to replace up to four chargers with a single device.  ARCTIC also says their charger is 86% efficient, which  doesn't just save electricity, but also keeps the adapter's temperature low and makes it live longer.
I like the ARCTIC Home Charger 4500 Four Port 4500mA Fast Charger.  It does quickly charge multiple devices simultaneously, even when one of those devices is a power-hungry tablet, and the other two actually are each two devices charging from a single cable (battery in the iPhone and another battery in the case).  Surprisingly, this little powerhouse is only $24.95, which is cheaper than many of the multi-device USB chargers I've seen.  I've already added it to my daughter's dorm room kit, so she can keep her iPhone and iPad both charged and still have room on the power strip for the other things she needs to plug in.
Source: The sample for this review was provided by ARCTIC. Please visit their site for more info.
Product Information
Price:
$24.95
Manufacturer:
ARCTIC
Retailer:
ARCTIC
Requirements:
Pros:

Thermal, short circuit, over-current, and over-voltage protection to protect the connected devices and the charger itself
Can charge multiple devices simultaneously using a single wall outlet
Charged a tablet, two phones, and two external batteries (in mophie cases) simultaneously and quickly
Front display indicate power drain, so you'll know if you can plug in something else, and indicate when the device is completely charged

Cons: