We use affiliate links. If you buy something through the links on this page, we may earn a commission at no cost to you. Learn more.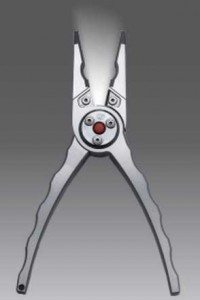 When you're using a pair of pliers in a dimly lit area, a flashlight can be real handy. But holding a flashlight in one hand while using the pliers in the other hand can be both inconvenient and awkward. An alternative could be a hands-free head lamp, but then you still have use two devices instead of one. A better solution might be a pair of pliers with a built in flashlight like the ReadyMax NightHawk Outdoor Pliers. These 7″ pliers are made of aluminum with Tungsten Carbide jaws and feature a waterproof sealed LED flashlight that is powered by three standard #392 watch batteries. Now you can shine a light on your work with the press of a button.
ReadyMax NightHawk Outdoor Pliers are available for $39.99, with even more light enabled tools coming soon.