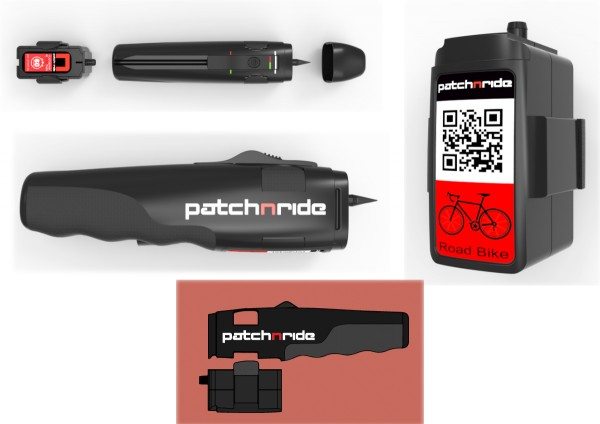 We just found an inexpensive bike for our daughter to take with her to college, and now we begin the expensive task of collecting all the things she'll need to keep it on the road.  I've been trying to find items for a tool kit that she can carry in her backpack, and of course she'll need a tire patching kit.  I've got a standard patching kit for her, but I'll certainly be looking to add a patchnride tire repair kit to her tool set as soon as they are available.  The patchnride is said to be the world's first permanent tire repair system.  The patchnride actually injects a patch and adhesive into the inner tube and seals up to a 3mm hole from the inside.  (According to the FAQs at patchnride, Goodyear Tire Company only considers a tire safe to ride on if it has been patched from the inside.)  You just use the included leak detector to find the hole, inject the patch, press the repaired area for a second or two, then re-inflate the tire with your own pump.  After it's used, you'll need to replace the patch cartridge in the patchnride to be ready for your next repair.
Without even removing the tire, you can repair tubular, clincher, mountain bike, cruiser, fat, and running stroller tires.  A future version will work with tubeless tires.  The patches are permanent, and you'll be ready to ride on any terrain as soon as you've re-inflated the tire.  A patchnride injector tool, two patch pods, and two leak detectors will normally sell for $50, but during the pre-order period, you can get this kit for $25 (plus shipping).  The patchnride will be available in the fall of 2014.  (I just placed a pre-order for three kits – one for my daughter, and two as Christmas gifts for family members.)
Support The Gadgeteer
:
We may earn a small affiliate commission from purchases made from buying through links on our site. As an Amazon Associate I earn from qualifying purchases. Learn more.