We use affiliate links. If you buy something through the links on this page, we may earn a commission at no cost to you. Learn more.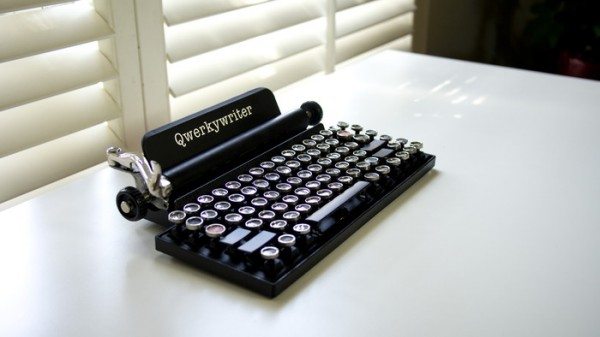 When I was a kid, I used my mom's old Underwood typewriter to write my own stories and newsletters that only myself and my sister read. I loved that typewriter, fitting in a piece of paper, twisting the knob on the platen to position the paper, pressing down the keys and seeing the individual type bars raise, strike the inked ribbon over the paper as the carriage moved to the left and then when it reached the right side of the paper, a whack of the return bar moved the carriage back to the starting position and advanced the paper one line. The sound, feel and even smell of that old typewriter had me dreaming of being a writer when I grew up. These days I type on plastic keyboards that get the job done, but aren't nearly as romantic as that old Underwood typewriter. If you also appreciate retro style, you might find the Qwerkywriter Kickstarter project very interesting. It's not exactly a manual typewriter, but it sure looks like one, right down to the platen and carriage return bar (they are there just for show and don't have a function – yet). The Qwerkywriter features 84 keys, custom typewriter inspired keycaps, an integrated tablet stand, and USB connectivity. It certainly looks very cool and is definitely more compact than the USB Typewriter conversion kit that we told you about almost 4 years ago. If this looks like something you'd love to have, head on over to the Qwerkywriter Kickstarter page and sign up to pledge $289. Hurry up though, the project ends on 7/3/14. The only problem I can see with this project other than the price is that you won't receive your typewriter until August of 2015. I have patience, but not sure I have that much patience.
Thanks to Betty W. for the tip!