We use affiliate links. If you buy something through the links on this page, we may earn a commission at no cost to you. Learn more.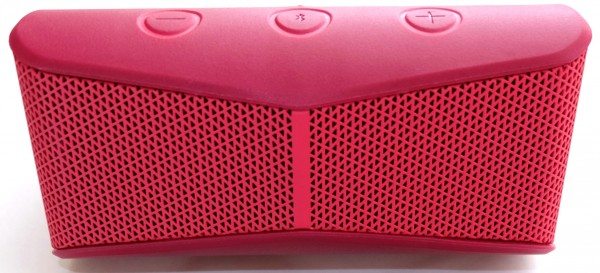 Pink, pink, PINK!! This is a very pink speaker, indeed. Was that your first impression as it was mine? Anyway, to the point. I've been in the market for an ultra-portable speaker for a while now, but have not been impressed with some of the options out there for the price (it's not a pressing need and so I've made do without one). When the Gadgeteer was offered this speaker to try, I wanted to try it out to see if this would suit my needs.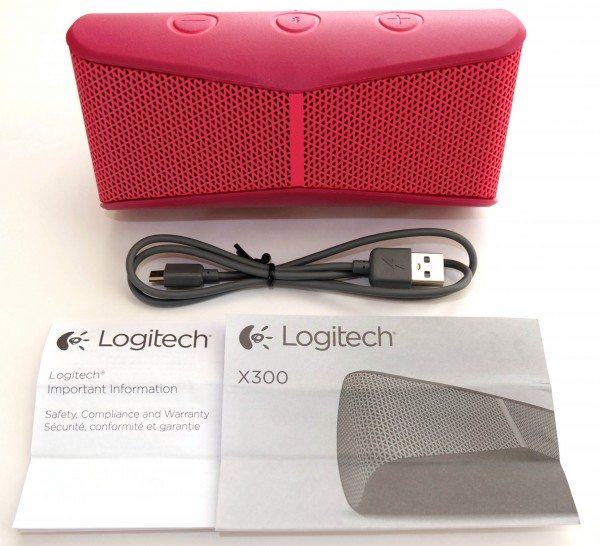 Package Contents
Logitech X300 Mobile Wireless Stereo Speaker
Micro USB charging cable
User documentation
Technical Specifications
Bluetooth: A2DP, 30 ft wireless range
Phone calls: Bluetooth-Hands-Free Profile (HFP1.6)
Battery: 5-hour
Dimensions: 5.9″ L x 2.8″ W x 2.7″ H
Weight: 12.5 oz.
Design & Build Quality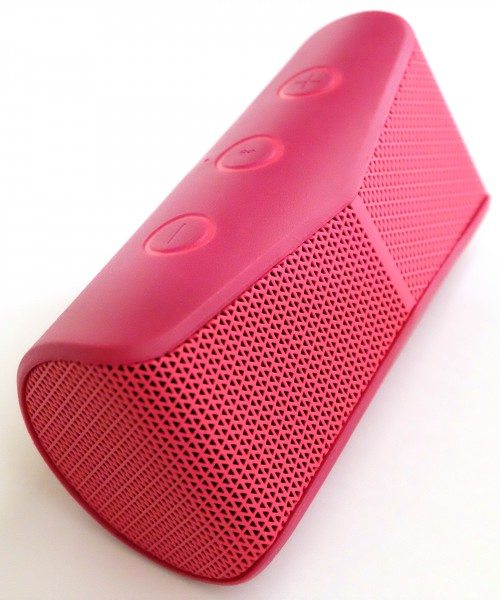 First, let's address the elephant in the room. This speaker is very pink and is what was sent to me. According to Logitech's website, the color of the speaker is red. Hmm, okay. Maybe in a dimly lit room. The Logitech x300 Mobile Wireless Stereo Speaker comes in other colors like black (with a tan colored grill), blue, and purple.
The front and sides of the speaker are covered with what looks like a grill made from plastic. The grill is rigid and not flimsy, so I would not expect it to break easily.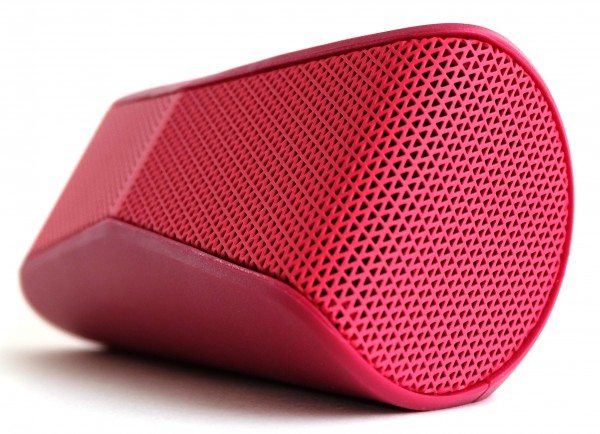 While sitting flat on a surface, the speaker is angled upward to allow for better sound projection.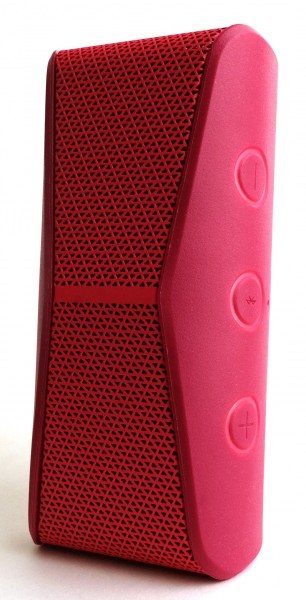 The speaker is flat on both sides allowing it to be placed in an upright position as well.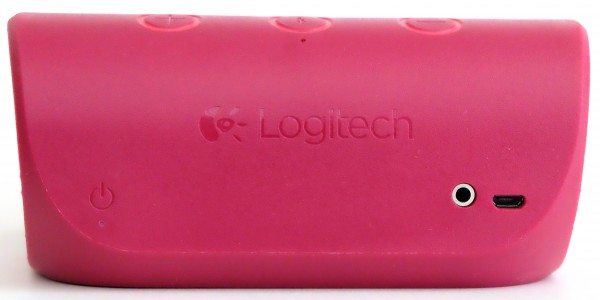 The top, back, and bottom of the speaker are covered with textured rubber. This ensures that the speaker doesn't slip on any surface no matter its orientation while music is being played at maximum volume. So much of the speaker is covered with rubber that I feel like I could bounce it off the floor and it might survive! Okay, I exaggerate.
Also on the back of the speaker is the power button that is located on the lower left side. Just below the power button is the status light that will tell you whether the speaker is ready for pairing, is paired, is charging or is fully charged. The audio in port and mini-USB port for charging are on the lower right side.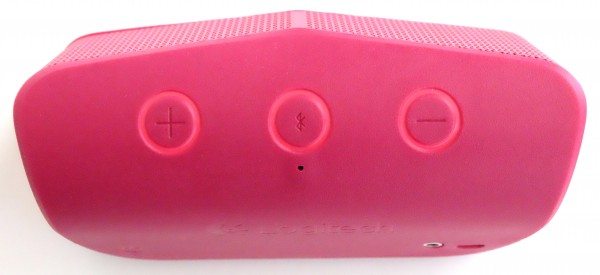 The top of the speaker has the volume up and down buttons along with the Bluetooth button used to pair the speaker with devices and to receive and end phone calls. The microphone that works with the speakerphone feature is also next to the Bluetooth button.
Overall, I like the feel of the speaker. It appears to be well made, not flimsy like some other small portable speakers.
Using the Speaker

The user guide consists solely of a series of pictures showing you the parts of the speaker, how to pair it with a device, and how to use it as a speakerphone. So in order to find out more details about the speaker, like what the various states of the status light mean, it was necessary to access the Logitech x300 support website. The first time you power on the speaker, the light rapidly flashes blue (it flashes blue when not charging and flashes red when charging) indicating it is ready to be paired. For all other pairings, you must hold the Bluetooth button down for three seconds after which you hear a rapid succession of tones and the status light then flashes slowly indicating it is ready to be paired.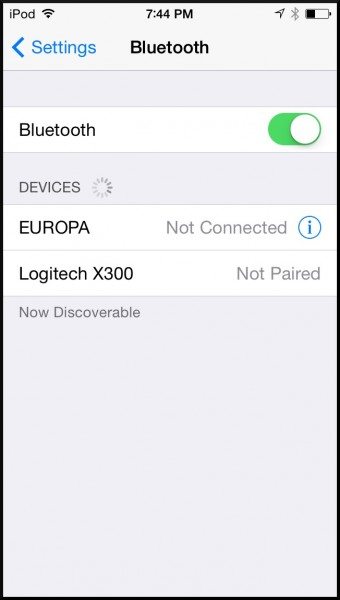 I turned on Bluetooth on our iPod Touch and it quickly discovered the speaker. I then tapped on the Logitech x300 listed under devices and they were paired, no PIN or code required. At that point several high pitched tones were heard and the blue status light stopped flashing and remained on indicating the pairing was successful. Pairing with our Nexus 7 (2012) tablet, HTC One X phone, and PC were equally trouble free. However, I had some audio trouble with the Logitech x300 until I figured out that our wired Logitech speakers were interfering with the Bluetooth speaker. After powering off the wired speakers, the x300 was able to play sound.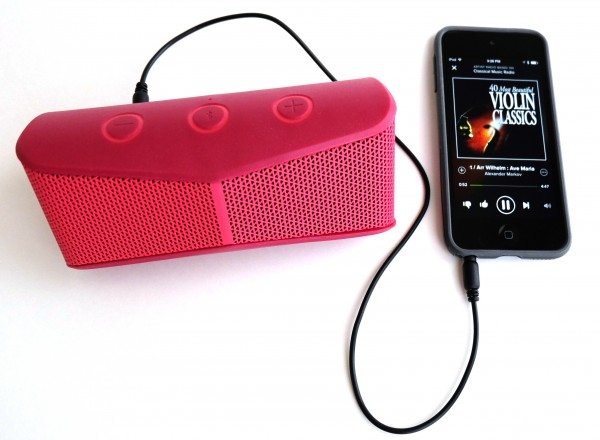 The Logitech x300 does not come with an audio patch cable but does have an audio in port that allows any device with a 3.5mm audio output to work with it. Our Nexus 7 (2012), iPod Touch, and HTC One X all played music on the speaker using our own audio patch cable without issues and sounded the same or sometimes just a little quieter than when connected via Bluetooth.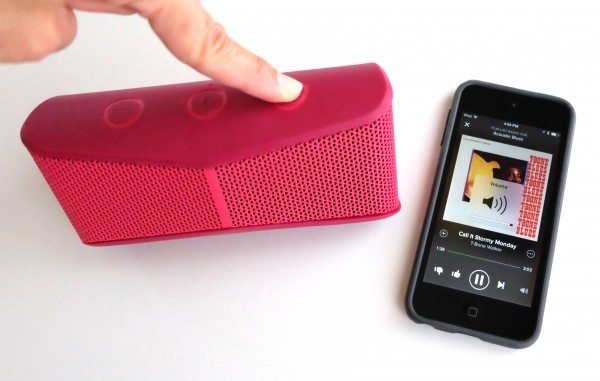 One thing I discovered that I really liked about the Bluetooth pairing of this speaker with our iPod is the fact the volumes were in sync. On all other devices, the volume controls on the speaker were separate from the volume controls on the device.
The speaker's battery is rated to play for an average of 5 hours, which is not as great as the Logitech UE Mini Boom that gets 10 hours of play time. However, tests showed that at a moderate volume level playing all genres of music, total play time was a little over eight hours. With the volume turned up to the maximum level, total playtime was about four hours.
The speaker does not come with an AC adapter and so needs to be charged via USB from a computer or from a power strip with USB ports. I could not find the Logitech x300 technical specifications pertaining to charging time and so I had to discover this for myself. My tests found that the battery needed four hours to fully charge after being completely depleted. As the speaker is charging (and powered off) the status light very slowly flashes red until it is completely charged at which time the light shuts off.
This speaker also has speakerphone functionality. My tests also proved that it worked well. When picking up calls with the speaker, the caller was clear. However, the person speaking into the speaker's microphone must be within one foot of it. If speaking more than a foot away, the voice on the other end sounds choppy.
My next point of curiosity was Bluetooth connectivity. The unimpeded Bluetooth range for the speaker/iPod pairing went as far as 46 feet and functioned well even with two walls in between them. With all other devices, the Bluetooth connectivity was surprisingly disappointing. The music started to drop out at 17 feet with the speaker/Nexus 7 (2012) pairing and but was able maintain connectivity through one wall. The range for the speaker/HTC One X pairing was a paltry 15 feet unimpeded before you start to lose the audio connection and could only go through one wall a short distance away. The range for the speaker/PC pairing was so dismal, it was completely useless to me and even sounded choppy while sitting on my desk just one foot away from the computer. No other Bluetooth devices were on and and since I have not had problems like this with my other Bluetooth portable speaker, I can only assume that this is a shortfall of my Logitech x300.
The Logitech x300 Mobile Wireless Speaker can fill a small room with music and the sound quality is excellent (compared to other small portable speakers) when the reception isn't choppy. Unfortunately, I could not find any information about the number of drivers or their specifications anywhere. From looking at it, it appears to have four drivers. The frequency response of the speaker is 60 – 16,000 Hertz. Again, I could not find this information in the technical specifications so the range was determined by using the Audiocheck.net low and high frequency response tests. The mid and upper frequencies are very nice and clear. However, one of the weaknesses of the smaller speakers is the lack of a dedicated driver for the lower frequencies. Thus when playing music (especially with the volume turned up high), you will often hear the mid and upper frequencies at a lower volume when the low frequencies are added. The result is loud vocals in one part of the song that are quickly muted when lower frequencies are added. This is what I heard on bass heavy music – a lot of volume fluctuations.
Okay, last but not least, in case you haven't picked up on it yet, I'm REALLY NOT a fan of pink (or bold colored) gadgets. It is my personal opinion that when gadgets and devices come in such bold colors, they tend to look cheaper than their black or white counterparts. I guess the bold colors may appeal to a lot of people, but to me they look like toys.
Recommendation
The Logitech x300 Mobile Wireless Stereo Speaker is an excellent sounding portable speaker with some drawbacks. The audio quality is wonderful when compared to other ultra-portable speakers within that price point including Logitech's UE Mini Boom. The x300 has more bass and sounds more robust. The higher frequencies on music (not bass heavy) are clear, even with the volume turned up to its maximum level with very little distortion. It was also nice to have the volume on my iPod in sync with the speaker and the speakerphone feature also proved to be decent.
Even though I loved the sound of this speaker, I did encounter some issues that made me question whether or not I would have purchase it. The volume fluctuations on bass heavy music are distracting, the Bluetooth problems on Android devices and our PC were frustrating, and it lacked play/pause/back/forward controls (this is important to me as a teacher), which I know are not present on a lot of the smaller Bluetooth speakers. So, in essence, it is a toss up. Do you simply need the portable speaker just to enhance the audio quality and volume on your phone or tablet? Then this is a great speaker for you especially if you have Apple devices. Or do you need something that allows you play an audio presentation that may require decent Bluetooth range and pause/play control? Then you may want to keep looking.
Update 11/21/17
We used this portable speaker for a while, but the volume fluctuations on bass heavy music were incredibly distracting and it needed frequent charging. Thus, this speaker has been replaced with the Douni A5 Bluetooth speaker which sounds much better, has better Bluetooth range, and has more features.
Source: The sample of the Logitech x300 Mobile Wireless Stereo Speaker was provided by Logitech. This speaker comes with a one year warranty and may be purchased from Logitech or Amazon for $69.99
Product Information
Price:
$69.99
Manufacturer:
Logitech
Retailer:
Amazon
Pros:

Great sound for a small portable speaker under $100
Well made
Easily portable

Cons:

Bluetooth connectivity problems on Android devices and PC
Volume fluctuations on bass heavy music
No pause/play/back/forward controls
No AC power adapter