We use affiliate links. If you buy something through the links on this page, we may earn a commission at no cost to you. Learn more.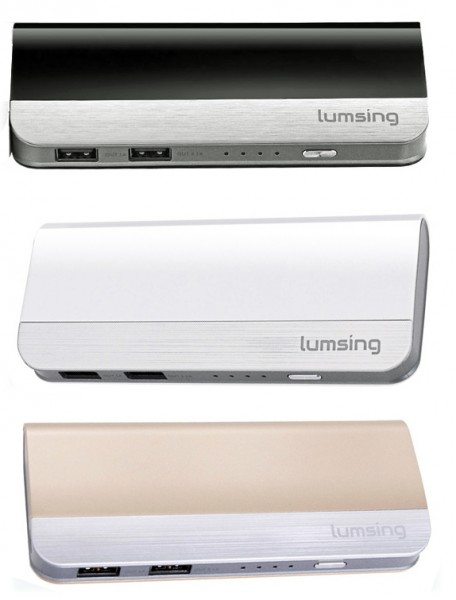 When you have a lot of mobile devices that you use constantly throughout your day, you're eventually going to find yourself with a drained battery.  If you are at home or in the office, you can plug up your device before it dies, but what if you aren't near a power source?  There are a lot of portable backup batteries on the market, but it seems most of them have small capacities – just enough to charge up a phone until you can make it to a power source.  There aren't many that have enough power to charge a tablet, and there are very few that can charge two devices simultaneously.  And it seems those that can charge two are very expensive.  The Lumsing Harmonica Style 10400mAh Rechargeable Portable External Battery Pack, as the name states, has a 10,400mAh battery – enough power to recharge a phone multiple times or to charge a tablet at least once.  The Lumsing has two ports, so you can charge two devices simultaneously, and one of those is a 2.1A port to charge a tablet.  Best of all, it only costs $25.00.  It sounds like the perfect travel companion.  Let's see how it works.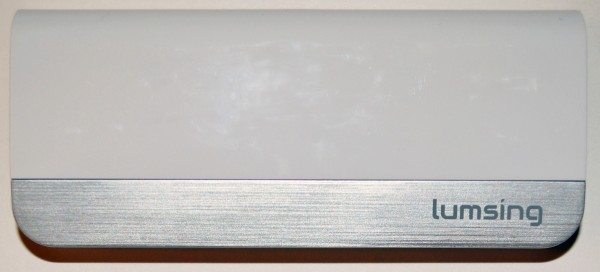 As you can see in the lead photo, the Lumsing power bank is available with a black, white, or gold plastic body and silver accents.  I believe the silver is colored plastic instead of actual metal.  I received the white.  Lunsing calls it a "harmonica style" shape, and I can see that, but to me it looks more like a clutch purse or even a taco.

The power bank measures 5.4″ X 2.3″ X 0.8″ and weighs about a half pound.  It's made with what Lumsing describes as "original Samsung cells and premium microchips and a high quality Li-ion battery".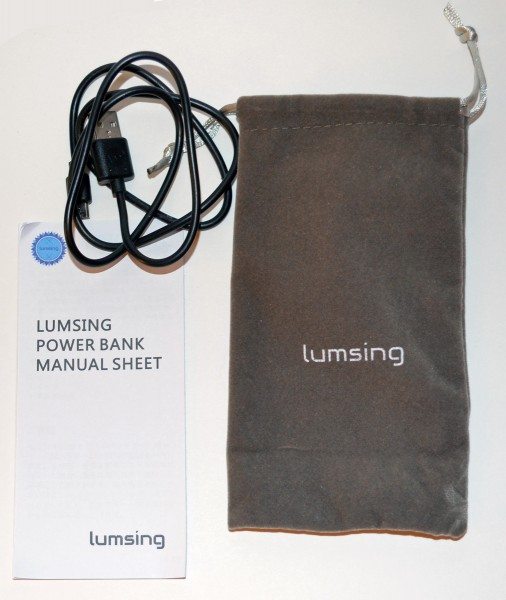 It comes with a velveteen pouch for travel, a USB-to-microUSB cable for charging the internal battery, and a small manual in multiple languages.  You'll have to supply charging cables for your devices.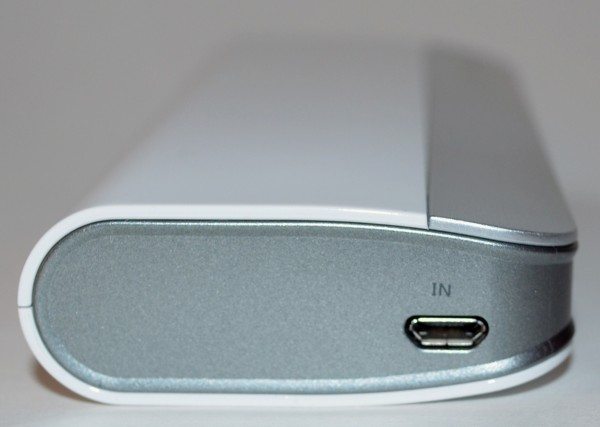 One end has the microUSB port for charging the internal 10,400mAh battery.  The power bank has "multiple protection systems for safety.  It is designed to avoid overcharging, and protects against over-voltage, over-current, and short circuiting."  It has CE, FCC, ROHS certifications to ensure reliability.  Specifications for this battery pack says it will recharge an iPhone four to five times, a Samsung Galaxy S3 three times, or an iPad / iPad 2 once.  It's internal battery can be recharged 500+ cycles over its life.
Lumsing doesn't provide an AC adapter in the package, so I just plugged it into one of the USB ports on my powerstrip and let it charge for a few hours before testing.

Click to enlarge this image, and you'll see that the two USB ports on the front are marked as supplying 1 or 2.1 amps (both are 5V).  The 1A port is sufficient for charging most phones, and the 2.1A is sufficient for charging most tablets.
The four blue LEDs indicate power level and charging status.  When all four are lighted, the internal battery has 75-100% of full power remaining.  Most external batteries I've tried have a button that illuminates the battery level lights when pushed, and the button on the right does just that.  It's also is a power button.  When you plug up a device to charge, you have to press that button to start the charge cycle.
First up, I tried charging my iPad mini with Retina display.  It started at about 30%.  I left it charging overnight, and the iPad mini showed 99% charge when I unplugged it the next morning.  Surprisingly, the Lumsing still had one LED in the status display lighted.  Its battery wasn't completely drained, so I'm not sure why the mini didn't charge to 100%.  Still, a 99% charge is nothing to complain about.
After recharging the Lumsing, I tried charging my iPhone 5.  My phone is in a mophie juice pack case, and I found that the Lumsing wouldn't charge the mophie case and phone combination.  I didn't worry about that too much, because I don't think most people would carry the Lumsing for a phone that already wears a backup battery.  I just took the iPhone out of the battery case, and the iPhone 5 charged perfectly when plugged directly into the 1A port on the Lumsing.  I charged my iPhone from about 27% to 100%.  It didn't seem to take any longer charging from the Lumsing battery than it normally takes to charge from an AC adapter.  When the iPhone was fully charged, all four of the Lumsing's status LEDs were still lighted.
Later, I also tried charging both my iPhone and iPad mini simultaneously.  They both started charging as soon as they were plugged in and the Lumsing's power button pressed.  They both seemed to charge at a normal rate. Neither device was very drained, so the battery in the Lumsing wasn't completely drained by this simultaneous-charging test.
I think the Lumsing Harmonica Style 10400mAh Rechargeable Portable External Battery Pack is a great addition to my gear bag.  It's small and light, and it has enough power to keep your phone charged during extra long trips.  It can only recharge an iPad once, but that gives you another 10 hours or so on the tablet.  Best thing of all, it's very inexpensive, costing less than most every backup battery I've seen – and of course, most of those other inexpensive batteries can recharge a phone only once (maybe not even a full charge at that) and a tablet not at all.  The Lumsing can even charge two devices at once.  It works well, and it's only $25 at Amazon.  You can't ask for more than that.
Source: The sample of the Harmonica Style 10400mAh Rechargeable Portable External Battery Pack was provided by Lumsing. This battery pack comes with a one year warranty and may be purchased from Amazon for $24.99.
Product Information
Price:
$24.99
Manufacturer:
Lumsing
Retailer:
Amazon (in the US)
Requirements:

You'll need to supply your own charging cables for the devices you wish to charge.

Pros:

Compact
Enough juice to recharge a phone multiple times or a tablet once
Can charge two devices at once - including a phone and a tablet
Inexpensive

Cons: