We use affiliate links. If you buy something through the links on this page, we may earn a commission at no cost to you. Learn more.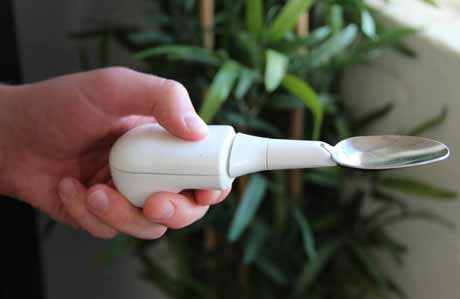 Most of us take a lot for granted. We give almost zero thought to holding a spoon or fork, scooping up a bite of food, lifting it to our mouth and eating. It's something we all do multiple times every single day. It's a no-brainer. But for people who suffer from Essential Tremor and Parkinson's Disease, the normally simple task of moving food from plate to mouth is a struggle that can turn what should be an enjoyable meal time activities into a task that is both frustrating and often embarrassing. The scientists and engineers at Lift Labs have create a solution for this problem. The Liftware is a battery powered stabilizing handle with an interchangeable spoon and fork attachment. When activated, the sensor will detect the tremor in the hand that is holding it and will cancel 70% of the movement, allowing the person to focus on enjoying the meal and the people who they are with more than the act of eating. Liftware sells for $295 and comes with a spoon attachment, but fork and soup spoon attachments are available separately for $19.95 each.
Visit http://www.liftlabsdesign.com/ for more info.