We use affiliate links. If you buy something through the links on this page, we may earn a commission at no cost to you. Learn more.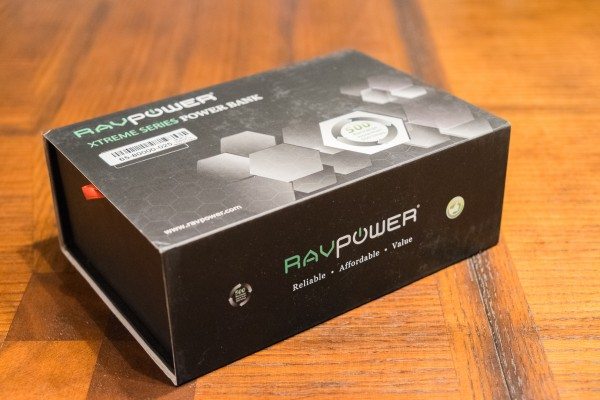 Technology has come a long way in the last two decades but, sadly, battery technology has barely kept pace.  We use the same electrochemical principles that Allesandro Volta used when he invented the voltaic pile in the 1800's.  We have found better materials and have improved on the design to squeeze every available electron from them but device battery run times are still woefully inadequate.  This has led to a proliferation of external portable battery packs from which you can replenish your gadgets' life from the road.  They started out as AA-laden packs in the era of the first Palm smartphones but now they pack lithium ion technology and can even recharge your laptop when in a pinch.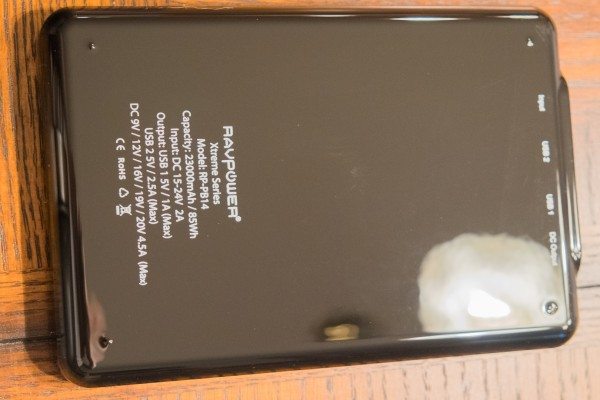 RAVPower has a series of these portable external battery chargers and this latest, the Xtreme 23000mAh charger, is a true beast.  Measuring 18.45mm long by 12.3mm wide by 18.0mm deep and weighing 600 grams (1 pound, 5 ounces), it is similar in size and thickness to two Nexus 7 tablets lying on top of each other and then a tiny bit more thickness.  This is not a pocketable device.  Then again, it can charge your laptop, tablet and phone simultaneously, so it's going to have to be pretty beefy.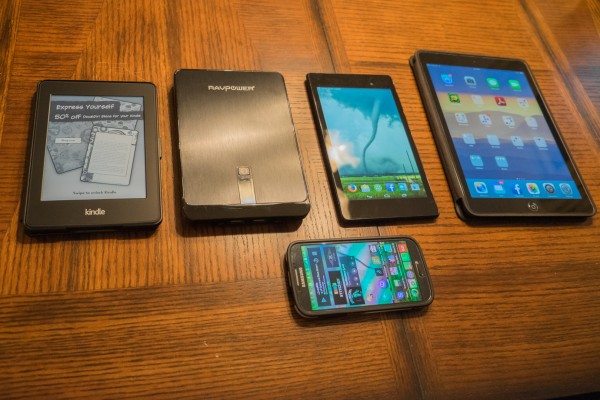 From the left:  Kindle Paperwhite, RAVPower Xtreme 23000, 2013 Nexus 7, iPad Air and Samsung Galaxy S4 on bottom
The Xtreme 23000 has four ports along the edge.  One is for plugging in the included AC adapter to recharge it.  One is a round plug for plugging in laptop charger tips.  Tips are included for Sony, Acer, Lenovo, Toshiba, Asus, HP, Benq, Samsung and Dell laptops.  In between the two round ports are two USB charging ports.  USB 1 is a 5V/1A output and USB2 is 5V/2.5A output.  Included is a flat connector for Samsung tablets and adapters for USB micro and USB mini.  No Apple product cables or tips are included, so you are out of luck if you want to charge your MacBook but you can use your own charging cable if you use an iDevice.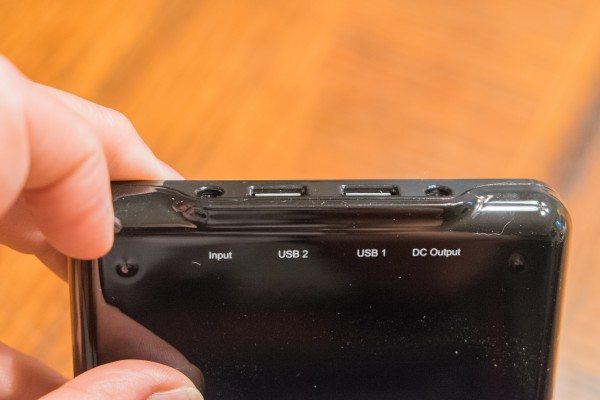 The top of the unit has what is either an LED or reverse backlit LCD with a battery icon indicating how much charge remains, a counter giving the exact percent of charge remaining (making the icon kind of redundant) and indicators to show if the USB ports are in use or, if the laptop port is in use, what the charge voltage is.  You can select the voltage by pressing down the power button until the voltage appears and then press it again and again until you get to the desired voltage.  It supports 9,12, 16, 19, or 20 volts, depending on your laptop's charge requirement.  Just look at the specs on your AC adapter's power brick or wall wart to determine the necessary voltage.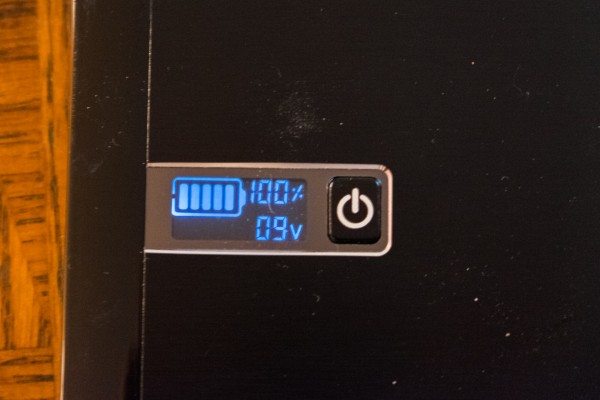 The Xtreme 23000 packs a manufacturer-claimed 23000 mAh of potential energy when fully charged.  In comparison, the devices I tested with it have battery capacities of:
2012 Asus Zenbook UX31A:  about 7000 mAh
Google Nexus 7:  3950 mAh
Samsung Galaxy S4:  2600 mAh
iPad Air:  8820 mAh
I put the Xtreme 23000 to several tests, recording recharge times.  As the battery has a built-in display, I was able to keep track of its capacity as the charge proceeded.
First test was with the Asus Zenbook UX31A.  One of the tips included with the battery is for Asus laptops and all I had to do was plug it in to one end of the round charger adapter and plug the other end into the laptop charger port of the backup battery.  The laptop's battery was dead flat when the process started and here is how it proceeded:
Time        Xtreme 23000      Asus Zenbook
4:15                100%                           dead
4:45                81%                             26%
5:15                80%                             24% (unplugged, then replugged and verified connection)
7:39               24%                             99%
Since the Asus battery is only a third of the capacity of the Xtreme, this would seem to indicate that the Xtreme does not have as much stored power as advertised.  Then again, I had only charged it once, let's see how it performed with the Nexus 7!
Time        Xtreme 23000      Google Nexus 7
7:19              100%                              dead
8:58               89%                               51%
9:19               87%                               63%
9:48              83%                               77%
Then it was my bedtime.  Hey, what do you want from me?  I have to get up at 5 AM to teach high school chemistry.  Looks like I can recharge the Nexus 7 perhaps three to four times from the dead with the Xtreme.
I carry my Samsung Galaxy S4 with me everywhere I go.  I just got a brand new battery for it, one serious advantage this phone has over phones with sealed batteries.  Here's how that charging session went:
Time        Xtreme 23000      Samsung Galaxy S4
7:14PM          100%                             39%
5:40AM             83%                           100%
I kept it on the charge overnight, partially because I forgot to check it before I went to bed and partially because I wanted to make sure that the Xtreme 23000 wouldn't lose excess charge overcharging the phone.  I need'nt have worried.  It worked like a champ.  I should be able to wake the phone from the dead at least three times with the Xtreme.
My final test was to recharge the iPad Air and Samsung Galaxy S4 together.  Unfortunately, when I had the phone sitting on top of the Xtreme 23000, I missed several phone calls as the signal dropped to nothing.  Odd, but it seems as though this thing sucks the cell signal right out of the air if you lay your phone on it directly.
Time        Xtreme 23000      iPad Air               Samsung Galaxy S4
5:15               100%                      37%                                     32%
7:14                                                                                             100% (the phone chimed to indicate charging complete)
7:40               55%                        91%                                     100% (left it plugged in)
8:27               50%                      100%                                    100%
So if I drain my phone and iPad down to empty, I can reasonably expect to be able to recharge them both at the same time…once.
As you can see, it doesn't seem to add up that the Xtreme 23000 actually packs 23000 mAh of power.  It would seem to pack a fair amount less than that.  I haven't run the pack all the way down to zero to see if the charge sensor is accurate but the results seems to be consistent across the board.  This aluminum-clad block of battery beauty will really help you out in a pinch, but take the 23000 mAh claim with a grain of salt.  Then again, show me a company that doesn't overstate the power of its batteries.  It's a symptom of just how desperately a revolution in portable power needs to be made.  Still, this is a great piece of kit to keep in your gear bag, especially if you're going to be away from a power adapter for a few days.  Reasonably sized, sturdily built and very versatile, I can enthusiastically recommend this gadget.  Oh, and it comes with a felt slip case so you don't have to worry about it getting banged around in your gear bag.
Source: The review sample of the RAVPower RP-PB14 Xtreme 23000mAh portable external battery charger was provided to The Gadgeteer by RAVPower. Please visit http://www.ravpower.com/ for more info about their products.

Product Information
Price:
$99 from Amazon
Manufacturer:
RAVPower
Retailer:
Amazon.com
Requirements:

A Sony, Acer, Lenovo, Toshiba, Asus, HP, Benq, Samsung or Dell laptop

Pros:

Can charge Sony, Acer, Lenovo, Toshiba, Asus, HP, Benq, Samsung and Dell laptops
Nice, big power indicator makes for easy reading
Two USB plugs
Aluminum-clad makes it sturdy
A range of charge voltages are available

Cons:

Doesn't seem to have the advertised capacity
Doesn't include tips for Apple products (probably Apple's doing)