We use affiliate links. If you buy something through the links on this page, we may earn a commission at no cost to you. Learn more.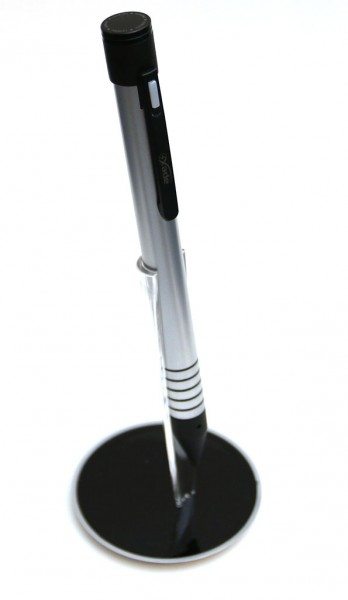 Active styluses are a relatively new category of capacitive styluses for tablets and smartphones. These styluses have fine point tips like a normal pen or pencil and are also powered by batteries. The newest active stylus that I have had the opportunity to test is the Apex fine point rechargeable active stylus from LYNKtec. This active stylus doesn't require Bluetooth pairing, special note taking or drawing apps and is compatible with iOS and Android touch screen devices.
Note: Images can be clicked to view a larger size.

A typical generic stylus has a wide hollow tip like the inexpensive Targus stylus shown above with the LYNKtec Apex stylus which I'll be talking about today.

The Apex is the second active stylus that I've been able to review. The first one was the Apex, also from LYNKtec.

Both LYNKtec styluses feature a metal body with black plastic accents. The newer Apex is longer, has a satin finish instead of chrome and has a pocket clip. Both styluses require battery power to operate. The TruGlide uses the sometimes hard to find AAAA battery, where the newer Apex stylus offers the convenience of USB charging.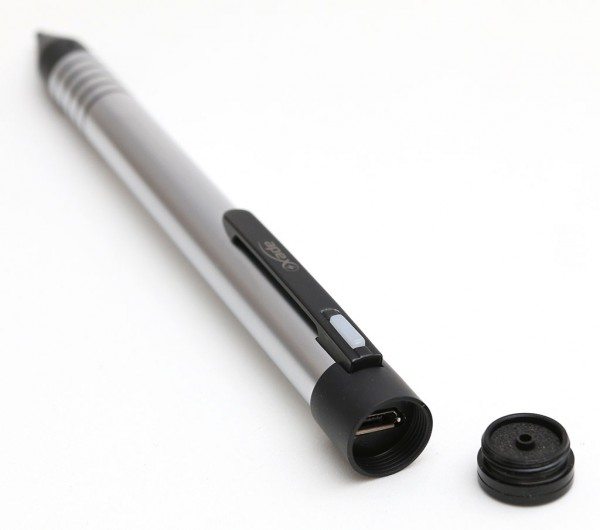 The cap of the Apex unscrews to reveal a micro USB connector. Using the included micro USB cable connected to a laptop or USB AC adapter allows for easy charging.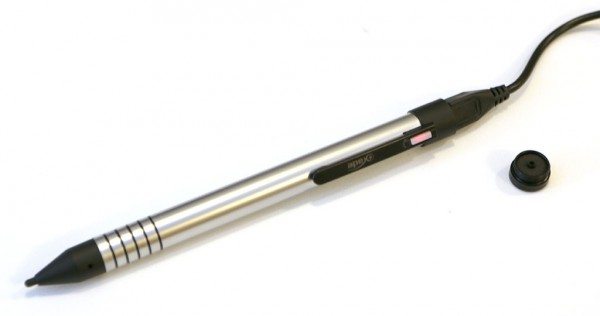 The button on the clip will glow red while charging and will turn blue when the stylus is fully charged. LYNKtec tells me that the Apex should work for up to 16 hours per charge. The button on the clip will blink and glow yellow when battery power is low. The stylus is also supposed to shut down to save battery life after 30 minutes of inactivity. During my testing period, I noticed the stylus powering down much earlier than 30 minutes. Sometimes it would be turned off after only 5-10 minutes of inactivity.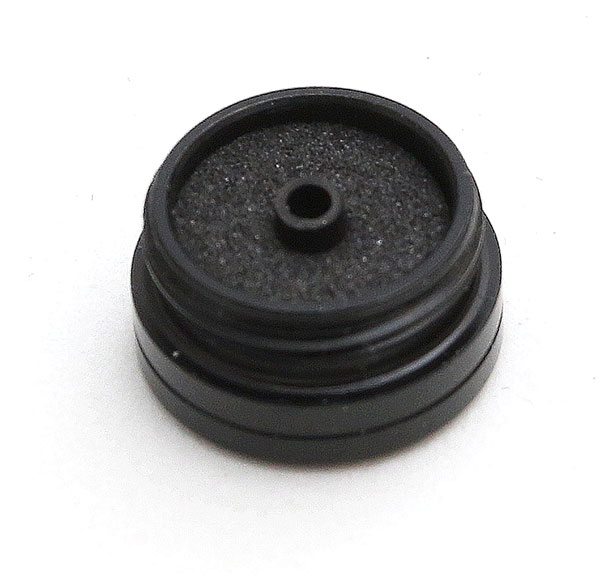 The cap not only covers the USB port, but it also holds a spare stylus nib.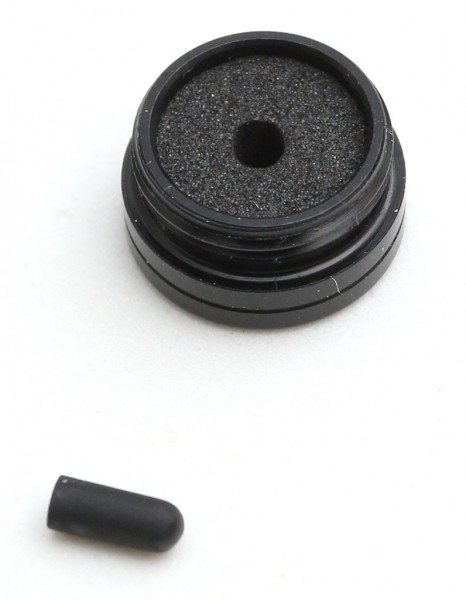 The firm nibs that come with the Apex stylus are extra durable for extended use. LYNKtec also sells soft nibs which are good for users who write with lighter pressure or use screen protectors. I tested both types of nibs and found that I liked the softer nibs better.
Note: The Apexes are currently shipping with the soft nibs installed. Lynktec are selling both the soft and firm nibs on their  website here: http://www.lynktec.com/Replacement-Nibs-for-Apex-p/lttg-nib.htm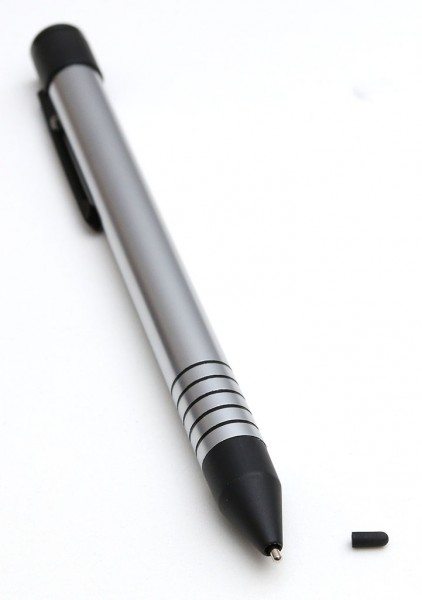 The nibs are very easy to change. Just pinch, twist and pull. Once removed, a metal prong is revealed. It's important to note that the Apex is NOT pressure sensitive like some styluses that I've reviewed.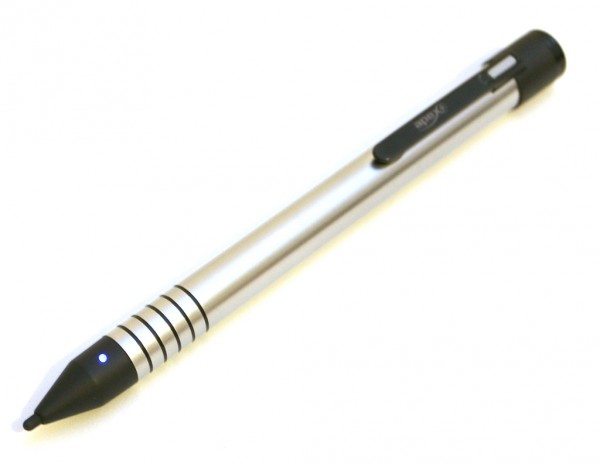 The Apex fine point rechargeable active stylus does not use Bluetooth like some battery powered styluses on the market. All you have to do is press and hold the button on the pocket clip to turn on the stylus and you're ready to go. No need to pair and no need for special apps. The stylus will work with any app and will also work well with both iOS and Android devices.
Writing with a stylus that has a wide tip vs. the 2.3mm tip on the Apex is comparable to writing with a fine tip pen vs. a broken crayon. It's much easier to see what you're writing or drawing when using a fine tipped stylus because the tip doesn't block your view.
I tested the Apex with a Samsung Galaxy Note 2, Nexus 7 2013 tablet and a first gen iPad mini. These are the same devices that I used when I tested LYNKtec's first active stylus, the TruGlide. The Apex fine point has the same problem that the TruGlide has, diagonal lines can have a stair step effect when used with certain devices. The best experience of the three devices I tested was with the Samsung Galaxy Note 2. Writing and drawing felt effortless and without any lag. I also did not have any issues circles or drawing diagonal lines no matter how fast or how slow that I drew the lines. I used Samsung's S Pen app for the drawing and writing tests. For the writing test, I tried to write with the same speed as I normally do with pen and paper. It was a little difficult to do since the S Pen app doesn't have a palm rejection feature. And even though my handwriting may look a little sloppy, I'm pretty sure that you can still read it.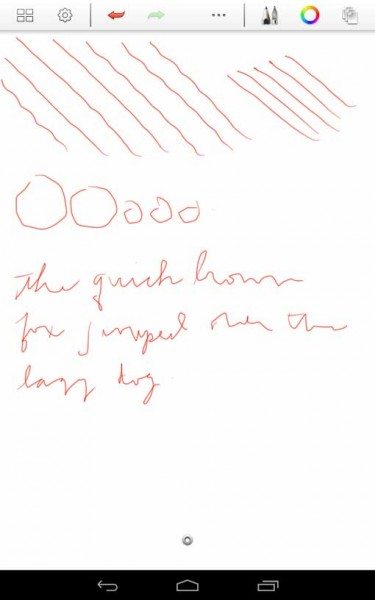 My experience with the Nexus 7 wasn't nearly as good. There was an obvious slight lag with both writing and drawing. The Nexus 7 also exhibited the diagonal stair stepping issue when drawing lines slowly. Drawing them fast seemed to work just fine though. Writing in cursive is pretty much a fail as you can see above. Also dotting i's and j's doesn't work well unless you draw a tiny line instead of tapping a dot. I tested on the Nexus using Adobe's Sketchbook Pro app and a free note taking app called Papyrus. I had similar results with both apps. Slowly printing works better than writing in cursive, but not by much.
Here's a quick video showing the lag issue with the Apex and my Nexus 7. As you can see, if you speed up your writing/drawing, it takes a little extra time for the ink to catch up with the tip…
I had a better experience with my first gen iPad Mini than with the Nexus 7.  There is still a very slight lag which is more perceptible with some apps than with others. I noticed it more with Adobe's Sketchbook Pro (screenshot above on left) than with another drawing app called Procreate. The best app I found to use with this pen on an iPad is Penultimate (screenshot above on right). It has palm rejection which makes it much easier and enjoyable to write text. The stair stepping / diagonal squiggles are still there with the iPad mini, but they are less noticeable depending on the app you use.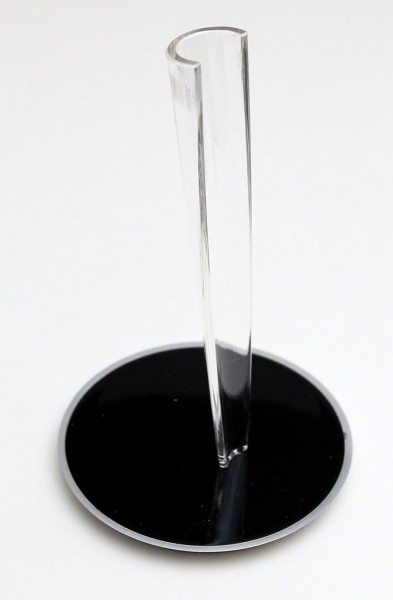 If you want to display the Apex in all its glory, you can purchase a stand that has been designed especially for the Apex that sells for $14.99. It's called a levitating stand which might make you think it uses magnets, but it's just a plastic clip that the barrel of the stylus snaps into. It looks nice enough, but you have to use two hands to remove the pen from the stand. So it isn't really all that useful in my opinion.
I really enjoy seeing the evolution of the stylus. I remember back in the PalmPilot days when a stylus was just a plastic stick. Now they are much more advanced. There's still a ways to go in improving them to the point where a stylus will feel just like a pen on paper when used with the glass screen of your mobile device, but they are getting very close. The LYNKtec Apex fine point rechargeable active stylus is a step in that direction. It's rechargeable which is a huge plus and can work with different platforms: iOS and Android. I also like that it does not require a special app in order to use it. I wonder what's next for LYNKtec. Maybe pressure sensitivity? We can hope! But in the mean time, if you want a stylus that has a pen-like tip, this one is at the top of my favorite stylus list.
Product Information
Price:
$69.99
Manufacturer:
LYNKtec
Pros:

Rechargeable battery
Auto poweroff
Includes extra nib
Doesn't require Bluetooth or special apps

Cons:

Diagonal lines have a stair step effect on some devices
Slight lag on some devices