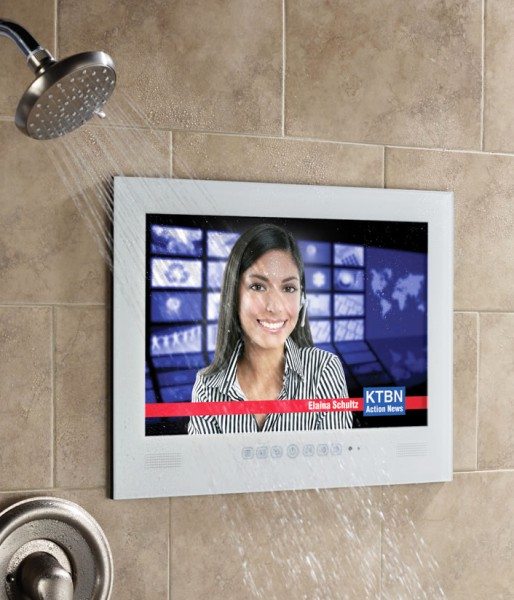 Do you wonder sometimes if you watch too much TV?  Well, you'll know the answer is probably "yes" if you install one of these Home Spa Waterproof TVs in your shower at home.  It's a 17″ 720p HD TV that's completely sealed against water and steam.  The screen is scratch-proof and is heat-treated to prevent fog and condensation.  The pair of 3W speakers have o-ring seals to keep out water, but they still produce good sound.  Specs for the TV:
16.7 million colors
450:1 contrast ratio
170° field-of-view
8 millisecond response rate

HDMI, VGA, and AV ports

Waterproof remote control
The Home Spa Waterproof TV requires professional installation of the wiring, hanging brackets, and waterproof mounting box.  It's $1400 from Hammacher Schlemmer; the 3-4 week delivery time gives you plenty of time to arrange for the professional installation.
Some of our links in posts like this one are affiliate links, which means that we may receive a small commission on purchases at no cost to you.