We use affiliate links. If you buy something through the links on this page, we may earn a commission at no cost to you. Learn more.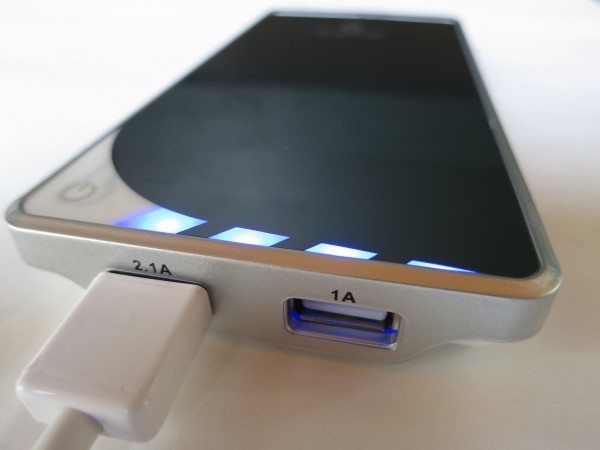 The widespread fear of blank screens on the devices we have become so addicted to has led to a sharp surge in external battery products, also known as power banks. These products come to the rescue and resuscitate our beloved smartphones or other gadgets when their internal batteries are tapped out. The primary factors to consider in choosing a power bank are:
Size and capacity – This is the most important factor but involves trading off power versus portability.
Convenience – Some products have nice features that improve usability, which I'll discuss later.
Reliability – This is really hard to determine in what, after all, is primarily a battery with an inherently limited life, but it is easier to assess whether a product has solid power connections and cables.
Price – Unless there are valuable convenience features to justify a higher price, then the price per battery size (usually measured in mAh) is the key consideration.
Today I'm evaluating the Intocircuit Power Bank PCASTLE 10000, offered for sale through Amazon. 
Specifications
Model: Intocircuit PCASTLE 10000
Cell type: Li-Polymer battery
Capacity: 10000mAh
Input: 5V 1.5A
Output: USB1: 5V 1A; USB2: 5V 2.1A
Size: 142 x 72 x 16mm (5.6 x 2.83 x 0.63 inches)
Power Bank Weight: 241g
Package Contents
1 x Power bank
1 x Micro USB wire
4 x Phone converter
1 x User manual
1 x Travel pouch
Below you can see a picture of what comes in the package. You can see my hand taking the photo in the marketed "highly polished mirror finish" on the front. Note, however, that the surface is a soft plastic that is easily scratched. The travel pouch will be a necessity if, unlike me, you worry about preserving the appearance of your power bank.
Note: Images can be clicked to view a larger size.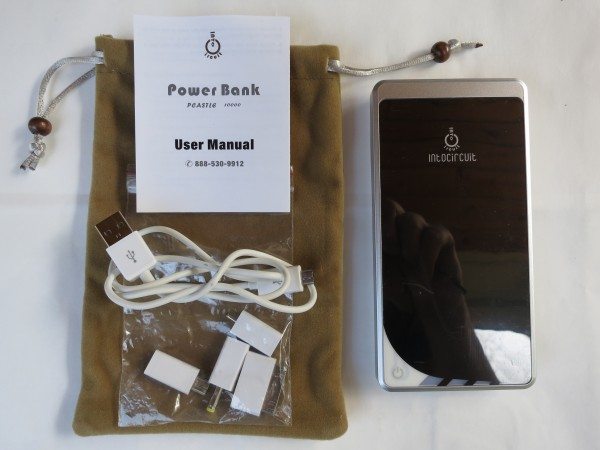 Now I'll evaluate the product claims as they relate to the four factors that I consider important in selecting a power bank.
Size and capacity
The form factor of the PCASTLE 10000 is reasonable for the power it delivers. It is about the size of a large, thick, heavy cellphone. This means that you can carry or store it in just about any pocket in your pants or bag that will hold a phone. The pictures below show a comparison with my Samsung Galaxy S4 phone. You can see that it is slightly larger in length and width than the phone, and about twice the thickness. It is a little less than twice the weight of the phone. This means that the power bank is not something that you're likely to carry everywhere – for that, you'll want something with a lot less power capacity to just provide a few more minutes of device use in an emergency – but rather something that you'd grab if you're heading someplace where you're expecting to need some extra juice.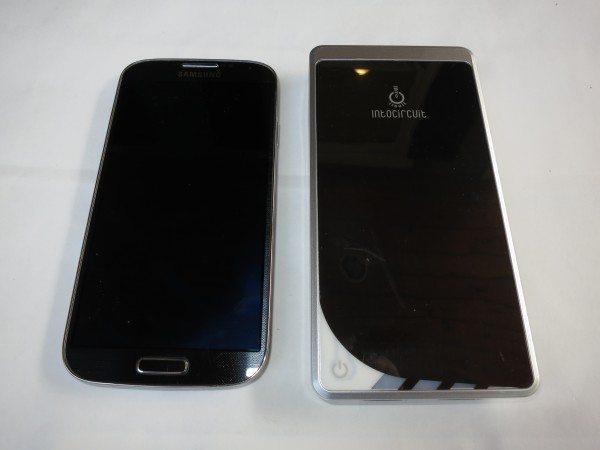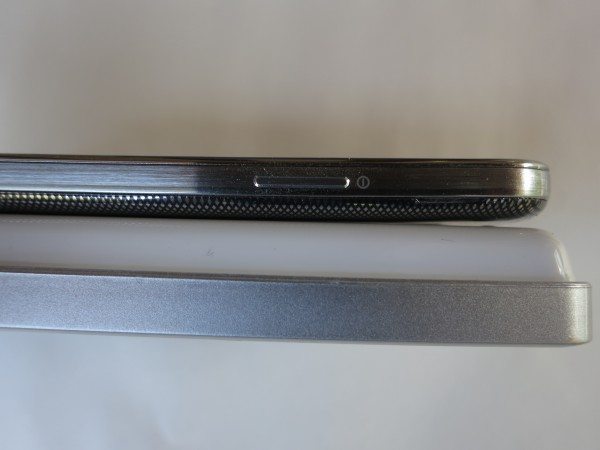 How much juice? The website claims that the 10000mAh battery will provide 3-4 full charges for a Samsung Galaxy S4 or S3. I wondered about that claim, since most external batteries are perhaps 70-80% efficient in recharging devices. So I drained the 2600mAh battery on my S4 and recharged it repeatedly with the PCASTLE 10000. I was able to complete two full charges plus a 73% charge on a single PCASTLE 10000 charge, which equates to 7098mAh. So the PCASTLE 10000 is about 71% efficient, with a margin of error based on my reliance on my phone's stated capacity and battery status, plus the fact that I only performed the test once. Finally, although I wasn't using the phone while charging, I left it on so I could periodically check the battery status, so the power delivered was somewhat higher than calculated.
I also charged the 11560mAh battery on my iPad 4 from zero to 57%, or about 6590mAh. So, figure on having roughly 7000mAh of power available. While that would provide more than three full charges for a Galaxy S3's 2100mAh battery, it falls short of the claimed number of charges for the S4. Basically, you can count on the PCASTLE 10000 to get your smartphone through some movies on that long flight you're dreading, or through a long weekend off the grid. For power-hungry tablets, you may want to consider a larger power bank such as the 22400mAh from EC Technology reviewed by The Gadgeteer earlier this month.
Note that charging is not an especially quick process. It took two hours to charge the phone fully, about 22mAh per minute, through the 2.1 port. The iPad charged faster, at about 37mAh per minute, but took about three hours for a 57% charge. Of course, you can still use the devices while charging and, unlike most charging scenarios, the device is somewhat portable while charging. It also takes about six hours to recharge the PCASTLE 10000.
Convenience
The PCASTLE 10000 is simple and basic. It does have two USB ports, so you can charge two devices simultaneously, with one of the ports being 2.1A and the other 1A. That's a nice feature if, say, I wanted to top off my Kindle or simultaneously charge my wife's phone along with mine. The manufacturer claims that the total power bank output is 3.1A, sufficient to charge devices connected to both ports at the maximum rate.
It's also nice that the single USB cable that comes with the power bank can be used both to charge the battery and then to charge a connected device. For charging the power bank, the power input is microUSB and the standard USB plug can connect to either a wall AC-to-USB converter (not included) or another USB power source, such as a computer. For me, this works, because I'll always also have a wall charger in case there is an outlet where I'm traveling. However, other people might prefer an approach taken by other products, which have a built-in cable that folds out to connect to devices, so there's not a cable to lose or forget.
I do like the fact that charging begins as soon as the cables are connected, so you don't have to remember to hit the power button or shake the battery to start the process as you do on some other power banks.
The included phone converters are a thoughtful touch, although not very useful to me. I don't think I have any devices left that charge through a miniUSB port. The old 30-pin Apple connector would be helpful for my wife's iPhone and my old iPod if I still traveled with it, but I would still need to bring a Lightning-USB cable for my iPad. I haven't seen Lightning converters or cables on generic power bank products and expect that the expense of the proprietary Lightning circuitry makes it prohibitive to include them. The other two connectors in the package are round – one looks like a PSP connector and I'm not sure about the other one.
The only other "convenience feature" with the PCASTLE 10000 is the four LED lights that give you a rough idea of the power level in the power bank. These go on automatically when the device is either receiving or providing power. You can also check the status by hitting a power button on the front of the unit.
Reliability
The PCASTLE 10000 appears to be a well-built unit. I had no issues during my tests. The manufacturer claims that there are multiple protection mechanisms against overcharge, overload, over-current and short-circuit. All I can say is that I didn't observe any overheating, and the cables connected securely. The ports are clearly labeled, although I have one minor complaint: the output ports are "upside down." This means that, where you usually automatically face the USB symbol on the connecting cable up when plugging in a cable, on the PCASTLE 10000 the symbol needs to be face down. It's not a big deal, but it gets me every time!
The biggest question with power banks is how long they will last. The claim is that this will cycle through 500+ full charges, which is typical of comparable products, but it's hard to test this claim when it takes 12 hours or so for a single charge cycle. You can find online reviews for most of these products with customers who are upset because their device lasted only a month or so. I think this is a hazard with any battery product, so I tend to try to offset that risk by looking for a good deal on price.
Price
With so many similar products out there, price becomes a key factor, and you'll find that power banks are frequently heavily discounted to be competitive. This product is no exception, and the discounted price on Amazon at $28.99 less an additional 10% promotional discount. That puts it on par with other products of this size, but note that some power banks with more battery capacity – also larger and heavier – are available for about the same price.
With the continual introduction of new products and ongoing changes in battery technology, this year-old product is facing tough competition, even from its siblings. Intocircuit recently introduced a 11200mAh product that has replaced the 10000mAh product on the Intocircuit product website. It has a similar form factor, 10% more power capacity, the same functionality, a built-in flashlight and two additional phone converter pieces (although still no Lightning connector). As recently as a month ago, there was a substantial price premium for the newer product, but now it only costs $1 more on Amazon.
Conclusion
It's worth taking moment to decide whether a power bank this size is right for you. The PCASTLE 10000 is pocketable, but it's probably too heavy to make it part of your everyday carry gear. A smaller power bank that will keep your device going for a few more minutes might be something that you'd always keep handy. Some of the smaller batteries are also combined into multi-function gadgets that may appeal to you – The Gadgeteer site has recently covered products that combine power banks with a speaker, an SD card reader, and a mouse. Larger power banks are good for longer trips, or tablets, but can weigh twice as much as the PCASTLE 10000 and probably won't fit in a pocket.
If you go places where you could be one to several days without power, or perhaps experience frequent power outages at home and want to make sure you can keep using your phone, the PCASTLE 10000  should do what's expected of it and provide peace of mind. However, it appears to have been discontinued and, with newer products with slightly better features approaching its price point, I would recommend waiting to see if the price for the PCASTLE 10000 gets reduced further before placing an order.
For more info visit Intocircuit and Amazon.

Product Information
Price:
$28.99 less 10% special promotion discount
Manufacturer:
Intocircuit
Retailer:
Sold by Hisgadget Inc and Fulfilled by Amazon
Requirements:

Any re-chargeable USB device - mobile phone, tablet, etc.
5V/1.5A wall charger or powered USB port for charging the power bank

Pros:

Slim - easy to fit in a pocket or carry bag
Powerful enough to charge most phones 2-4 times
Can simultaneously charge two devices

Cons:

Wall charger not included
Lightning cable/converter not included
Confusing USB port orientation is "upside down"
This model has been replaced by a newer version with slightly better features at about the same price